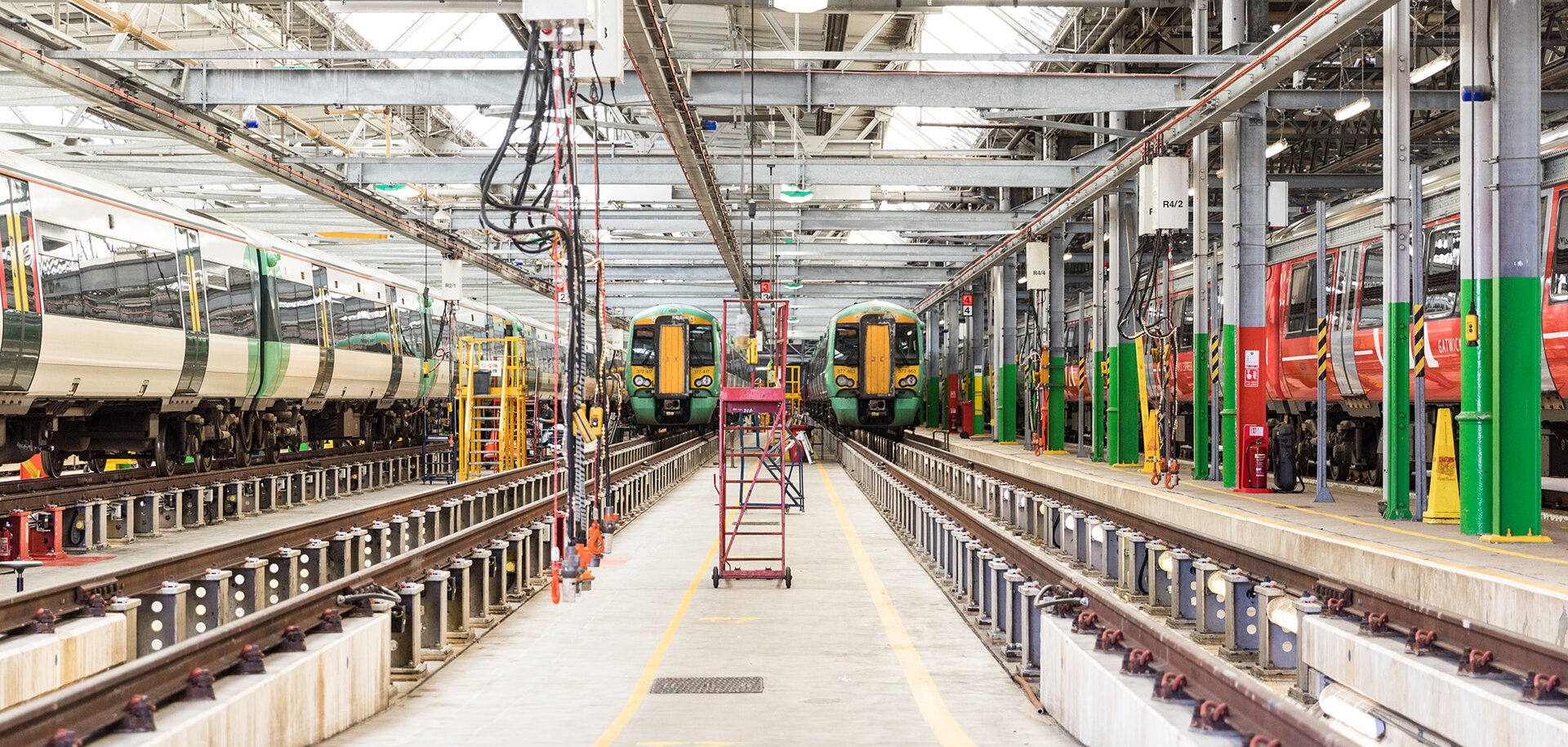 Putting condition monitoring firmly on the rails
Britain's largest train operator, Govia Thameslink Railway (GTR), has installed a condition monitoring system developed by SKF to help avoid unplanned maintenance and the associated disruption to train services.
For any train operator, maintenance plays an important role in keeping rail services running and avoiding potential costly unplanned repair stops. For the rail industry, inspection and reactive maintenance routines are vital for the safe operation of the railway and for the safety of all who travel and work within the industry.
Condition monitoring has been proven in other industries to be a key technology in driving down maintenance costs and extending maintenance intervals through the early detection of potential bearing failures. To meet the unique requirements of the railway industry SKF has developed its own condition monitoring system, called SKF Insight Rail.
"The railway industry is seen as the last frontier for condition monitoring," says Ivan Rochford, railway condition monitoring manager for Europe at SKF. "The complexity of traditional measurement systems was an obstacle for acceptance of the technology."
SKF has overcome this barrier with a non-intrusive solution that can be easily installed on entire train fleets in a short period of time. Applying condition monitoring to railways is challenging, as equipment is subject to high-intensity shock and vibration. Getting the industry to accept this technology "very much hinges on a product that would satisfy the need in railways for ruggedness plus ease of installation and use," Rochford says. "Shoehorning a pre-existing product into the railway application is simply not an option."
Govia Thameslink Railway (GTR) is the largest train operator in the UK. GTR is part of Govia, which also operates Gatwick Express, Great Northern and Southern services. Govia is a partnership between the Go-Ahead Group and Keolis. GTR took over the running the services in September 2014. Prior to the pandemic GTR delivered 19 percent of all passenger rail journeys in the UK, managing 239 stations and serving 341 million passenger journeys per year. Govia, which employs 7,000 people across the four train operating companies, has completed a GBP 2 billion (EUR 2.2 billion) investment programme that includes 1,500 new carriages and the introduction of Class 700 trains at Thameslink and Great Northern.
Maintenance challenge
For SKF, the opportunity to try out its condition monitoring system for the first time in the UK came with GTR's need to overcome issues with its most diverse and performance-enhancing fleet. The fleet is the backbone of train transport in the south-east of England, with a large number of units operating in the third rail environment every day.
The railway market is facing new and important challenges that SKF is ready to support.
Daniele Santomassimo, business engineer, SKF
Peter Cooper, a fleet engineer at GTR, explains, "GTR have used bearing riders for many years to mitigate bearing failures, yet despite these actions GTR experienced a number of critical events, which resulted in a unit being out of service for a few months for repair."
Fortunately, in 2017 GTR was in the early stages of trialling SKF Insight sensors in the field. Daniele Santomassimo, a business engineer at SKF who worked closely with GTR on installing the condition monitoring, says, "GTR is well known in the UK as a forward-looking train operator that is keen to invest in technology to ultimately improve their fleet performance and reliability."
Overcoming the challenges of the third rail
Installing SKF Insight Rail on GTR's trains was particularly challenging as London's overground railway network uses a third rail to pick up power. Consequently, this creates an aggressive electromagnetic environment in which the sensors used in the system have to function. Both companies worked together closely to produce a successful working solution.
Ivan Rochford recalls, "We did not anticipate the effect the third rail would have on the operation of our sensors. The magnetic field associated with the third rail was triggering the sensors' magnetic activation switches. As the sensor is battery powered, communication attempts are intentionally kept to a minimum. However, this magnetic interference was forcing all sensors to communicate with the server, which in turn was draining their batteries. Within a short period of time all 32 sensors had failed. It was a disaster."
However, SKF worked hard to resolve issues and was open about the problem it was encountering. The two companies have worked together for a number of years on bearing fitting and removal and have built up a good relationship. A solution was quickly found, and the magnetic activation was replaced with near field communication (short-range wireless technology) activation. "This is very similar to the contactless mechanism used for credit card payments," Rochford says. "All sensors were replaced in only six weeks, and the trial was resumed." Following the success of the trial, full installation began and more than 1,000 sensors have been fitted.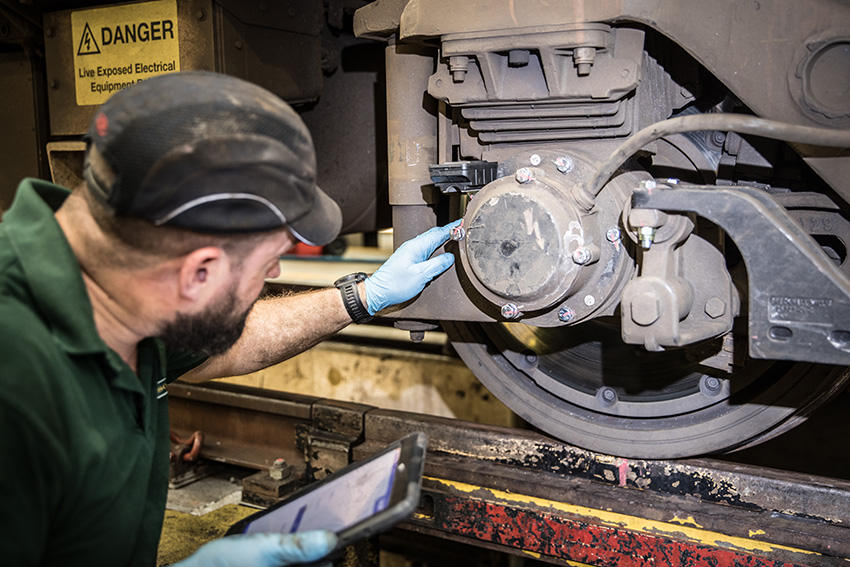 Reaping the rewards
Cooper notes, "The benefits are that we can work with these in conjunction with bearing riding, and we have installed sensors on the most critical positions in the fleet, following analysis of recent failure modes. They are easy and quick to install and commission. GTR have 5,536 axle ends on the fleet, so fitting needs to be easy. Once a rider picks up the bearing as defective, we fit the SKF Insight sensors to that bogie, and that gives us a level of assurance that we can keep running that unit. Once SKF have identified which of the four wheelsets is at fault, we can proactively bring the unit in without impacting on the availability of the fleet."
Santomassimo points out other advantages in adopting condition monitoring, including the possibility of understanding the types of defects on the bearings. "When the failure modes are clear, it is possible to develop design changes related to the application to increase the reliability of the train wheelset," he says. "Electric current passage is one of the dominant defects observed and a well-known phenomenon in the industry."
In the short term, savings will be concentrated primarily on improvements to orders of material and a reduction in unplanned maintenance activities. Long term, the customer will be able to support a condition-based maintenance programme to minimize the operating costs of the trains. However, says Santomassimo, "The most important part of the savings, in my view, is the opportunity of continuously monitoring a key asset of the fleet to eliminate unplanned stops and increase the availability of the trains."
SKF Insight Rail is a wireless self-powered condition monitoring system for passenger rail bogies. It has an associated remote analysis service to identify bearing defects.
The sensors that measure temperature and vibration can be mounted to an axlebox front cover in less than a minute. All that is required is to remove one of the axlebox front cover mounting bolts and attach the SKF Insight sensor with a bolt that is 20 millimetres longer. The sensor is a single component that operates independently; thus no other equipment or accessories are needed. The sensor transmits data to the SKF cloud using mobile telephony.
Both vibration and temperature are measured. Vibration is a key parameter to measure for early detection of bearing damage; once the bearing becomes hot, failure is likely to happen in a short period of time. Data transmitted by the sensors is screened automatically for signs of bearing damage. An expert vibration analyst checks the data to verify the detection and, if symptoms of damage are present, issues a report to the customer that provides a diagnosis and recommended actions.
The product was launched in late 2017 following vigorous testing with customers in Sweden, Spain, Italy and Russia. It is now in operation in more than 25 countries on three continents and has been installed on 28 different classes of trains.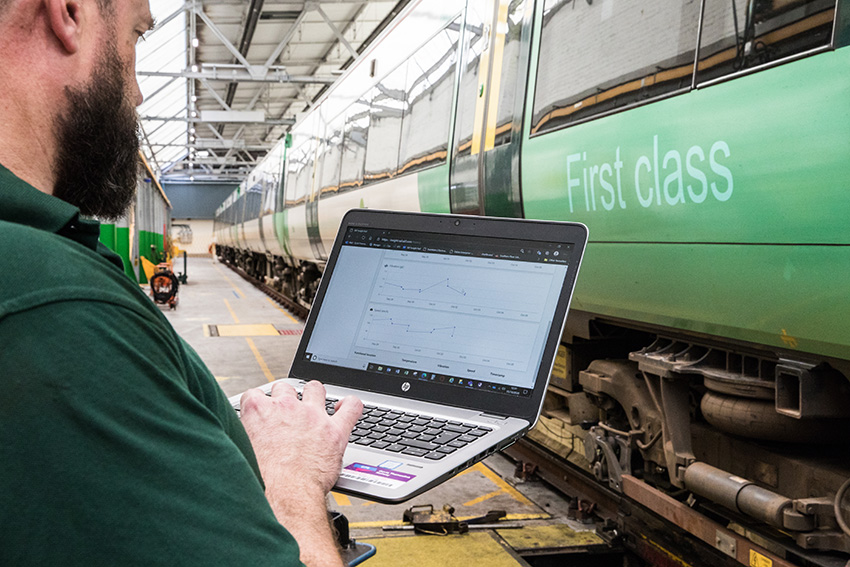 The future
GTR is investigating fitting the SKF Insight condition monitoring solution to another of its fleets. "The third rail environment is tough on bearings," Cooper says. "As an industry I think we need to not only get better at monitoring bearings so we pick them up before catastrophic failure, but also come up with solutions to improve bearing life."
Santomassimo adds that in the current climate of COVID-19, pressure has increased on operators in the UK to deliver a reliable, punctual and cost-effective service for all their fleets. "The railway market is facing new and important challenges that SKF is ready to support," he says.