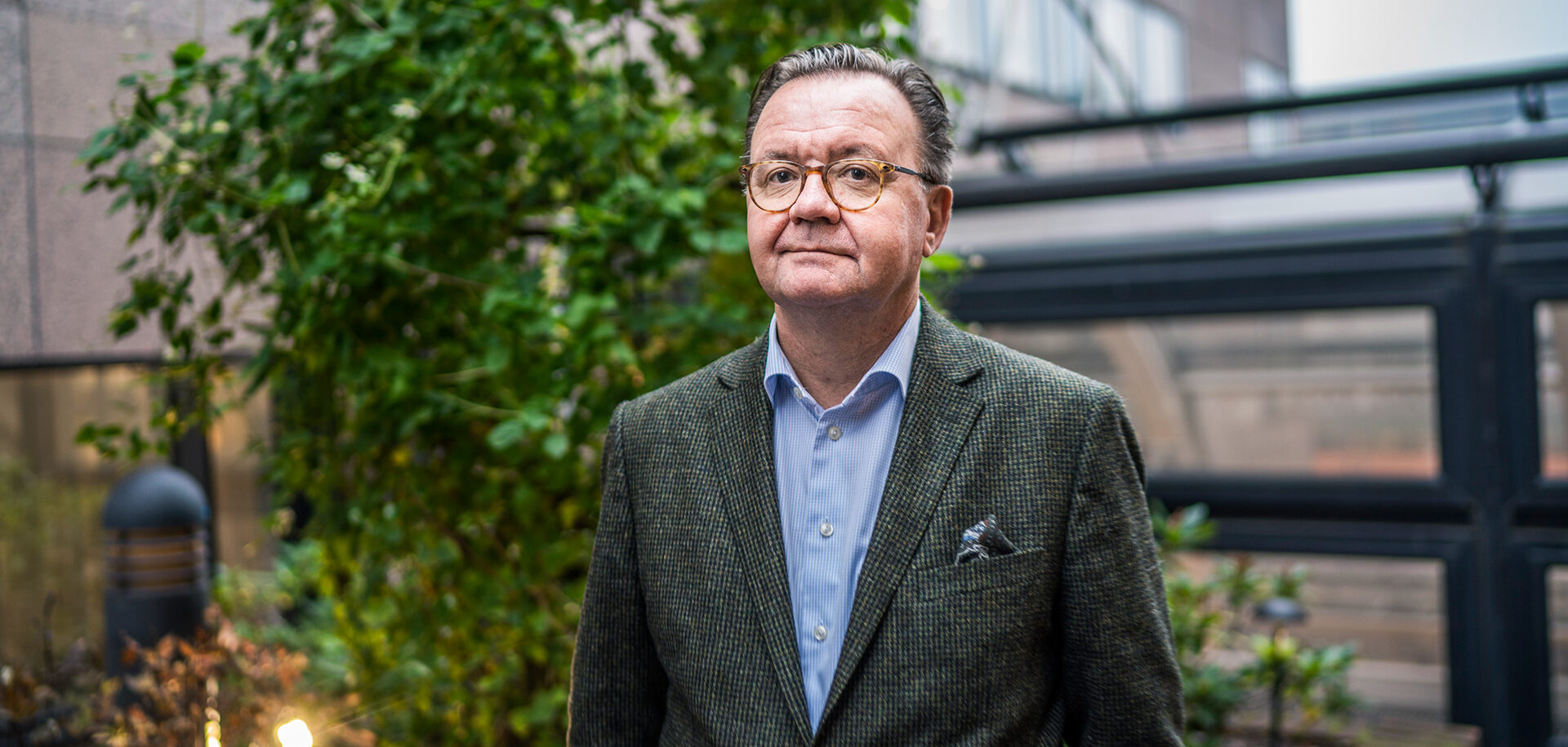 The answer is blowing in the trees
The tree, predicts Karl-Henrik Sundström, will be a key driver in achieving a sustainable economy. To help that happen, he is reinventing the world's oldest company.
"I believe that everything made from fossil-based materials today can be made from a tree tomorrow," says Karl-Henrik Sundström, CEO of Swedish-Finnish forestry, pulp and paper group Stora Enso. "Petroleum is just wood that has been under pressure for millions of years."

Born:  1960. Lives in Stockholm
Family: Married, with three grown children; has two dogs
Education: Uppsala University and Harvard Business School
Career: 22 years at Ericsson, ending as CFO; CFO at NXP semiconductors 2008–2012; at Stora Enso since 2012, CEO since 2014.
Interests: Enjoys boating in the archipelago with his family, reading and downhill skiing.
Motto: Try harder!
Sundström has served as CEO of Stora Enso since 2014. The group is one of the largest players in its field globally and is also frequently regarded as the oldest corporation still in existence, with roots dating back to copper mining in central Sweden in the 13th century.
Climate change has quickly moved to the top of everyone's agenda, Sundström says. Getting rid of fossil-based materials and particularly plastic is a priority – and something markets are yearning for.
I believe that everything made from fossil-based materials today can be made from a tree tomorrow.

Karl-Henrik Sundström
"We are all trying to reduce the use of fossil fuels," he says, "and consumers are increasingly demanding sustainable products. A number of global megatrends, such as urbanization, growing population, a rising middle class and global warming, are driving demand for raw material that is renewable, recyclable and fossil-free. With that in mind, you easily come to the forest industry."
Sundström explains that the forest industry is being hailed by many experts and politicians as an important factor in breaking away from fossil fuel dependency. Bans on everything from single-use plastic bags to plastic drinking straws and cups are inciting major players in, for example, retail and fast-food chains to frantically search for alternatives. Enter the tree.
"If we are to meet the Paris climate goals, the use of fossil-based materials must be quickly reduced and replaced with renewable materials," he says. "Materials made from trees, such as paper and board, can be reused five to seven times, and trees can be grown again. That is one reason why our industry has been in the spotlight."
Sundström goes on to say that the new role of the tree is two-fold: firstly, its cellulose is being used for products beyond paper, board and tissue, and secondly, all parts of the tree are being utilized.
A typical tree is 35 to 40 percent cellulose fibres. An additional 20 to 30 percent is lignin, which is a binder, and 25 to 35 percent is hemicellulose, which is essentially sugar in various forms.
Today, lignin and hemicellulose are largely burnt for energy, explains Sundström, but Stora Enso is exploring many new applications, some of which are already on the market.
Lignin is used to make resins and adhesives used in, for example, construction, but it is also possible to make carbon fibre from lignin, which could make it an alternative to steel.
Hemicellulose is used in applications such as sweeteners. Additionally, it has great potential as a raw material in a wide range of chemicals.
Cellulose is used in composites that can be moulded into all kinds of shapes, and nanocellulose, a derivative of cellulose, is used to make lighter packaging, thinner film and more, as well as repla-cing plastics in many areas.
"In packaging, we can replace a lot of plastic using biocomposites, nanocellulose and so on," Sundström says. "Almost the only thing we can't do is transparent materials." And even that may be a future reality.
As a forest industry leader, Karl-Henrik Sundström's background is somewhat atypical. He spent 22 years with mobile infrastructure giant Ericsson and then four years as CFO of NXP Semiconduct-ors, Europe's largest chip maker. "I have a fair amount of experience in running a business undergoing change and capitalizing on new products and new technology," he says.
And under Sundström's stewardship, Stora Enso is also changing. In 2015, only 1.5 percent of sales came from new products, ones that were less than 3 years old; today that figure is nearing 10 percent.
"In five to 10 years, a considerable part will come from new products," he says. "In 10 to 15 years, maybe half of sales will come from new solutions, which we are only now beginning to bring to market. It will be an entirely different company."