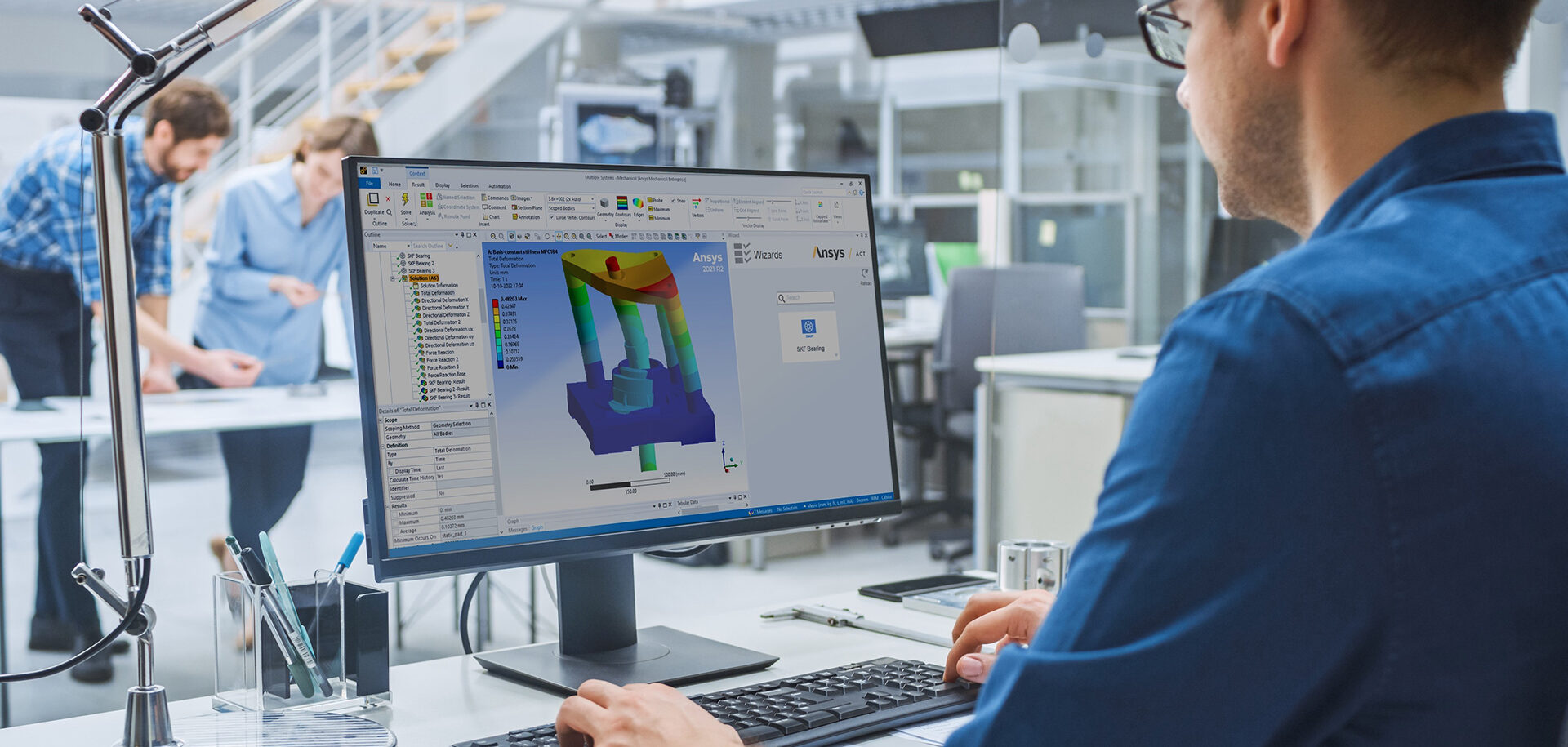 The right bearing with a click
Engineers can work faster and more effectively when advanced bearing calculation tools are integrated into the design and simulation systems they use every day.
Will virtual worlds be the next big thing? Some of the technology industry's most influential figures certainly think so. Meta, the parent company of Facebook, Instagram and WhatsApp, is investing an estimated USD 15 billion (EUR 14.2 billion) a year to develop founder Mark Zuckerberg's vision of the "Metaverse", a virtual reality space where people can meet to work, play and shop.
For design engineers, the idea that we will all spend more of our time in virtual environments is nothing new, however. They have been moving in that direction for years. Powerful computers and advanced simulation software allow many of today's products to be designed, assembled and tested in a completely virtual environment, long before a single component is manufactured.
Virtual engineering steps up the pace
The benefits of virtual engineering techniques are numerous. Engineers can work faster, evaluate more options and run more tests without the time and cost needed to manufacture physical prototypes. For suppliers of engineering components, however, virtualization presents some interesting challenges.
They make calculation faster and easier and give customers access to some more-sophisticated approaches than the traditional catalogue methods.

Hedzer Tillema, product manager engineering software at SKF.
Take the procedures engineers use to select bearings, for example. That's a task required in many mechanical designs, and getting it right can make the difference between a reliable, high-performing design and a costly failure. Yet the established processes for bearing selection evolved in a world of drawing boards and telephones.
"There are two traditional ways an engineer might select a bearing that has the right performance characteristics and operating life for their application," explains Hedzer Tillema, product manager engineering software at SKF. "They could use the equations that SKF and other bearing suppliers publish in their catalogues. Or they could talk to one of the supplier's application engineers, who would have access to proprietary data and calculation tools."
Those methods still work today, but the advent of a connected, computerized world has allowed bearing suppliers to offer other options. "For many years, we have offered a range of on- and off-line software tools that can help our customers make bearing selection calculations," says Tillema. "These tools make calculation faster and easier and give customers access to some more-sophisticated approaches than the traditional catalogue methods."
Productivity boost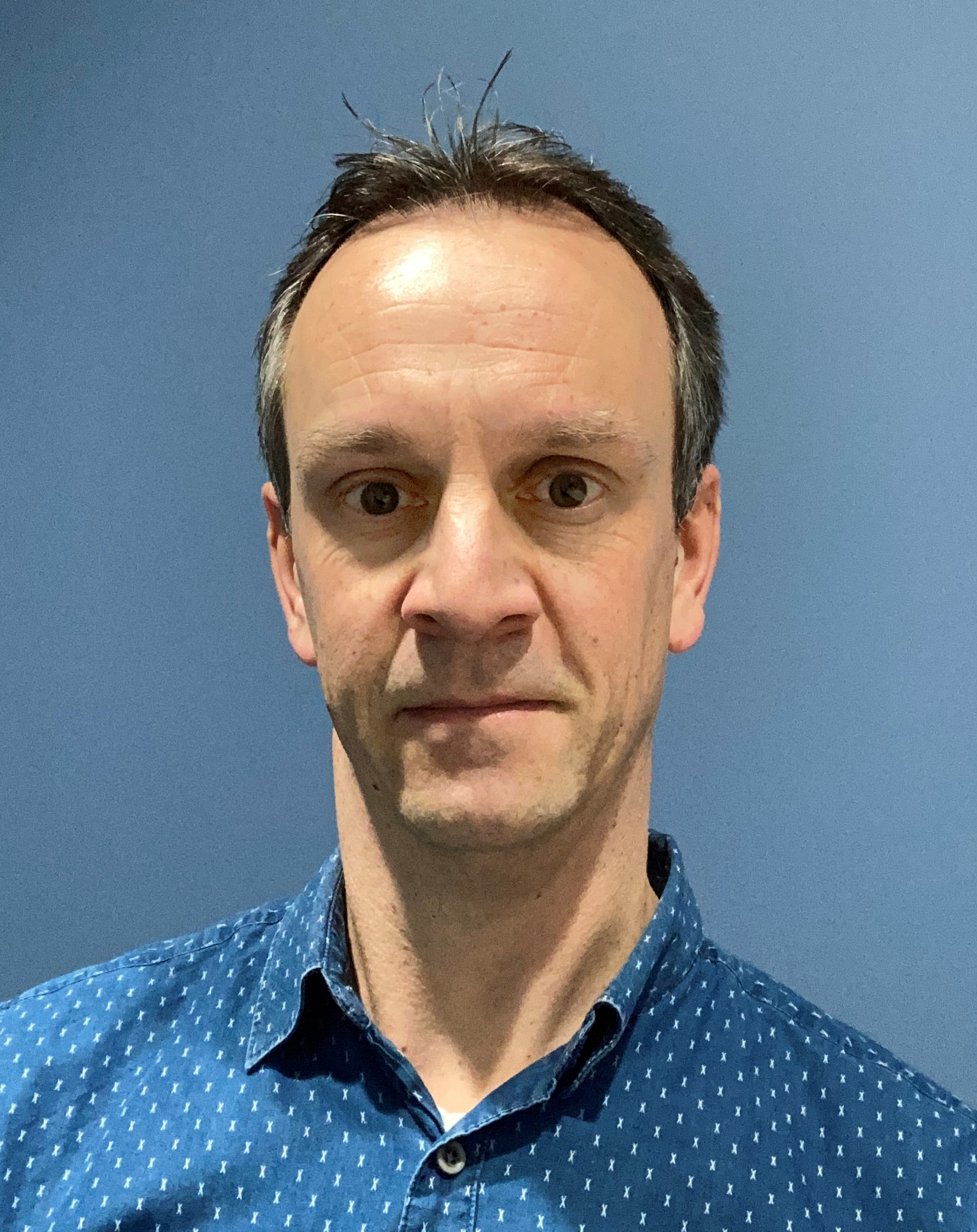 As engineering design software has become more sophisticated, however, even online calculation tools have begun to look a little crude. "We realized that many of our customers have their own preferred design tools and workflows," explains Tillema. "That's where the design engineers spend most of their time and where they feel most comfortable and work most efficiently. Why should they be forced to leave that environment and switch to an entirely different tool for bearing selection?"
Recognizing the need for a more streamlined way of working, SKF now offers integrated selection and calculation services that work seamlessly with a range of different engineering design software platforms. With its own product data, calculation methods or both built into these platforms, designers can choose and evaluate an appropriate bearing from within their normal product development environment.
Seamless simulation
Integrated bearing selection services simplify and speed up the virtual design process, but virtual testing is a more complex challenge. "In the quest for shorter time to market, our customers increasingly want to simulate their designs with greater fidelity and to do it earlier in the product development cycle," says Tillema. "In engineering, we call it the 'shift to the left'."
If bearings make up a critical element of a design, as they often do in products such as motors or gearboxes, effective simulation depends on an accurate, detailed representation of the bearing. "But modelling bearings is a complex process," he says. "By nature, bearings are a highly non-linear component, and they need to cope with very high contact pressures. The behaviour of a bearing can also be influenced by very small differences in geometry, and that micro-level geometry is intellectual property that bearing makers often want to keep confidential."
Those characteristics make bearing simulation a frustrating process for users. "Customers using finite element tools typically face two choices," says Tillema. "Either they oversimplify, by representing a bearing as a simple rigid ring, or they attempt to build a more detailed model without knowing all the details of the design." Either way, he says, this often leads to unreliable results.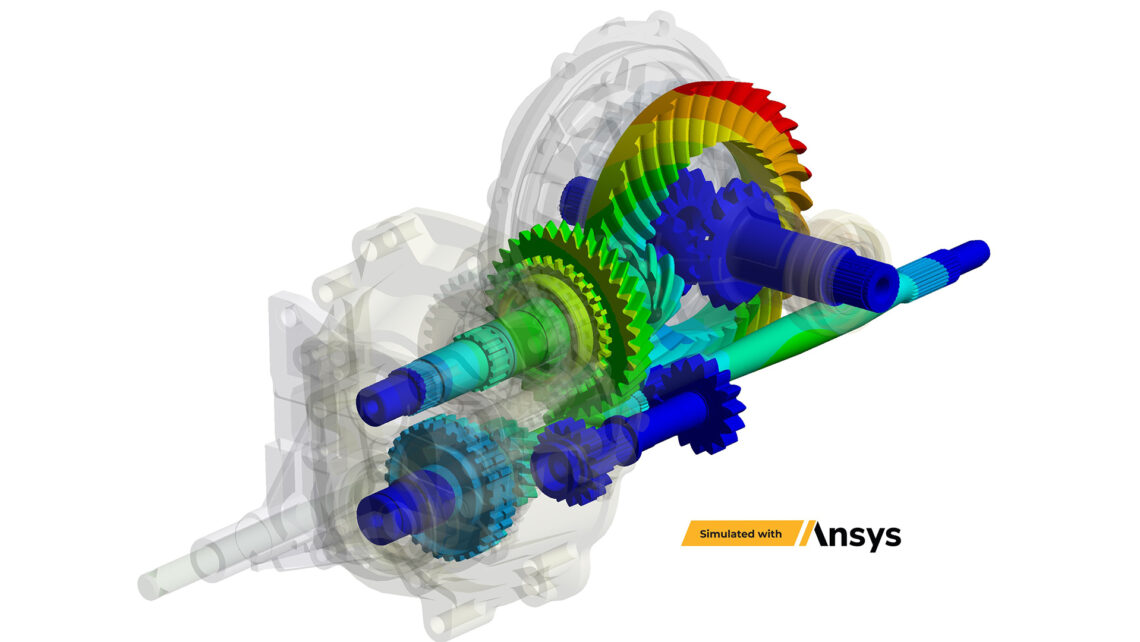 There's an app for that
Now there's another way. To resolve the simulation dilemma, new integrations have been developed that are designed to deliver better results faster than current methods. SKF data and calculation services are available for a growing range of popular simulation tools, with the finite element modelling system from US-based Ansys the latest to join that list.
"These integrations all work a little differently depending on the host system," says Tillema. "But the basic principles are the same." Those principles are based on seamless, behind-the-scenes interaction between the simulation platform and SKF's cloud servers.
In the Ansys integration, for example, users first select their chosen SKF bearing using a user-friendly wizard. That bearing is represented in their model as a dedicated object. Rather than relying on guesswork or crude approximation to determine its physical characteristics, however, the app communicates with the SKF server to obtain an accurate representation of the stiffness of the real bearing.
With realistic bearing characteristics built into their model, customers can then conduct their simulations to evaluate the performance of the full design. "Our calculations consider the detailed contacts between the rolling elements and the raceways of the bearing, and full details of the micro-geometry," explains Tillema. "We are taking the burden of bearing simulation away from the user's system and doing it ourselves."
The SKF Bearing App for Ansys can simulate any of approximately 10,000 common bearings in the SKF range, and its data is continually updated to ensure that users always have access to the most current, accurate information. The app supports two modelling types – one optimized for static analyses, the other for dynamic analyses where harmonics or vibrations are important considerations.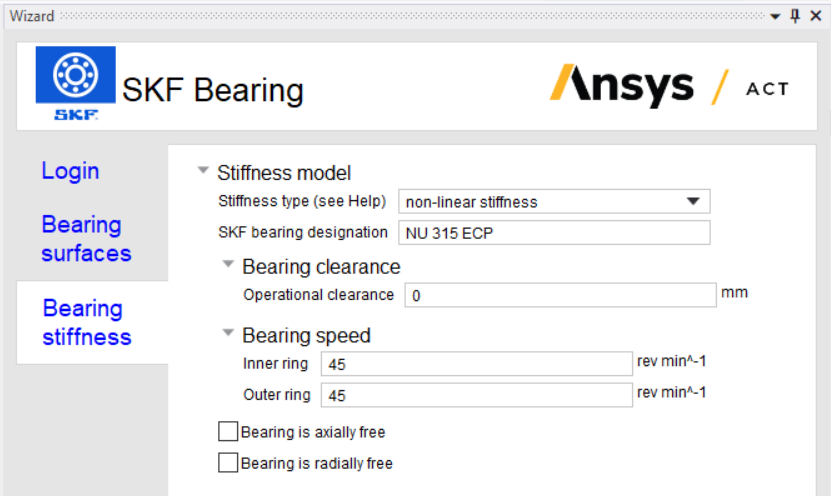 Integrating AI
Integrated services and apps allow design engineers to select and simulate bearings with just a few mouse clicks, but forthcoming developments are set to make the process even easier. "So far, our focus has been on streamlining existing methods," says Tillema. "But we are also working on entirely new approaches to the bearing selection challenge, using the power of modern computational optimization techniques."
This next step, he explains, is about creating workflows that automate the decision processes required to pick the best bearing for a given task. SKF is developing tools that can interpret data on loads, speeds and other operating parameters and use that information to find the most appropriate products from thousands of options in the company's range. The first application of the new technology has recently been launched as a new feature of the SKF Bearing Select online tool, designed to automate bearing selection in electric motor applications.
With the increasingly sophisticated expertise embedded into the tools that engineers use every day, they can work faster, more easily and with less trial and error. That should lead to better, more reliable products for end users – and for the engineers, maybe a little spare time to spend in the Metaverse.