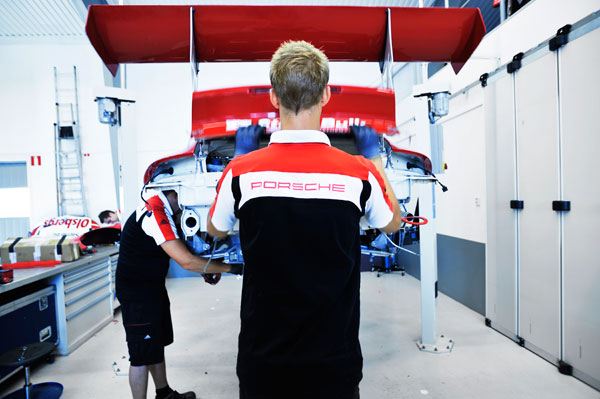 A flash of speed
Sweden's Flash Engineering has a promin-ent profile in the sports car racing world, organizing the prestigious Porsche ­Carrera Cup Scandinavia. It also has a strong commitment to sustainable racing.
Facts
Flash ­Engineering
Flash Engineering is a Swedish racing team, event organizer, promoter and Porsche spare parts distributor based in Karlstad, Sweden.
The company was founded in 1996 by Jan "Flash" Nilsson, who runs the company and competes as well. ­Nilsson started racing Volvo cars but moved over to Porsche when he started Flash Engineering.
The company has 12 permanent employees and revenues of around $4.7 million, which comes from sponsorship, Porsche spare part sales, activities such as driver education and support from Porsche to organize the Carrera Cup Scandinavia racing event.
Besides Prince Carl Philip Bernadotte of ­Sweden, the company's contracted drivers ­include Nilsson, Colin Turkington, Roar ­Lindland, and Matte Karlsson.
Related Links
Sales Contact
Petra Öberg Gustafsson, Petra.Oberg.Gustafsson@skf.com
With its high-tech connotations, Flash Engineering sounds more like a Silicon Valley start-up than the racing team, event organizer, promoter and Porsche spare parts distributor that it is.
Based in an industrial park in Karlstad, in the Swedish province of Värmland, the company has built a high-tech, high-profile reputation in sports car racing circles.
"We are absolutely top class in everything we do," says Thomas Johansson, the Porsche Carrera Cup manager at Flash Engineering.
Flash Engineering's Karlstad facility houses four semi trailers (one is for catering the sometimes 1,000 guests at the races), three trucks and eight support vehicles, offices, a trophy room, a pool table, a conference room, a living room with wide-screen TV and a workshop for the company's five high-performance race cars.
Except for the spotless cars that are constantly being tweaked for superior performance, the bright lights and clean, uncluttered surfaces makes one wonder where the petri dishes are.
"We have to keep a lab-like environment," explains Johansson. "These are not just cars. They are high-performance racing machines."
In terms of cleanliness, there is more than meets the eye at Flash Engineering. The company has a strong commitment to running its racing oper-ations as "green" as possible. This includes using more environmentally friendly diesel and gasoline for the trucks and race cars, HA oil-free tyres, no glycol for engine cooling and recycling of all garbage. Even the rugs that the mechanics use when working under the car are made of organic material. Flash Engineering is also involved in investigating the possibility of introducing a Formula 1-inspired KERS system, which recovers the kinetic energy of a moving vehicle, in the Swedish Touring Car Championship (STCC) for the 2012 season.
The main focus, however, is on performance. The Porsche 911 GT3s used in the Carrera Cup are factory-standard models with the same 450-horse-power, 3.8-liter engines and sequential gearboxes. With the interiors stripped out, they each weigh 2,600 pounds without the driver. The cars can take curves at 155 miles an hour and straightaways at almost 190 miles per hour. Temperatures inside the cab can reach more than 150 degrees Fahrenheit. Driving one of these cars is about skill, precision and determination.
"If you tried to drive one yourself, you'd stall immediately," says Johansson. "The sound, the gear changes and the accelerations are brutal. And if you made it to a curve, you'd probably spin out of control on the slick Michelin tires. The pros, racing at 300 kilometers [about 190 miles] per hour, start braking so late into a turn you'd probably faint."
There is also a royal touch to the team: Sweden's Prince Carl Philip Bernadotte is one of Flash
Engineering's drivers.
"Carl Philip was driving professional go-karts before making the switch to Porsche," says Johansson. "He has placed in the top 10 in some races, so we are very proud of him. I just wish he could spend more time with us, given all his other engagements."
Flash Engineering, which has 12 employees, is the sole organizer of the Porsche Carrera Cup Scandinavia, a yearly elite racing event, and it regularly places in the top five. Each Carrera Cup Scandinavia includes eight race weekends and about 15 test days.
There are eight different Porsche Carrera Cups in the world – Asia, Australia, Japan, Scandinavia, Germany, France, the U.K. and Italy.
In July 2011, for the first time ever, each team from the eight regions, a total of 98 teams, got together at the Nürburgring-Nordschleife racetrack, near Cologne, Germany, to vie for speed. There were 250,000 spectators during the weeklong event.
Of the 106 Porsche 911 GT3s that raced six laps on the 15.5-mile racetrack with 73 curves through hilly terrain, Flash Engineering's three Porsches finished the race in the top 20.
Flash Engineering also participates in other yearly races. The STCC is a very different contest. Here Flash Engineering races two souped-up BMWs that, unlike the Porsches, the company built almost from scratch.
STCC cars are less standard than Carrera Cup Porsches and have fewer and smaller tolerances with the engines, transmissions and brake systems. These cars require considerably more maintenance.
But that is not a problem. Flash Engineering's workshop in Karlstad is equipped for most jobs – switching motors or transmissions, tweaking brake, suspension or steering systems. The team is ready to meet all challenges.
SKF Cooperation
SKF has cooperated with Thomas Johansson since 1985, when Johansson started working with SKF on bearings for go-karts. Over the years, SKF has continued this cooperation, providing bearings and maintenance products for the cars Johansson drives in different racing series, including a "Team SKF" in Formula Ford 1992–1995. In 1996, Johansson joined Flash Engineering, but he is still racing in the SuperKart series with support from SKF.
SKF is also acting as a technical partner to Flash Engineering and cooperates on PR activities in connection with the STCC and Porsche Carrera Cup races.