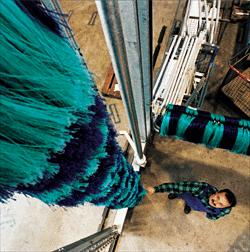 A car wash is a high-tech piece of machinery. It automatically cleans your car without a scratch, and the most elaborate ones report the job via GSM to a service center.Gentle but firm – that's what WashTec is. A car wash has to get rid of the dirt without damaging the car. The equipment has to be powerful and quick – a top-of-the-range Wesumat juno can clean a car in just 2 ½ minutes.
But the company's head of product management, Wolfgang Dietsch, says every country emphasizes a different aspect of the cleaning process. "In Germany, Austria and Switzerland, people simply assume their cars will come out clean," he says. "They're more worried about the drying process. They want to be sure there aren't any watermarks on the car at the end.
"The Germans place a lot of value on cleaning the wheels. The Scandinavians have to get rid of the road tar that comes from using spikes in the winter, and the southern Europeans want their car washes above all to be cheap. They've got a lot of small gas stations with just three pumps."
A company like WashTec not only has to keep the drivers happy, it also has to satisfy the operators – from big companies that own thousands of gas stations throughout the world to independent operators, workshops and car showrooms. For them, the main issue is how much money they can make from the machines. Customer satisfaction is also a part of the equation; just as important are efficiency and reliability.
WashTec has taken a big step forward with the introduction of its Customer Service Center and an automated monitoring system.
Now, as a result of a cooperative effort with Deutsche Telekom, Siemens and the software house Weckwerth & Bertram, WashTec units can be connected to the Customer Service Center by GSM modem. The units automatically record their operations and send short text messages warning of problems. The dispatcher at the center already knows what's wrong with a machine before he sends someone to repair it.
Richard Feigel, who deals with calls from Bavarian operators, says he can call up the service history of a unit on his computer. He has a good relationship with many of the operators, chatting and joking with them, and can often tell an operator how to fix the problem on his own. That gets a unit back in operation even faster, but, he says, it depends on whom you're talking to. In any case, in minutes he can schedule a visit from a maintenance technician, often later the same day. The big gas companies have strict standards for the availability of their car washes, and WashTec has to keep to them.
Car wash capital
WashTec is based in the world's car wash capital, Augsburg, where more vehicle wash equipment is manufactured than anywhere else in the world. The company began operations in January 2000 as the product of a merger of what were already the world's two largest manufacturers, California Kleindienst and Wesumat, both based in the city.
The company has plants elsewhere in Germany, as well as in France and Canada. Products are still being sold under the old names. When future products are released, these will bear the new name. In 2000, the two brands between them had 78 percent market share in Germany, 61 percent in Europe, and more than 30 percent worldwide.
The aim is to expand into new areas. WashTec is already big in truck and bus cleaning, and it's growing fast in the business of cleaning trains. In 2000, it won some huge contracts, including one in Britain worth 5.3 million euros (5.9 million US dollars). It's also expanding geographically, with new distribution companies in Italy and the United States.
The future is clearly in added value. "In Germany, most of the business is in unit replacement," Dietsch says. WashTec has a range of products that meet the needs of different-sized operations, from the small CK 30 through the CK 45 and the Wesumat softwash to the Wesumat juno.
These are so-called rollover systems, in which a gantry carrying the brushes moves over the vehicle. Additional features, such as prewash, special brush materials, waxing and underbody treatment can be added. For larger operations that handle up to 100 vehicles an hour, there are tunnel systems, in which the vehicle is pulled through a series of arches, each carrying out a different part of the process.
Site analysis
In other markets, it's a matter of demonstrating to gas station operators or workshop owners the value of opening a car wash in the first place. As Dietsch says, "In these days when the margins on gasoline are so low, for many operators, a car wash can make a big difference."
WashTec offers site analysis and profitability assessment, and helps with financing, installation and training. If a site is not likely to generate enough business to justify the expense of even the smallest unit, says Dietsch, "Well, we can always provide a second-hand unit."
WashTec provides a service, of which the product is a part. The company exists so that operators can make money washing vehicles, and that means much more than delivering equipment. With pre-sales and post-sales packages, WashTec ensures that its units make money for their operators, and cars clean.
Michael Lawton
a business journalist based in Köln
photo Thomas Müller