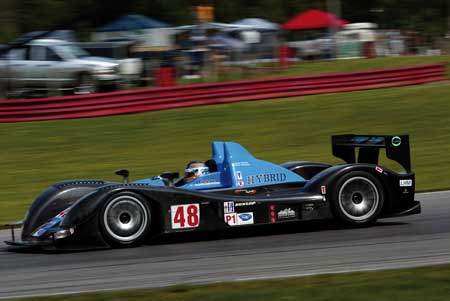 SKF supplies bearings to Zytek's hybrid-electric racing car
Zytek Engineering has chosen SKF to supply customized and standard deep groove ball bearings for the electric motor generator unit and the intermediate shaft of the new Ginetta-Zytek GZ09HS race car.
The car, manufactured by Zytek Engineering and managed by Corsa Motorsport, is the first race car to feature an advanced alternative-fueled hybrid propulsion system. It has the ability to run on either or both of two propulsion systems – a normally aspirated V8 (gasoline) engine and a 35 kW electric motor powered by an advanced lithium-ion battery, which can be recharged using a kinetic energy recovery system.
GZ09HS has received final approval from the FIA (Fédération Internationale de l'Automobile) and has been closely inspected by the EPA (Environmental Protection Agency), which describes it as a very sophisticated car.
A remarkable achievement for the new GZ09HS took place in July 2009 in Lakeville, Connecticut, when it took a podium position – a first for such a hybrid car – at a Le Mans Series race.
Zytek is a British engineering company with substantial automotive engineering experience, capable of providing major vehicle manufacturers with advanced powertrain and chassis control systems. The company has lately been involved in the design, development and manufacture of innovative hybrid and electric drivetrains.
SKF continues to provide engineering services to Zytek, and the two companies are now ready to work on the development of the next gener-ation of electric motors, which represents a novel energy-efficient power source in the field of motor sport.