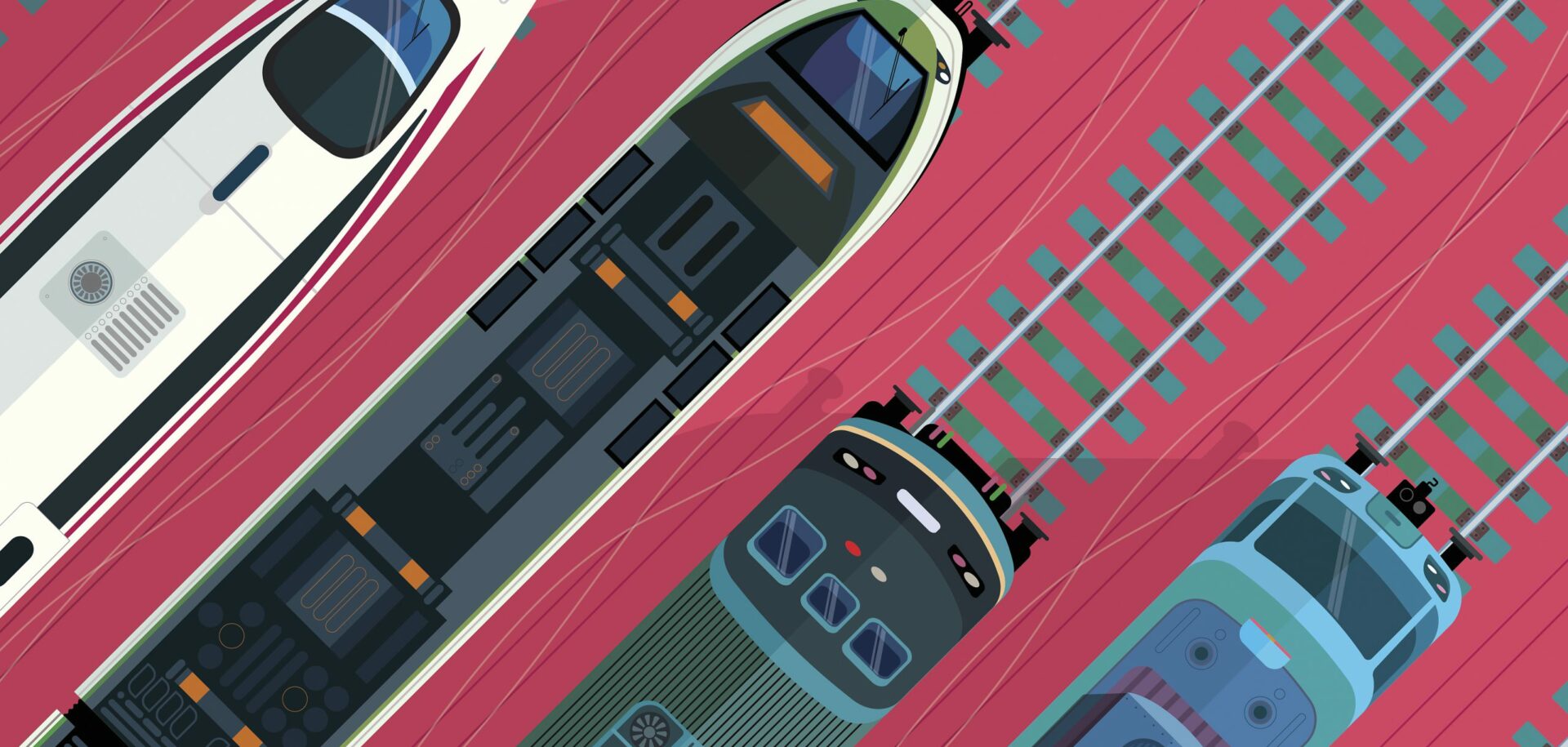 All aboard for railway growth
Population growth in the world's cities, and a growing focus on reducing emissions, are prompting governments across the globe to invest heavily in freight rail, metro and light rail projects.
The global railway sector is on track for steady expansion in the coming years as governments respond to the growing challenges of urbanization and climate change.
Roughly 2.4 trillion US dollars' worth of railway projects are under construction around the world, with China, the United States, India, Brazil and Britain investing the most money to extend their networks, according to Fitch Group's BMI (Business Monitor International) Research.
That's good news for companies that supply rolling stock, infrastructure, technology and after-sale services to the rail industry, such as SKF.
Brussels-based UNIFE (Union des Industries Ferroviaires Européennes), an association representing the European rail manufacturing industry, expects the 150 billion euro global market to grow 2.7 percent a year between 2014 and 2019.
"Overall favourable megatrends such as population growth, ongoing urbanization, higher mobility demands and environmental concerns will drive the industry's growth," UNIFE reports.
Urban rail, which includes metro and light rail, is attracting a significant chunk of the investment in both developed and emerging markets.
The number of metro systems in operation around the world has exploded by more than 80 percent in the past two decades. The International Association of Public Transport (UITP) 2015 report states that 157 cities around the world had a metro system in operation in 2014, compared with 84 in 1990.
That's set to increase, with more than 623 billion US dollars' worth of urban rail projects under way. Nearly one-third of that figure is being spent in India and China alone (70 billion and 115 billion US dollars, respectively), BMI Research data shows.
Population growth is a key driver of urban rail investment as more people move to cities, leading to increased traffic congestion, overcrowding on existing public transport networks and pollution.
It's only going to get worse. The World Bank estimates that the number of urban dwellers will reach 6 billion by 2045 – 2 billion more than today.
Tougher emission reduction targets are also forcing governments to develop lower- or zero-polluting mass transit systems such as trains, which are the "most emissions-efficient" form of major transport, according to a report by UIC (International Union of Railways) and the Community of European Railway and Infrastructure Companies.
"You get the benefits of productivity gains from people spending less time in traffic and reduced congestion, as well as making the city a more attractive place for businesses to invest," says Michelle Karavias, head of infrastructure research at BMI Research in New York City.
While China and India are leading the world in urban rail investment – China has as many as 70 metro projects currently under way, according to Becky P. Y. Loo, director of the Institute of Transport Studies at the University of Hong Kong – they are not alone.
Peru is building a 35-kilometre subway in its capital, Lima.
The project, estimated at 5.7 billion US dollars, will be funded by the government and a consortium of companies – an example of public-private partnership that Karavias says has become increasingly common as countries seek to save money on costly projects.
Saudi Arabia, meanwhile, has ambitious plans to build a six-line metro system stretching 175 kilometres in the capital Riyadh, making it the biggest subway project in the world, according to Siemens, which will supply the entire turnkey system for two driverless lines, including trains and signalling and communication equipment.

SKF life-cycle partnership – for customer value and reliable technology
With its expertise and technology leadership, SKF offers full support to the railway industry, helping to reduce life-cycle costs and overcome environmental challenges. SKF knowledge platforms, combined with practical experience and rigorous testing, quality control and validation in its modern test environment and in the field, create a solid base on which the company develops and offers reliable solutions to the railway industry. SKF railway condition monitoring systems make it possible to detect incipient bearing damage and plan maintenance ahead of potential functional failure. SKF also offers bearing refurbishment and mounting services to reduce life-cycle costs and environmental impact over the life cycle of all railway vehicles.
Light rail is also increasingly popular, particularly in Asia, because it's cheaper and faster to build, Loo says.
Taiwan's first light rail network is expected to start operating in the port city of Kaohsiung this year. The 22-kilometre line will be the world's first cable-free system: The electric cars will be fitted with a "rapid-charge accumulator" system that enables them to be recharged at stations.
Investment in freight rail is also growing as countries, particularly emerging markets, shift more cargo from trucks to trains to reduce the wear and tear on highways.
But the pace of growth is expected to be slower than urban rail going forward, largely due to the collapse in commodity prices.
Many freight rail projects in Africa, Latin America and Australia are tied to new mine developments, which may no longer be viable due to low prices and slower economic growth.
German SCI (Sadi Carnot Ingénieur) Verkehr expects the freight market to grow 2.4 percent in the medium term – much slower than the 7 percent growth expected in the urban segment.
High-speed rail is also sensitive to economic growth concerns. Bullet train technology is expensive and offers low returns to investors. SCI Verkehr expects the market will grow 1.3 percent a year, mostly in after-sales service.
A number of countries have cancelled projects in recent years. China, however, is an exception. The country, which already boasts the world's longest high-speed train network of 19,000 kilometres, is investing 35 billion US dollars in an additional 5,500 kilometres of track, according to BMI Research.
China is also investing in high-speed projects overseas, making it a potential threat to foreign train-makers such as Siemens, Bombardier and Alstom in the future.
In October 2015, China won a contract worth 5.5 billion US dollars for a 150-kilometre high-speed rail line in Indonesia. A Chinese-led consortium had the contract to build a Mexican bullet train before the project was axed.
Nowhere, though, is the growth in rail investment stronger than in Qatar. The country, which is preparing to host the 2022 FIFA World Cup, is building "an entire rail network from scratch," Karavias says. There are plans for a metro system in the capital, Doha, and a light rail line in the city of Lusail, as well as a long-distance passenger and freight network.
The development of inter-regional transport corridors around the world, such as the Brazil-Peru link, also bodes well for future rail investment.
"We are more optimistic about rail than we are about roads," says Karavias.