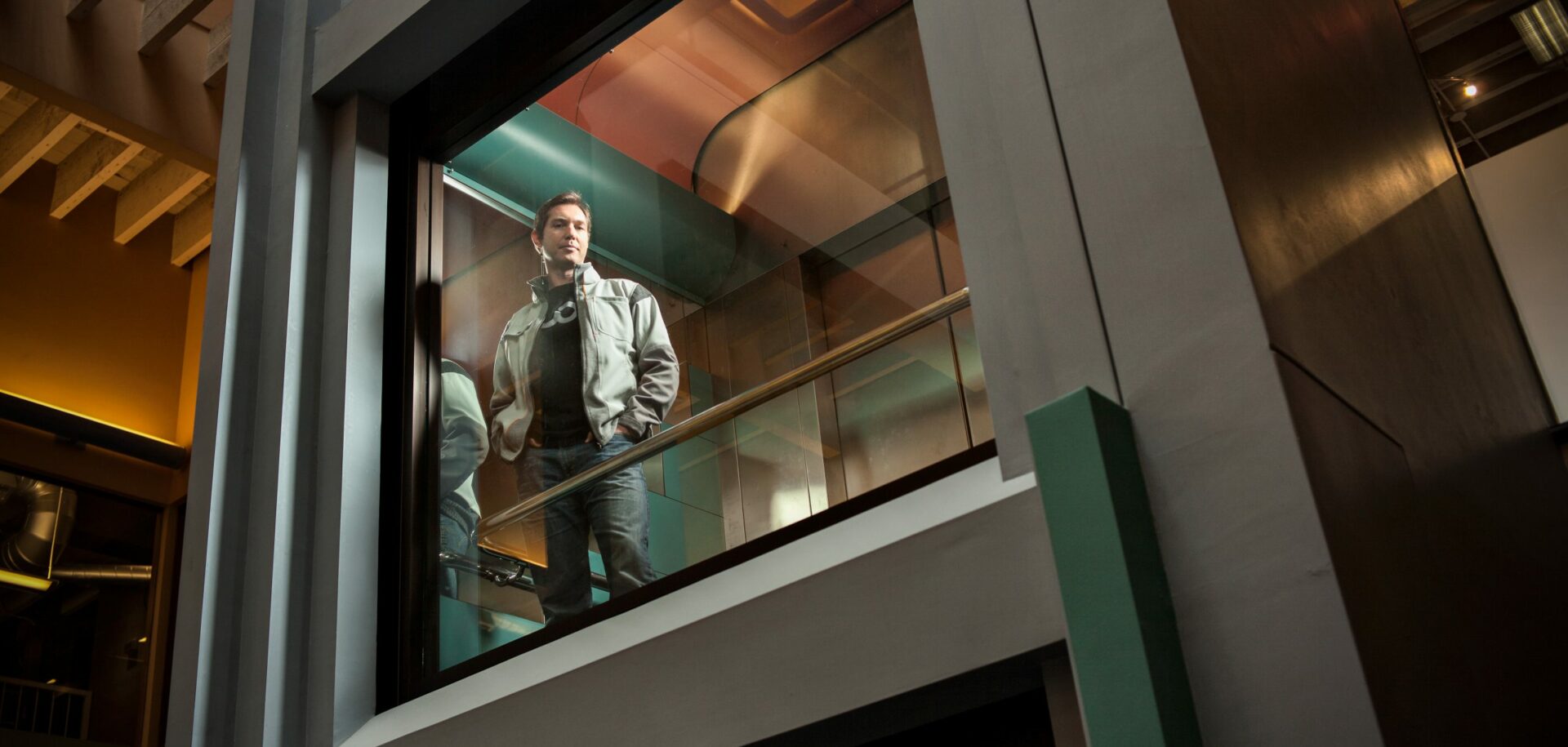 Closing the loopt
Scott Hamlin has found a sweet niche for his company, Looptworks, upcycling excess textiles into beautiful bags, accessories and clothing.
Textile designer Scott Hamlin's career aspirations and environmental ethos started in a ditch – the ditch in front of his childhood home in Eugene, Oregon, USA. Hamlin was 10 years old and fervently wanted a special prize for his school's "Keep Oregon Green" campaign, part of a longstanding statewide effort to reduce forest fire risk. Hamlin worked to clear his front ditch of fire–starting debris and eventually collected his reward – a sticker. He says that far more important than that token was his dawning awareness of his sense of stewardship of the environment.
"It was inherent in growing up in Oregon, and inherent in me, this sense of duty," Hamlin, now 47, says.
I wanted to use design and creativity to make beautiful products.

Scott Hamlin
Hamlin first studied business and marketing, then graduated with a degree in journalism and advertising. A committed track athlete, he had hoped to qualify for the 1992 Olympic team but pulled a hamstring shortly before the trials. So he did the next best thing – he started to work in Oregon's growing sportswear industry. His first stop was at Adidas, where eventually he ran the company's operations in Brazil. He then became design director at Jockey International before moving on to become global product director at Royal Robbins, an outdoor-wear company headquartered in San Francisco. At Royal Robbins, Hamlin found that sustainability was an increasing factor in the choice of textiles he could use in designs. Organic cottons, bamboo and soy fabrics were desirable options.
"Yet we were plugging these textiles into a system that was broken," Hamlin says. "I was also the guy getting the invoices for 'excess fabric liability' – all the material we didn't use in design, development and manufacturing."
Hamlin realized that Royal Robbins was not alone in creating copious excess – on average the global footwear and apparel industry's materials efficacy rate fluctuates between 70 and 85 percent, leaving up to a third of viable textiles stranded, literally, on the cutting room or factory floor. Influenced by architect William McDonough and chemist Michael Braungart's bible on closed-loop manufacturing, Cradle to Cradle, Hamlin decided it was the opportune moment to launch his own company to deal with textile excess. Hamlin founded Looptworks in 2009 with a mission to upcycle the excess into amazing products.
"I wanted to use design and creativity to make beautiful products," Hamlin says. "Yet I also wanted to pull up the curtain on an apparel industry that is antiquated and broken."
Looptworks started out collecting pre-consumer textile "excess" (Hamlin eschews the word "waste") and turning it into T-shirts, jackets and other active wear. The very next year Looptworks found a successful market niche turning excess neoprene wetsuits into laptop and tablet accessories.

Scott Hamlin
Born: 15 June 1968
Hobbies: Surfing, hiking, bike commuting
Company credo: "We see beauty in excess and apply design to those materials to make amazing products."
Employees: 12
2015 turnover: "Single-digit (USD) millions."
Looptworks pays for nearly all of the textiles the company uses. "We have to build a business case for the material, and if we can use it we try to pay for it, and we try to pay a premium over and above what a textile jobber would pay."
Hamlin explains that textile production takes up a big portion of a clothing or footwear item's carbon footprint, as well as its water footprint.
That's why upcycling, which takes an existing product and remakes it into one of equal or greater value, is an important transformation of excess materials. Hamlin estimates Looptworks has, through reuse of textiles, conserved nearly 227 million litres of water since its inception. Hamlin is clear, however, that upcycling is only an interim step towards an even better way to treat materials, which is in closed-loop systems. Everything from plastic bottles to athletic shoes must be diverted away from landfill or incineration, he says, and broken down to its simplest source materials. In apparel, however, as in so many other industries, source materials are blended – thus the cotton-poly-Lycra® fabrics that are so popular are currently impossible to separate into their constituent fibre types for recycling.
Recently, Southwest Airlines came to Looptworks with a dilemma: a remodel of plane interiors would leave the company with 80,000 used leather seat covers (17 hectares of leather). Looptworks designed a stylish line of purses, bags and other luggage from the seats. Although upcycling the leather was far preferable to landfilling or incinerating, and Looptworks gives a lifetime warranty on the upcycled goods, it is not enough, Hamlin says, in the approaching era of scarcer resources.
"It is self-preservation for companies to start to talk about and take action on being part of closed-loop, circular economies," Hamlin says. "You are starting to see this happening via 'extended producer responsibility' initiatives."
Hamlin explains that not many companies have the reverse logistics to collect products when they are no longer useful and little current incentive to put remanufacturing into place. But he believes that green chemistry and enzymatic solutions for separating blended materials will come of age within the next decade.
"Right now you see the Levi's and H&Ms of the world starting to collect apparel," Hamlin says. "The next step is behavioural change – companies working on collection actually turning it into viable feedstock for new products. I'm cautiously optimistic; there may be a lot of upcycling before eventually we get to closed loops."