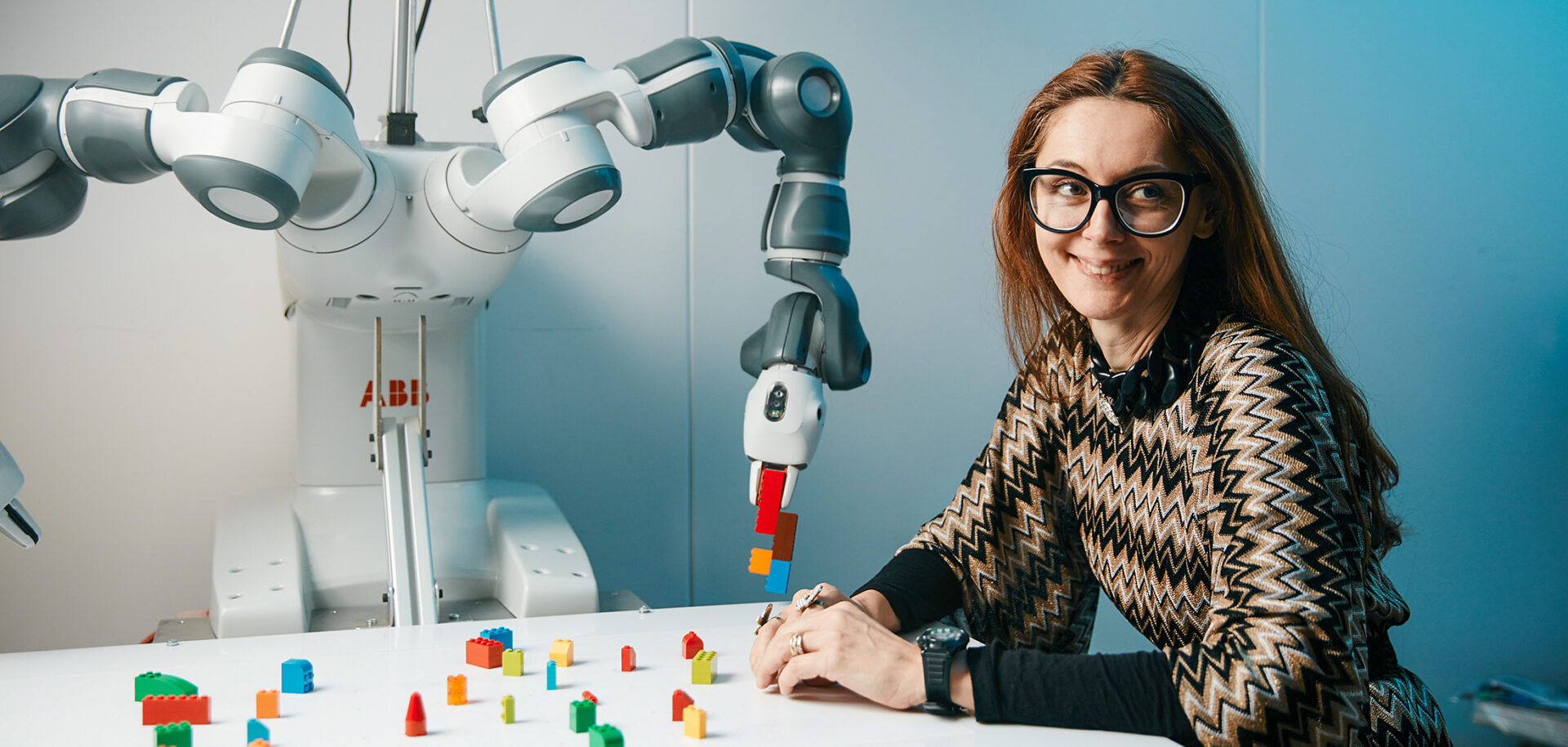 Danica Kragic is on a mission to create ethical robots
Professor Danica Kragic is on a mission to create ethical robots that do the things we don't want to do, can't do or shouldn't do. At the same time, she's sparking debate on accountability.
It's barely five minutes into our interview when Professor Danica Kragic's telephone rings. "Sorry, but I have to get this one," she says. A major donor recently sweetened the pot of a Swedish programme in artificial intelligence (AI) with an extra SEK 1 billion (100 million euros), and Kragic is responsible for distributing the money to research projects.
"With money and trust comes responsibility, and with this 1 billion I now have 1 billion responsibilities," Kragic says with a sigh. But there's no doubt the money is in good hands. Kragic is a professor and vice dean at the School of Computer Science and Communication at the Royal Institute of Technology, KTH, in Stockholm, Sweden. She is also director of the Centre for Autonomous Systems, a member of the Royal Swedish Academy of Sciences and a member of the Royal Swedish Academy of Engineering Sciences. And she's on the board of directors at Saab and FAM AB, a Swedish foundation asset management company, founded by the three largest Wallenberg foundations.
The multitasker that didn't fit in
Probably the most accurate title for her is that of "multitasker", something she attributes to all the love and attention she had when growing up. "I wanted to do well in school and give something back to my family," she says. "I still feel that way all the time – there's a need to give something back."
Kragic was born and raised in Croatia; she happened upon her current field – and Sweden – by chance when she spotted an ad in 1996 to work with robotics at KTH's newly established Centre for Autonomous Systems. "It was a combination of luck, interest and education that made it happen," she says. She got the job.
"I started, and I hated everything about it," Kragic says in her usual candid manner. "I was the only girl in the beginning, the only one with a foreign background and the only person who hadn't graduated from KTH. I wasn't fitting in with my behaviour, my clothes, not with anything!"
A "never give upper", Kragic stuck to the new job. More than 20 years on, she continues to enjoy the dynamics of working with young people and the challenges of robotics research.
Born:
Rijeka, Croatia, 1971.
Lives: Stockholm, Sweden.
Family: Husband and two children.
Work: Professor at the School of Computer Science and Communication at the Royal Institute of Technology, KTH, Stockholm.
Fashion: Kragic is featured in fashion designer Carin Rodebjer's "Women who make a difference" campaign.
Achievements: Was a visiting researcher at Columbia University and Johns Hopkins University in the US and at INRIA Rennes in France. Has an honorary doctorate from Lappeenranta University of Technology in Finland and received the 2007 IEEE Robotics and Automation Society Early Academic Career Award.
Weekend plans: Spending time with her family and browsing flea markets for old crocheted fabrics that she can transform into new clothes.
Robots that empower humans
Danica Kragic is working on ethical robots that empower humans to do the things they are interested in or good at doing rather than replacing humans, as many fear. She envisions more automation in industrial settings to help with heavy, dirty and dangerous tasks. "It's very much about using the technology to do things that humans can't, won't or shouldn't be doing," she says – for example, lifting heavy objects, exerting objects at high force or doing difficult tasks, such as cutting very straight lines.
Personally, Kragic would like to have a robot that helps her at home, especially with her son, who has special needs. "I would like a robot that takes Jonathan by the hand and monitors him to make sure that he is okay when I cannot be around," she says. "The robot could be programmed to act in the same way as I do with him: empathetic and loving. I honestly think that every mom and dad would like to have that."
I feel strongly about robots being used to help people.

Danica Kragic
Kragic foresees robots helping an ageing population, too. "We are working on robots that can interact with different materials and objects so they can acquire finer manipulation skills" – something they lack today, she says. "I feel strongly about robots being used to help people or as mediators, saying what is right or wrong without any personal value in it."
Danica Kragic has a vision – ethical robots
Ethical questions surrounding new technologies keep Kragic awake at night. As a researcher, she wishes that others would share the burden.
"We push for the development of technology and then don't take responsibility," she says. "People buy a phone but don't understand the software, so maybe they should be forbidden to use certain apps? Or who's responsible if your lawnmower is hacked to drive over your neighbour's cat? We need a driving licence to drive a car so maybe we need to certify users when it comes to AI, too."
Kragic raises such issues in her lectures and has even participated in performance lectures with Sweden's Royal Dramatic Theatre in collaboration with the Nobel Center. "Our responsibility as academics is to try to reach a broad audience as much as we can, and doing an artistic performance is one way for me to do that," she says. "It is about building connections in society between people and communities and doing things differently."
Passionate about fashion
When she's not working, Kragic sews. It's something she's been doing all her life. "I learned early on how to work with holes and shapes and make things from bits and pieces," she says.
Sewing is such a passion that she will get up at 6 am while the rest of the family is asleep to cut the fabric for a dress or mull over the best way to structure a sleeve. "It's relaxing for me to do something with my hands, and I like the creative process of building and thinking how to structure the work," she says. "It requires a mental process that takes you away from everything else."