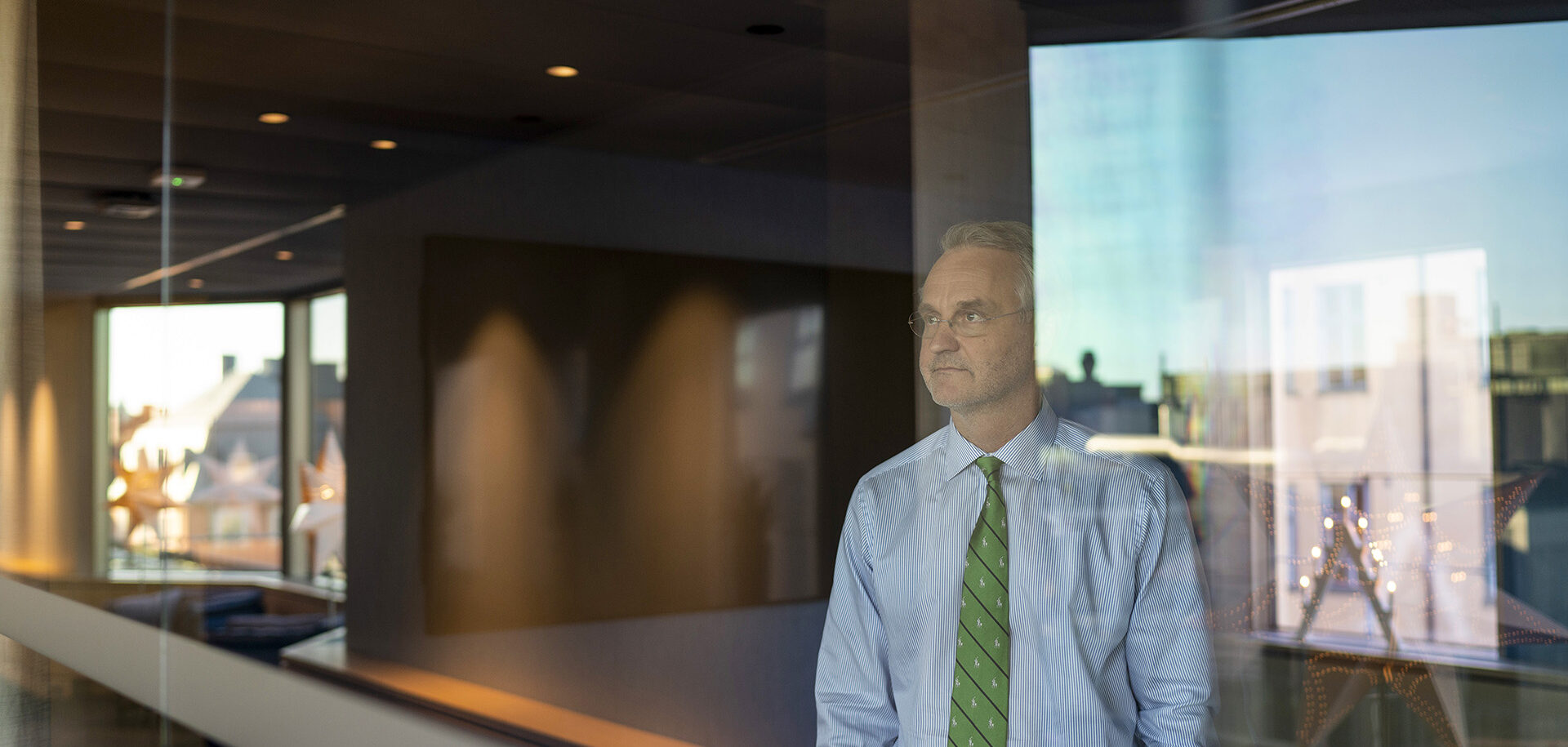 Making the money work for you
The saying is that money talks. Thus, an asset portfolio of 87 billion euros gives you a strong voice. Magnus Billing, CEO of Alecta, aims to use this voice to encourage financial sustainability.
Alecta was established in 1917 as a result of a common desire of Swedish employers and their employees to provide greater security to more people after they retire. The goal was to provide a pension that followed the employee even when he or she changed employers.
Today, Alecta manages occupational pension plans for 2.4 million people and 34,000 businesses across Sweden. It is owned by its customers, and with 87 billion euros under management, it is one of the largest shareholders on the Stockholm Stock Exchange, and the fifth-largest occupational pension provider in Europe.
Magnus Billing joined Alecta as CEO in 2016, after serving as CEO of the Nasdaq Stockholm stock exchange and Nasdaq Nordics Ltd. What he brought to Alecta was a sound knowledge of the financial markets based on technology, a large network of contacts and an ability to balance various stakeholders.
"Alecta is an important part of Swedish society and has for 100 years played an important role for the economic freedom and safety of many Swedish people," Billing says. "What inspired me was the opportunity to bring this work into the future."
The most important task for Alecta and for Billing is to maximize the value of the occupational pensions the company manages – in other words, to create as much value as possible for each Swedish krona that is paid into the pension schemes. An integral part of Alecta's business is also sustainability.

Age: 50
Family: Wife and a daughter
Lives: Bromma, near Stockholm, Sweden
Work: CEO of Alecta. Previously CEO of the Nasdaq Stockholm stock exchange and Nasdaq Nordics Ltd.
Hobbies: Family, friends and golf (holds a four handicap).
"This is something that we can see is important for a clear majority of our customers, and we want to influence our industry's ability to take a long-term approach and promote sustainable development," says Billing, who sees no conflict between the goal of growing the pension funds and taking sustainability into consideration.
"We are convinced that companies who lead sustainable development will also be the long-term winners on the stock market," he says. "It's a clear win-win situation. SKF is one of the holdings in our portfolio where we can see that the company has a strong focus on sustainability."
Alecta's asset management is managed independently and in-house, and all investments are based on solid analysis. The stock portfolio is limited to some 100 holdings, which means that Alecta often is a big and important owner, making it possible to influence a company's direction. This is usually done through dialogue with the board and management, often in a proactive way. A recent example is an exchange between Alecta and Google's parent company Alphabet, which is one of Alecta's five biggest stock holdings.
Early in 2018, Google and YouTube, which is owned by Google, came under fire because extreme right-wing and anti-democratic material was distributed through these channels. In March 2018 Alecta initiated a dialogue with Alphabet to investigate how the company intended to address the problem.
We are convinced that companies who lead sustainable development will also be the long-term winners on the stock market.
"We had a good dialogue with Alphabet, who provided relevant information, and our impression is that they take these problems very seriously," Billing says. "We could see that Alphabet was investing huge amounts in artificial intelligence, where the algorithms learn how to recognize and flag inappropriate material. They presented figures that indicated that during the month prior to our meeting, 98 percent of the material that had been flagged was removed. We will of course continue to follow how Alphabet is handling these issues."
Billing was named the only Swedish member of the European Union's High-Level Expert Group on Sustainable Finance. The group was formed in December 2016 with a mission to develop proposals for the EU's strategy for achieving a sustainable financial system. It was led by Christian Thimann, group head of regulation, sustainability and insurance foresight at the French insurance giant AXA. Other members included Pascal Canfin, CEO of WWF France, and Flavia Micilotta, executive director at Eurosif, the pan-European sustainable and responsible investment membership organization.
"I am very proud that I was given the opportunity to contribute to the work with recommendations that have resulted in specific and concrete proposals to increase the possibilities of investing in sustainable transformation and supporting [the idea] that sustainability is considered in financial decisions," Billing says.
In September 2018 Billing was named chairman of the advisory board of the Stockholm Sustainability Finance Centre, an initiative by the government of Sweden, the Stockholm Environment Institute and the Stockholm School of Economics. The aim of the centre is to accelerate and promote the shift in capital investments required to deliver the sustainable development goals and climate targets set by the United Nations.
"The centre brings together a leading research university in financial markets and economics, the finance industry and a highly ranked institute working on environmental impact and broader sustainable development issues," Billing says. "We combine research, education and innovation on levels of sustainability, economics, finance and new technologies, and we aim to make Stockholm an international hub for this field of research."