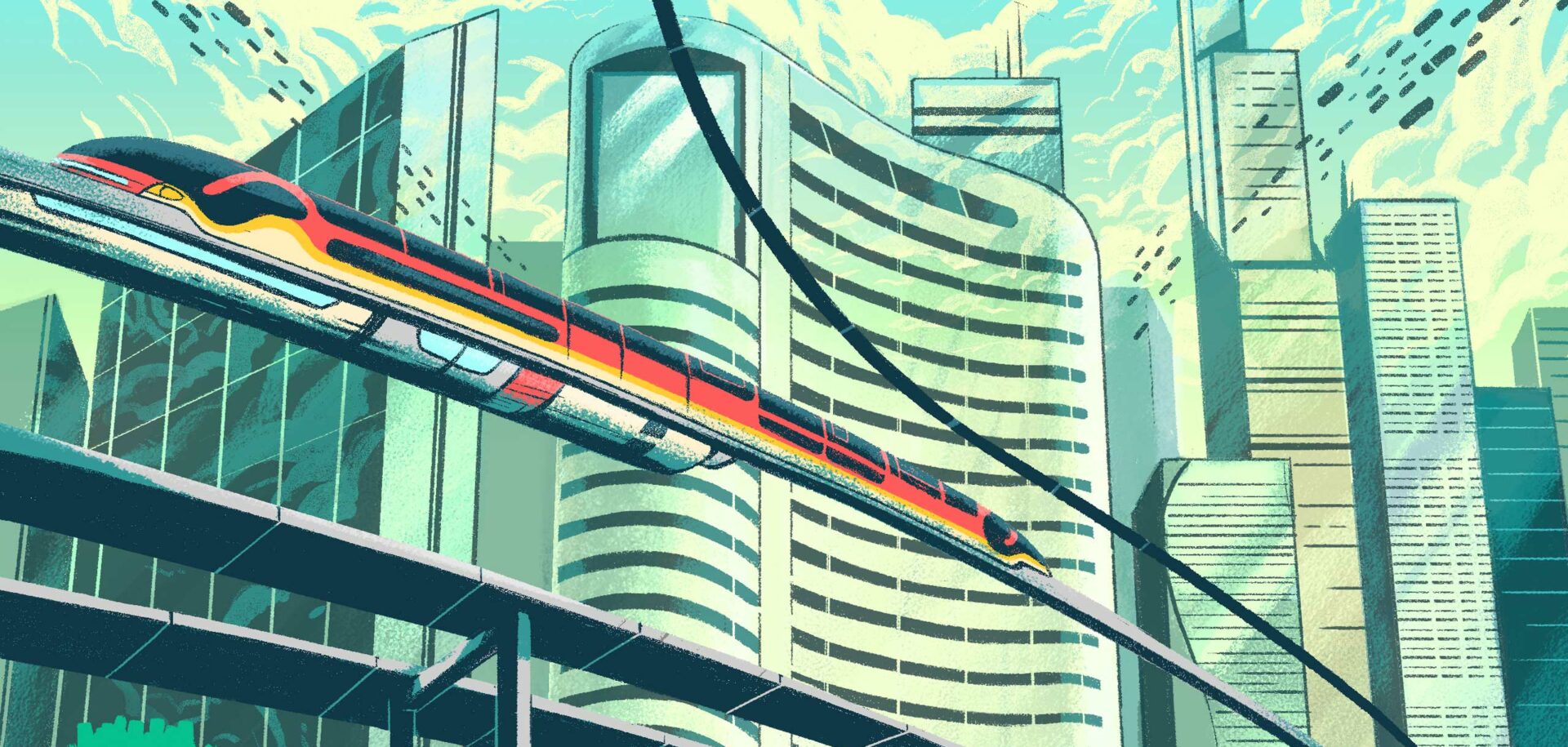 Smart cities rethink mobility
As urban populations grow at an unprecedented rate, mobility has become a critical issue. The transport sector is helping cities create a cleaner, more resilient and efficient way to move people and goods around.
By the year 2050, more than two-thirds of the world's population will live in cities, up from just over half today. Cities are vibrant economic, cultural and political centres, but they also require vast quantities of the world's resources. Cities currently generate more than 70 percent of global greenhouse gas emissions.
Successfully managing this explosive urban growth is a global priority, especially with the growing concern about climate change. Improving mobility is key. Many cities currently lack the infrastructure to support the transport needs of their growing populations. Intelligent transport systems of the future must be less carbon- and energy-intensive and more efficient.
As a leading source of greenhouse gas (GHG) emissions, the transport sector has both a responsibility and an opportunity to shape the future of urban transport. All sectors of transport, from cars and buses to rail, are moving towards more sustainable urban transport systems.
"In 2050, there may be three to four times as many passenger-kilometres travelled as in the year 2000," predicts UN-Habitat, the UN agency for sustainable urban development.

Urban sprawl is exacerbating the problem, leading to a growing dependency on private vehicles. Widespread congestion and traffic gridlock are the norm in many cities, impacting urban life through pollution, noise stress and accidents.
More than 80 percent of people living in urban areas that monitor air pollution are exposed to air quality levels that exceed the World Health Organization (WHO) limits. Transport is responsible for a large proportion of urban air pollution, with its adverse impacts on human health.
Noise pollution can be found anywhere, but it's especially bad in cities. Noise from road traffic alone is the second most harmful source of environmental stress in Europe, behind air pollution, and can cause a number of short- and long-term health problems, according to the WHO.
With a low-carbon transport system, future mobility has the potential to improve the lives and livelihoods of billions of people. Forward-thinking cities and businesses are embracing new technology and business models for this new era of mobility. Autonomous vehicles, electric vehicles (EVs) and shared mobility models can reduce emissions, other airborne particulates, congestion and road accidents and improve accessibility. Transport options are increasingly multi-modal, connected, autonomous and electric, resulting in lower emissions and less congestion.

Private automobiles are the biggest source of transport-related GHG emissions. Until cities become less car-centric and more multi-modal in their residents' transport choices, cars need to be cleaner and greener. Over their lifetime, electric vehicles produce far less global warming pollution than their gasoline counterparts – and they're getting cleaner.
According to the Union of Concerned Scientists, "EVs generate half the emissions of a conventional car over the course of its life."
With declining battery costs and tougher fuel economy and pollution standards, automakers are stepping up their game in all-electric models. Ford Motor Company announced in 2018 that it would more than double spending on electrified vehicles, spending USD 11 billion to bring 40 electrified vehicle models to market by 2022.
This announcement marks the end of the solely combustion-engine-powered car.

Håkan Samuelsson
President and CEO
Volvo Cars broke news in 2017 that starting in 2019, all of the new models it produces will be electric or hybrid. "This announcement marks the end of the solely combustion-engine-powered car," President and CEO Håkan Samuelsson said. Volvo was the first traditional automaker to set a date to phase out cars powered only by internal combustion engines. It plans to have sold a total of 1 million electrified cars by 2025, 50 percent of its total sales.
One approach is to rethink public transport: to create high-capacity systems that use a combination of metro, light rail and bus rapid transit. Electric-powered buses and compressed nat­ural gas (CNG) hybrid buses consume 30 percent less fuel with more floor space to accommodate more people. Volvo Buses and Siemens have been partnering on delivering electrified bus systems including charging stations in cities worldwide, including Copenhagen, Hamburg and Montreal. New York's mass transit system began a three-year pilot programme in 2018 for 10 all-electric buses to reduce emissions. Another 100 CNG buses will replace diesel buses. Stockholm's city transport authority has set a target for 100 percent fossil-free buses by 2025.
This announcement marks the end of the solely combustion-engine-powered car.

Håkan Samuelsson
President and CEO
Scania, a leading manufacturer of trucks, buses and coaches, is committed to working towards a fossil-free commercial transport system by 2050. At its Sustainable Transport Forum in May 2018, Scania President and CEO Henrik Henriksson said, "We can achieve more than 20 percent reduction of CO2 emissions by working even smarter in the current transport systems, for example through improved routing and better load management. On top of that, we see several fuel and powertrain pathways to a fossil-free future. Biofuels offer the fastest CO2 emissions reductions, and electrification is the most cost-effective."
China is also moving swiftly to more sustainable transport, in large part because of its severe air pollution problems. China's investment in electric vehicles is amongst the most ambitious in the world. In Shenzhen, a city of 12 million just north of Hong Kong, the entire bus fleet – 16,359 buses – went fully electric in 2018, according to CleanTechnica, a clean-tech focused website. Next, the city intends to make all of its more than 17,000 taxis electric.
Light rail systems are also helping to reduce traffic congestion and pollution, especially during peak hours. The rail industry, like other transport sectors, has been moving away from fossil fuels towards new forms of power, including hydrogen fuel cells and batteries.
After a gradual start, the move to renewables has ramped up recently. In addition to advances in renewable technologies, the disruption in rail transport is also being driven by improvements in battery storage.
European light rail and commuter rail are already running trains on battery technology. Increasingly large sections of track are being electrified. In Germany, integrated transport provider Alstom is testing its Coradia iLint train, which works by combining hydrogen and oxygen in an onboard fuel cell to generate electricity. Passenger trains are expected to enter service in 2018.
In 2015, the UK's Network Rail performed trials of the first battery-powered passenger train to run on Britain's rail network in more than half a century. "[They are] quieter and more efficient than diesel-powered trains," said a Network Rail spokesperson.
As urban populations expand, city planners and the transport industry need to rethink mobility. New technology such as autonomous and self-driving vehicles, artificial intelligence and connected services are giving rise to new forms of personal mobility, ride-sharing platforms and public transport solutions.
Integrating new and existing mobility models will require public-private partnerships, continued innovation and a roadmap for a low-carbon, accessible, efficient and resilient infrastructure that serves every urban citizen.