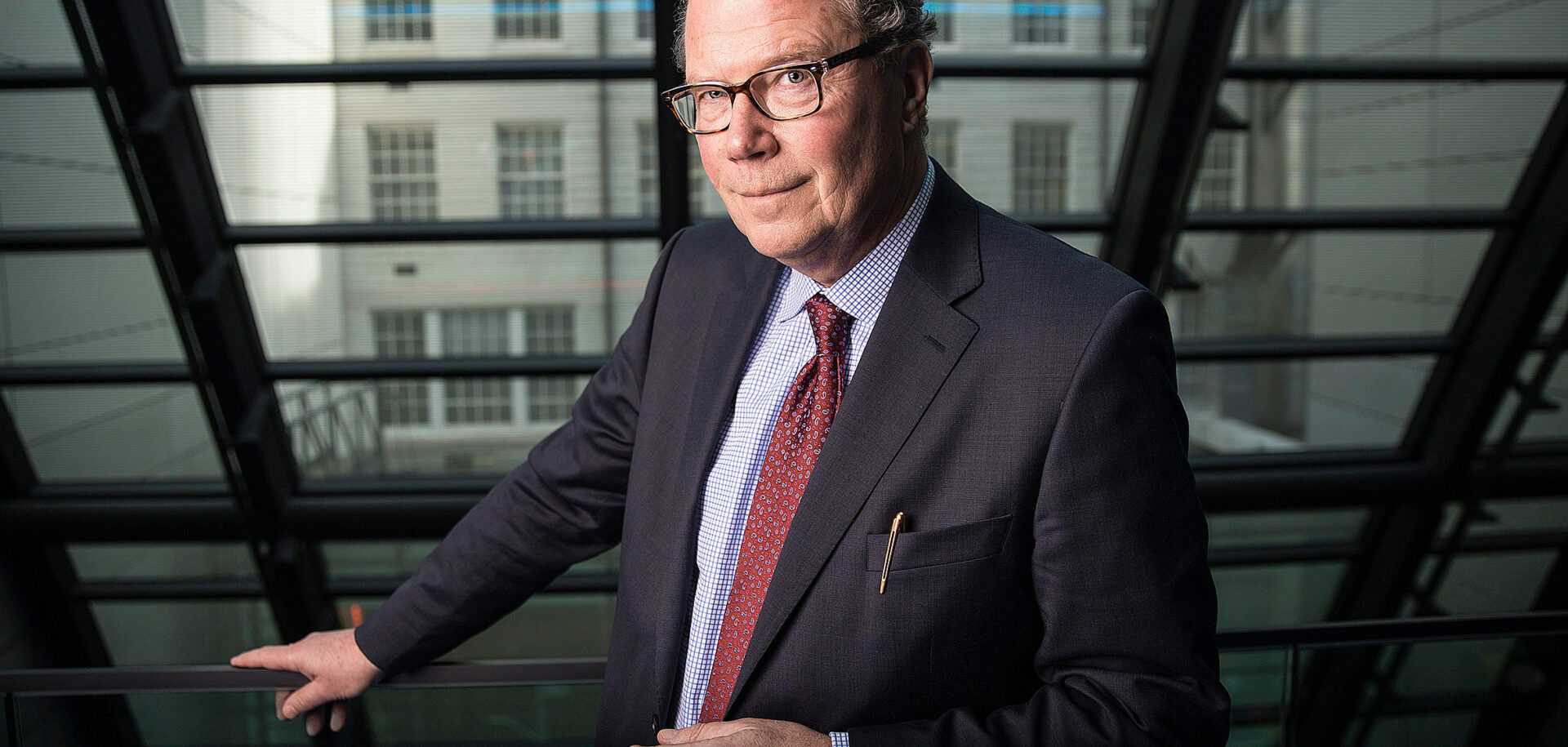 Staying in tune with business
Swedish businessman Leif Johansson has been listed among the most powerful people in the country. His career has gone from strength to strength with such highlights as, most recently, chairman of Ericsson. "Retirement" is not part of his vocabulary.
By the time he was 10, Leif Johansson knew all there was to know about grinding bearing rings. His father, Lennart Johansson, worked at SKF for 50 years, working his way up from production to eventually becoming the company's CEO. "My brother and I sometimes went to the workshop with him on Saturdays," he recalls. "He was passionate about manufacturing and very inspiring."
Lennart Johansson wanted his sons to get a good education – something he never had the opportunity to do. So when 14-year-old Leif announced that he wanted to play in a rock band, Lennart told him he could do anything he wanted as long as he came home with good grades in maths and sciences. "Now, at 65, I think it was a good idea," Johansson says. "It saved the world from a bad guitarist." Although Johansson continued to play the guitar, he became an engineer, and the rest is history.
I love going to work and meeting with talented people. I really enjoy being part of a broader group of people.

Leif Johansson
Johansson's career took off like a flash. At just 27 he became the CEO of global outdoor products manufacturer Husqvarna's motorcycle operations. He then went on to become CEO of former office products manufacturer Facit, appliances producer Electrolux and the Volvo Group. Today, he is chairman of telecom giant Ericsson and global science-led biopharmaceutical business Astra-Zeneca, a board member of automotive safety systems manufacturer Autoliv, chairman of the Royal Swedish Academy of Engineering Science (IVA), a board member of the European Round Table of Industrialists (ERT) and adviser to the mayor of Beijing and the governor of China's Jiangsu Province. And he still finds time to run his own small investment company. "You know the saying – if you want something done, ask a busy person," he says. "I'm very focused, and I probably lead a very structured and disciplined life."
Over the years Johansson has been awarded His Majesty the King's Medal, the French Legion of Honour, honorary doctorates and more. That's a lot of achievement for someone who says he never had a long-term career plan. "I'm slightly adventurous, and I haven't refused much," Johansson says. "If the company feels that I'm needed over there, I do that." He has frequently wound up on Swedish lists of the country's most powerful people, something Johansson says he doesn't feel. He does however acknowledge a sense of responsibility that comes with power. "Companies should be serving the societies in which they are working," he says. "If they don't, they will fail in the longer term."
Johansson's long career has been spent working with large global Swedish companies where, he says, "standing still wasn't an option". Swedish companies started exporting resources very early on and were quick to expand abroad. "We never had a home market to develop or retreat into like German or American companies," Johansson explains. "But we had a lot of very good technologies, science and physics and could turn that into innovative companies."
This heritage is still evident but Johansson warns that it is in jeopardy. "We are losing young people very early in school," he points out. "They decide that math is difficult, and then we never get them back into thinking that math could be a good language to learn – and it really is a language."
In his work at IVA, Johansson is focused on getting more young people selecting natural sciences and technology due to a forecast lack of engineers. "If we could increase the number of young people, we could solve half the problem," he says. "The other half we could solve with immigration. If we don't get that, it's going to be a matter of gradually losing added value, which is not good for a country." Johansson also warns not to assume that past Swedish success will continue without effort.
"I think that on a country level we did almost everything wrong between 1968 and 1992," Johansson says. "We taxed individuals and companies in such a way that very few new companies were formed in Sweden, and the old ones really suffered. It was the worst time in Sweden's business history, and we had negative productivity development almost every year." Since then, he says, Sweden has "done most everything right". This has meant having a tax system that offers incentives to promote the creation of new companies rather than chasing them away.
Johansson is an ardent believer in the European Union, and as an active participant in the ERT he is dismayed when politicians want to go back to "the old" Europe. "Europe has a terrible history of wars," he says, "and from my point of view this is still a very valid argument for the EU." He also fears losing the competitive edge and attractive investment market that comes with being unified. "If we start tearing that down, all countries, but especially the small ones, would lose," he says. "We also have a young generation that is used to working and studying anywhere in Europe. The older generation shouldn't take away what's been achieved."
Johansson has passed the 65-year mark, but he says he has no plans to retire anytime soon. "Nope!" he says. "I love going to work and meeting with talented people. I really enjoy being part of a broader group of people, and if it's interesting from a technological or scientific point of view, that's even better."

Leif Johansson
Family: Wife of 45 years, five children, and grandchildren
Home: Gothenburg, Sweden
Leisure: Has a weakness for acoustic Martin guitars. "Martin guitars are fantastic instruments," he says. "They are beautifully made in Nazareth, Pennsylvania, with a fantastic mixture of high technology and craftsmanship. I have a couple of them at home – six or seven really…."
Favourite expression: "Life is a package deal. You take the good with the bad and get on with it."