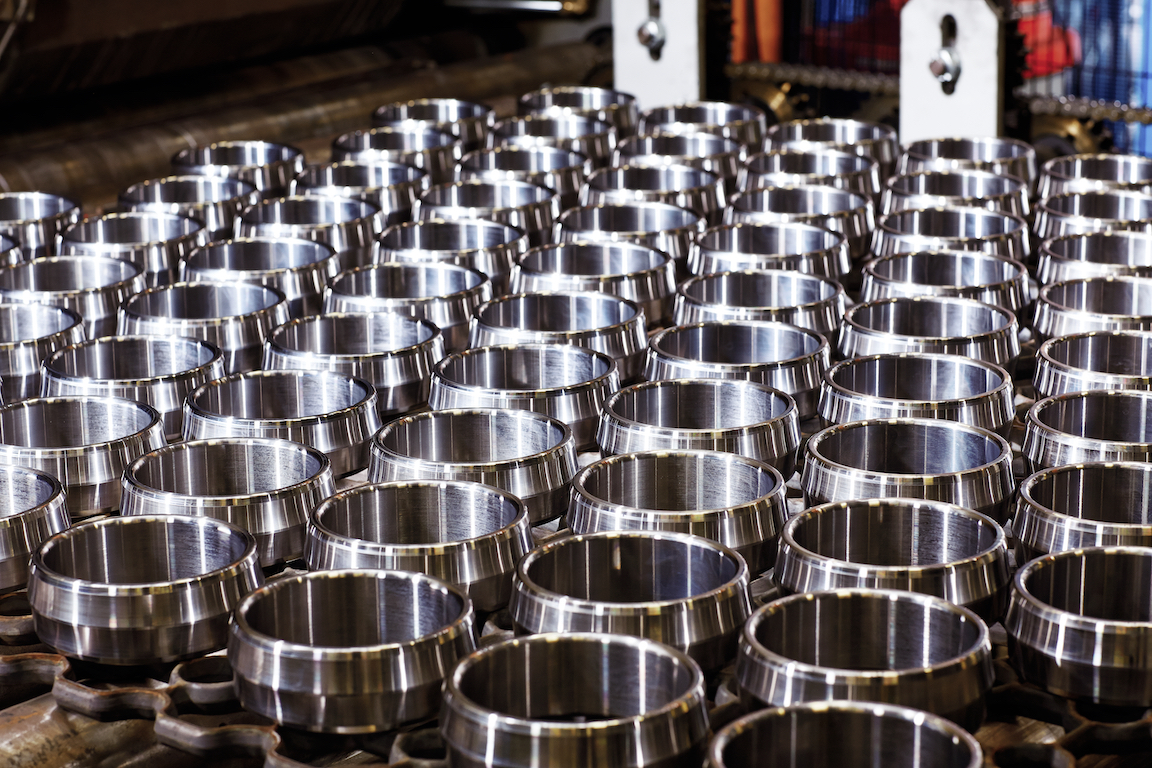 The big bend
Swiss company Haeusler AG sets the global standard for metal-bending machinery. The forces in these huge machines require bearings that can really take the loads.
Swiss company Haeusler AG sets the global standard for metal-bending machinery. The forces in these huge machines require bearings that can really take the loads.
For most people, the words "Swiss engineering industry" probably conjure up a mental picture of small-scale, high-precision work such as watchmaking, at which the Swiss excel. They may be surprised to learn that Switzerland is home to a company that makes some of the biggest and heaviest metalworking machines around.
Metalworking, or metal forming, with machine tools is another concept that is sometimes misunderstood. In most people's minds, "machine tools" means equipment of modest size, such as lathes, drills and milling machines. But the machine tools that can bend metal plate that is as much as 24 centimetres thick and turn it into rounded products such as pressure tanks and pipelines may be more than 20 metres long and weigh more than 1,000 tonnes. Making massive metal-bending machines is the business that Haeusler AG is in.
Christian Haeusler started his company in 1936 in a small locksmith's workshop in Dornach, a village 12 kilometres south of Basel. Much of the Swiss pharmaceutical industry is centred in this city, which is situated in the north of Switzerland, where it meets both France and Germany. Pressure vessels and other chemical process equipment used in the production of pharmaceuticals are made largely of curved metal plates. Haeusler's company has prospered ever since it started making metal-bending machines.
Haeusler sold his first metal-profile-bending machine in 1950. A metal-plate-bending machine, shipped to the Netherlands in 1952, was the company's first export success, followed three years later by a similar machine sold to India. Haeusler opened a second factory at Rheinfelden, some 12 kilometres east of Basel across the border in Germany, in 1958, to get better access to the then new European Common Market. By 1978, the space at Dornach no longer sufficed for the ever-larger machines being built, and the Haeusler factory moved down the road from Dornach to the next village, Duggingen, where it is now situated on the bank of the river Birs.
"Christian Haeusler,our founder, died in 1980," says Camille Haeusler, vice-president of the company. "His son, Jörg Haeusler – my uncle – then became managing director. Under him, Haeusler has grown and diversified. We now make many different machines, but they all serve, one way or another, to work metal – metal plate or sheet, metal tubing or metal profiles – into various shapes." The company's production programme falls into six
categories: three- and four-roller metal plate and sheet bending machines, section bending and tube bending machines, machines for making dished or flanged heads for pressure vessels, calibrating machines, welding and assembling equipment, and metal forming systems, such as complete production lines for pipe mills, wheel rims and fuel tanks.
The relative importanceof these segments varies with demand. "Global demand for pipelines from the petrochemical industry is strong at present," Haeusler explains. "As a result, machines for bending flat sheet into pipes – three-roller machines with a pre-stressed top roller – now represent more than half of our total turnover."
Haeusler also makes machines that bend massive steel profiles and tubes into curved shapes. Visitors to the Olympic Games in Sydney, Australia, in 2000, probably passed through the city's Olympic Park railway station and saw the bicycle events in the Dunc Gray Velodrome. The gracefully curved roofs of these two constructions rest on 35-centimetre-diameter steel tubes that were shaped on Haeusler bending machines. Smaller tube-bending machines wind tubes into spirals for use in heat exchangers and boilers.
"Over the years, we acquired a lot of know-how in the engineering processes that precede and follow the metal-bending operations in the manufacture of pipes," Haeusler says. "With this know-how we entered a new business sector in 1991, when Haeusler, as general contractor, supplied a complete pipe mill to South Korea.
"A complete pipe mill like this costs roughly between 40 and 70 million euros," she continues. "After the Korean job came turnkey projects for pipe mills in Egypt and Iran in 2002 and one in Russia in 2007. In the business of supplying complete pipe mills, we reckon we have a 70 percent world market share."
As general contractorfor the factory in Egypt, Haeusler not only supplied every item of equipment, but it also coordinated all the other suppliers, carried out the commissioning work and continued as consultant to the mill's operator for two years after start-up. The core item of the plant at Port Said, Egypt, is a single part weighing 153 tonnes that was manufactured at the Haeusler works in Duggingen, carried on a low-loader trailer to Basel, by barge down the Rhine to Antwerp and then on a cargo ship through the Mediterranean to Port Said.
To design and build its complex machines Haeusler needs a highly qualified workforce. "About 90 percent of our employees are highly skilled, and finding them is not easy," Haeusler notes. "Some of our employees come to Duggingen from as far away as Freiburg in Germany, a distance of about 80 kilometres.
"We have always been at the cutting edge of metal- bending technology," she says. "Our machines are seen as setting the state-of–the-art standard in our industry. In 1964 we developed the world's first hydraulic four-roller plate bending machine. In 1986, we shipped the world's largest four-roller bending machine, weighing more than 1,000 tonnes, to France. Then, in 2001, we beat our own record with an even bigger four-roll machine for Dillinger Hütte, a German customer. In 1997, we built the world's largest expander, which was sold to France for helping to build Ariane rockets.
"We have also earned a reputation for machines that are durable," Haeusler says. "About 90 percent of all the machines we have built since 1950 are still in use worldwide. For machines like these, SKF has been supplying the bearings – mostly very large spherical roller bearings – to us for decades. I am convinced that SKF bearings have contributed significantly to our reputation."
---
Using bent metal plate
It is impossible to catalogue the myriad applications for bent metal plate. It is turned into legs for oil platforms, masts for wind turbines and pressure pipes for hydroelectric plants or thermal power plant turbines. It is used for hulls for ships, fuselage parts for aircraft and leading edges for wings. It also becomes wheel rims and fuel tanks for lorries. The list is endless.