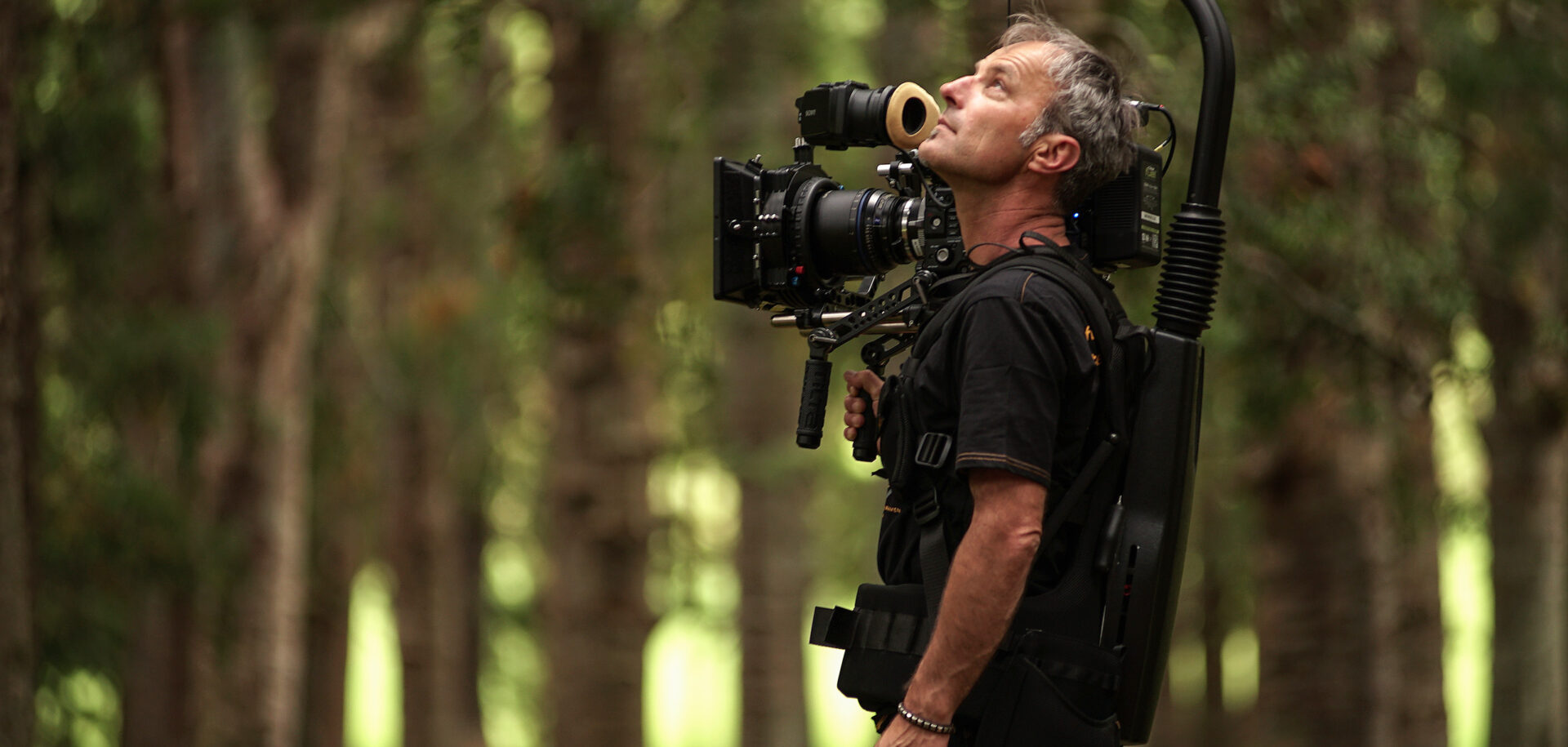 A helping hand
Some 20 years ago, a Swedish cameraman with a sore back came up with an idea for an innovative new camera rig. Today his solution, Easyrig, can be spotted on film locations all over the world.
Working long hours during the 1993 world handball championship in Sweden brought home to cameraman Johan Hellsten just how painful carting around a television camera could be. On assignment for Swedish Television, he was covering two or three matches a day, and the heavy camera on his right shoulder was taking its toll on his back, shoulder and arm.
"It struck me how much easier things would be if the camera was hanging on a wire from the ceiling," says Hellsten. An experienced hiker, he also thought about how much easier it would be to carry such a heavy load on his back, rucksack-style, with most of the load transferred to his hips.
Based on these thoughts, he started to work on a prototype, consisting of a rig on his back and a bar going up and over his head. Inside the bar, a wire was connected to a gas spring from which the camera was hung.
"Eventually it worked just as I had intended," says Hellsten. "It took the load off my shoulder and made the camera much easier to carry."
Other cameramen soon noticed his self-made equipment and asked if he could build a similar contraption for them.
"That was the real start of Easyrig," says Hellsten. "I started to build rigs on a small scale in my spare time, producing just a few units a year."
Hellsten continued to develop and refine his invention, and the business continued to grow. In 2012, he quit his job as a cameraman to concentrate full-time on the Easyrig business.
Today, more than 6,000 Easyrig units have been sold. The Easyrig is offered in five models, and the equipment can be spotted on film locations all over the world. Blockbuster movies such as Peter Jackson's The Hobbit trilogy and Child 44, directed by Daniel Espinosa, have been filmed with the help of Easyrig units.
A new Vario 5 model was released in 2015. Previous models were fitted with a gas spring designed to accommodate a specific camera weight. The Vario 5 model has an adjustable weight range, running from five to 17 kilograms. By turning an adjustment screw located on the back of the rig, the user can change the tension of the wire for different camera models.
"We tried to achieve this flexibility by making the pressure in the gas spring adjustable, but that proved tricky," says Hellsten. "Then we got the idea of connecting the gas spring to a mechanical arm, which changed the angle on the wire and hence the tension. I'm actually quite proud of this idea, and we've filed for a patent on it."
Easyrig is a privately owned company situated in Umeå in northern Sweden. It employs five people full time with an additional five to seven student workers in the summer.
The Easyrig is available in five different models:
– Easyrig 2,5: for less demanding applications. A range of gas springs can be provided for cameras weighing up to 15 kilograms
– Easyrig 3 Cinema: for cameras weighing up to 25 kilograms
– Easyrig Mini: created specifically for smaller cameras weighing up to six kilograms
– Easyrig Gimbal Rig: for handheld Gimbals (a pivoted support that allows the rotation of the camera around a single axis).
– Easyrig Vario 5: can be adjusted for a range of cameras weighing from five to 17 kilograms.
www.easyrig.com
Despite his success, Hellsten maintains a down-to-earth approach to his business. The workshop, located in Umeå in northern Sweden, is built around his house, which has had extensions added as the business and revenues have grown. He prefers local suppliers for the materials used in the rigs, and through a cooperation with the local unemployment office he offers summer jobs to local students.
"We employ five to seven students every summer to help us build an inventory of parts for the rigs," says Hellsten. "It's a win-win situation for us. I think more companies could benefit from offering summer jobs to students."
Hellsten takes pride in the fact that he hasn't raised the price for the Easyrig 2,5 model for the past 15 years.
"I have food on the table and a roof over my head – that's what I need," Hellsten says. "All the clients are my cameraman colleagues. The real reward is when I meet someone out in the world and he says 'Johan, Easyrig really saved my back'."
Silence is golden
When a film director says the magic words "camera – action!", it is crucial that no disturbing sounds – such as a rattling camera rig – spoil the shoot. A spoiled shoot means retakes, additional costs and an annoyed crew.
Thus, noiselessness was a crucial factor for Easyrig inventor Johan Hellsten when he went to look for bearings on which the wires run in his camera rig.
"The requirements were as low friction as possible and preferably complete silence from the bearings," he says. "I found that SKF could deliver this, so I didn't think of using any other supplier for the bearings."
The Easyrig bearings are sealed single-row deep groove ball bearings.
"I usually order them in lots of 20,000 to make sure we don't run out of bearings," says Hellsten.