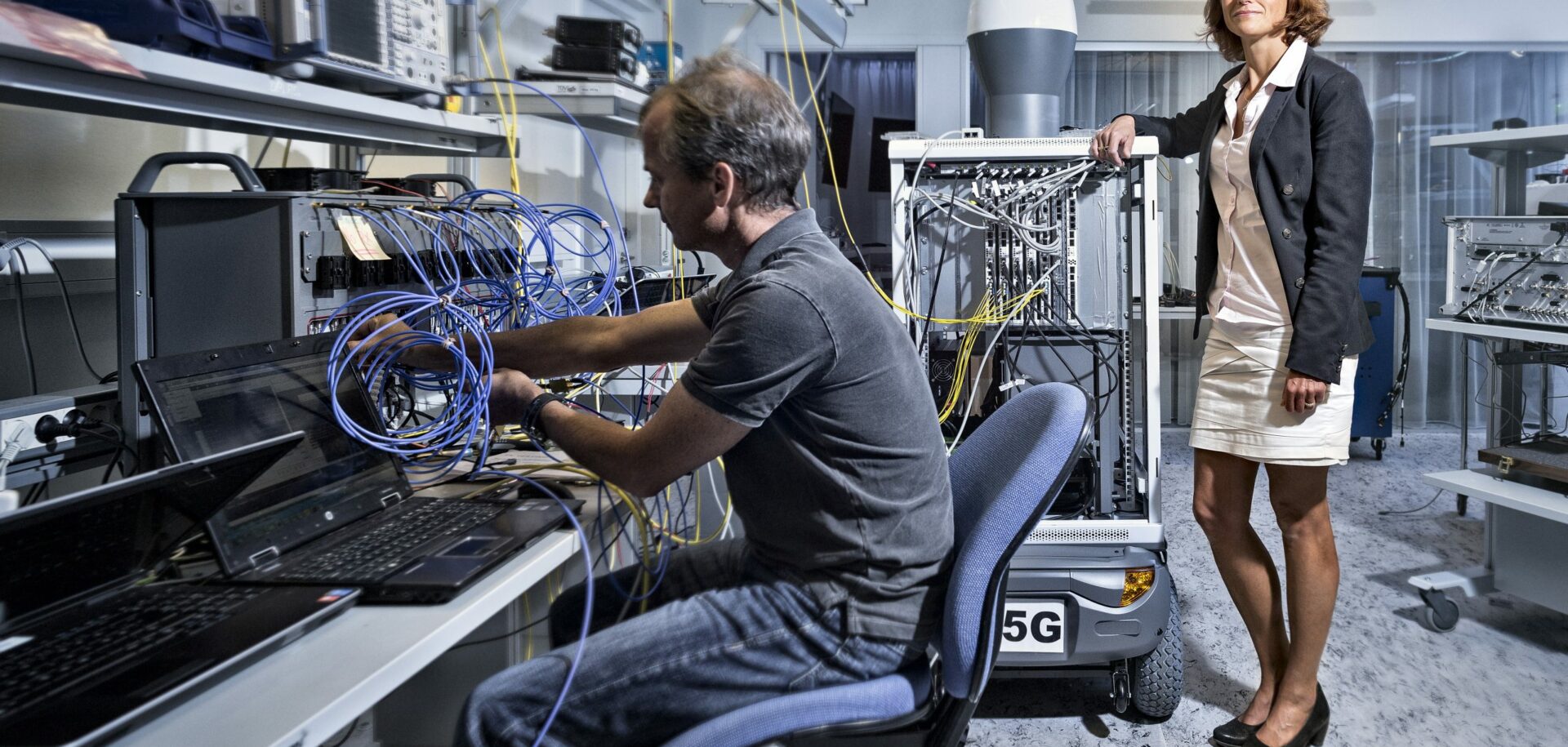 An inquisitive mind
Computer Sweden magazine named Sara Mazur the most powerful IT woman in the country in 2014. That's quite an achievement for someone who never planned her career.
Sara Mazur always knew that she wanted to work with research, but extensive career planning was not part of the equation. She surely never envisaged that she would one day become head of research at Swedish IT and telecoms giant Ericsson. Looking back, Mazur says, "I don't think you should spend too much time planning your career, but focus on what you enjoy and do a good job."
Mazur came to Ericsson in 1995, armed with a PhD in the field of fusion plasma physics. She spent the early years doing research on adaptive antennas. In 2012 she became head of research. "It's great to work at a company that is in the technological forefront and with technology that affects everyone's life," Mazur says.
With all of the technology choices around, perhaps Mazur's biggest challenge is zeroing in on the technology that will be most valuable for the company down the road.
5G systems are one of the focus areas that Ericsson Research is betting on. It is also focusing its research on networks and clouds for the networked society, ICT (information and communications technology) transformation of industries and service delivery, and next-generation management and operation, including big data and analytics.
Sara Mazur
Born: 1966 in Gothenburg, Sweden
Lives: A renovated home from the 1800s just outside of Stockholm
Works: Kista, northwest of central Stockholm
Family: Husband, son and daughter plus husband's two grown daughters
Favourite pastime/hobbies: Horseback riding, skiing and other outdoor activities, old houses, good food and good wine
Education: MSc and PhD in fusion plasma physics from Sweden's Royal Institute of Technology
Awards: Named the "Most Powerful IT Woman in Sweden" by Computer Sweden and "Female Role Model of the Year" by the telecom branch newsletter Telekomnyheterna in 2014. She has also received an honorary doctorate from Luleå University of Technology.
Hidden talent: "I'm really good at assembling IKEA furniture. It's like building Lego, but for grownups. I like doing constructive work."
Ericsson Research has also started something called the Ericsson Garage, a technology incubator. Anyone can propose an idea and, if it is accepted, leave his or her regular work behind to concentrate on turning the innovation into a prototype.
One innovation that came from the Garage is a tool for remote banking that was developed with a Swedish bank. Another product from the Garage is an application with Universal Music to stream live events on mobile phones and instantly project them onto a screen.
"Innovation can be a challenge in a large company like ours with a big legacy," Mazur admits, but emphasizes that part of the company culture is that it's OK to fail. "If we work on something that doesn't result in a product, it's OK, because we have still learned something in the process."
But obviously, success hasn't eluded the company. Some 40 percent of the world's mobile traffic is carried over Ericsson networks, and the company holds more than 35,000 patents. In the past, when Mazur had more time to be hands-on, she herself patented 69 inventions – mainly having to do with smart antenna systems for mobile communication systems.
"Good inventions come out of doing good work and from having interesting problems to solve," she says. "When you have a problem that you can't solve, you tend to think about it all the time, so the solution can come at any time. You may think 'Aha, so that's how it works' while doing the dishes."
Mazur has always been interested in how things work. "I liked helping my father fix things at home and I always liked math – its logic and objectiveness suit me," she says.
To help stay on top of the trends, Mazur spends a good deal of time talking to people and taking part in their work. "There's a lot of technology sharing that goes on within the company, and I have 650 brilliant people in Ericsson Research to help me keep up," she says, adding that about half of the people within Ericsson Research have a PhD and the rest have master's degrees.
So what kind of world does someone working on the cutting edge of technology foresee for the future?
"When I was a kid I thought that my grandmother, who was born in 1900, had experienced a lot – the introduction of cars, TV and so many other things. But I've experienced many dramatic changes and my kids are experiencing even more. For kids today it is difficult to envisage a life without Google and the Internet – or even when there was strictly fixed telephony. How technology will change our lives remains to be seen, but one thing we do know is that this technological revolution will continue to evolve and the pace will be quicker and quicker."