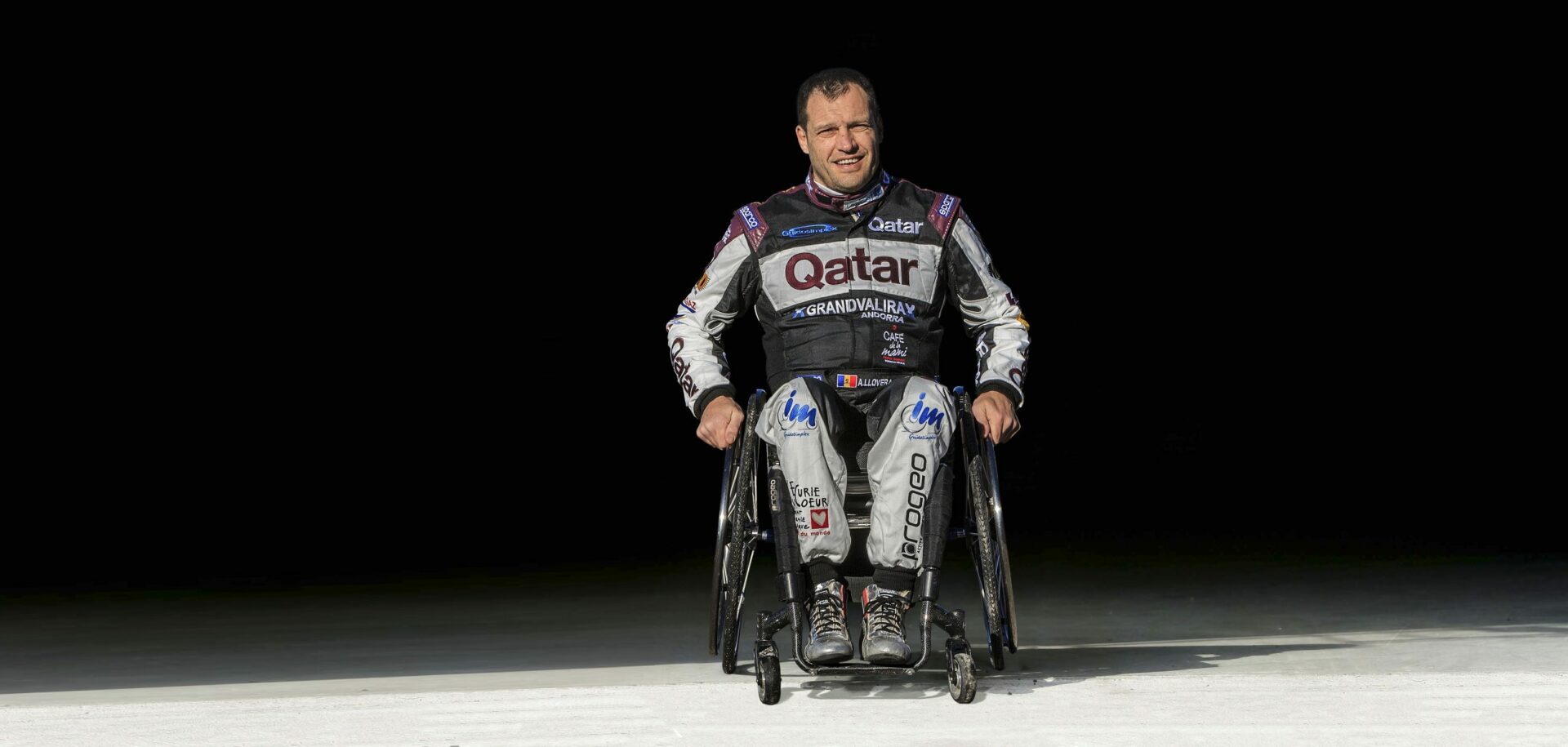 Life in the fast lane
Albert Llovera is one of life's extraordinary people: tenacious, determined, energetic and competitive. He has overcome the consequences of a serious skiing accident that left him with lower body paralysis to become the only title-holding paraplegic rally driver in the world.
In conversation with Albert Llovera there is no hint of the obstacles that he has had to overcome to become a successful rally driver. There's only an all-embracing sense of gusto for life and a passion for racing, orthopaedics, inspiring others, wheelchair development, adapted driving controls and different devices to enable people with reduced mobility to walk.
"I'm neither Superman nor someone special," Llovera says of himself, although to look at the challenges life has thrown at him and how he set about overcoming them, it's very clear that he is someone very special.
A native of the tiny country of Andorra, Llovera was born in 1966, the youngest of four brothers. He grew up in the high-octane world of competition skiing, competing in the 1984 Winter Olympics in Sarajevo, Yugoslavia, at age 17. But life changed forever on his return to Sarajevo in 1985 to take part in the European Ski Cup, when he crashed out at 100 km/h on the downhill course, suffering severe injuries that left him confined to a wheelchair.
Llovera faced the difficult times ahead with a grit that galvanized him through a traumatic period of recovery and adjustment to life in a wheelchair. From the start it was clear that Llovera was going to resume an active life. Even when he was recovering in hospital he pestered his doctors to allow him to attend a rock concert with his brothers. "Drive and determination helped me through," he says in retrospect. "My mother says I'm exactly like I was before the accident. Everyone can overcome obstacles, but you have to use that capability– use it or lose it."
An extraordinary tale of discovery and adventure followed Llovera's discharge from hospital. He took part in a NASA (US National Aeronautics and Space Administration) research project into spinal cord injuries. "On the moon you don't need a wheelchair," he says, laughing. Whilst at NASA's facility he took up basketball. "This really reintroduced me to the world of sports," he says, "as I realized that someone in a wheelchair could carry on being involved in competitive sports."
Llovera's other great passion was motor racing. "My passion for driving came from skiing," he explains. "The sensations of skiing and driving are similar. You're either on skis or tyres – and your knees are the equivalent of a car's suspension. Gradually I got used to driving using only my hands. Driving gives me a fantastic sense of freedom. Winter Saturday nights in Andorra were a real blast – on the way to a disco we'd all meet together and do a high-speed tour of all the major ski stations. Someone pointed out to me that I was driving as fast as some of the best drivers, so I came to the world of motor competition."
Born in: Andorra
Age: 48
Achievements: Participating in the Winter Olympics at the age of 17, representing Andorra at the 1984 games. Winner of the 1989 Peugeot Rally Cup in Andorra. Champion of the 2012 Spain Rally Championship, in the Group N category.
In 1987 Llovera won the Championship of Andorra for quad bikes, and after tough training and great rally and competition performances he won the Peugeot Rally trophy in Andorra in 1989. Then things really took off with wins in Andorra and Catalonia, culminating in 2000 when he was runner-up in the Catalan Speed Championships. Yet another change of direction came in 2001 and 2002 with sponsorship from Fiat in the Junior World Rallying Championships, resulting in seventh- and eighth-place finishes in Finland and Corsica respectively. All the while Llovera, inspired by his time in hospital and rehabilitation centres, became a specialist in sports orthopaedics – "not just for 'handicapped people'," he emphasizes, "but for all types of sports-related injuries, especially skiing." He is also involved in the development of hand controls for cars and mobility equipment engineering as well as giving talks to businesses and to people with serious injuries. "I want to pass on the message that even with serious injuries, people can achieve a lot."
In 2011 Llovera took ninth place in the World Rally Championships; in 2012 he won the Spanish Rally Championship in the Group N category, going on to hold fifth place in the 2014 Rally de España before leaving the competition to focus on the Dakar Rally. "The most important objective at the moment is preparation of our buggy for the gruelling challenges of the 2015 Dakar Rally," says Llovera*. "After that and as from March 2015 we'll be in intensive preparation for Dakar 2016. We'll be working particularly on regulating engine temperature, which gave us major problems in the 2014 Dakar Rally. We'll also be working on maximizing the buggy's handling in sand."
Not surprisingly, most of Llovera's life is spent away from home. "I'm away about 200 days [a year], so when I'm home I spend as much time as possible with my daughter, Cristina," he says. "She's the most important person in my life. We go out partying and dancing together. I also love spending time with my parents and brothers. My mother is a sensational cook." And for relaxation? "My hobbies mostly involve sports with my friends – skiing, tennis and recently a crazy descent down the mountains in a specially designed wheelchair. But I also concentrate a lot on relaxation techniques, especially controlled breathing."
Llovera sums up his approach to life in a typical no-nonsense way: "There's no way I'm going to spend my life stuck at home," he says. "I battle each day to keep up this pace of life."
*The Llovera interview was done prior to the 2015 Dakar Rally. He succeeded and finished the rally in 41st position in the car category.