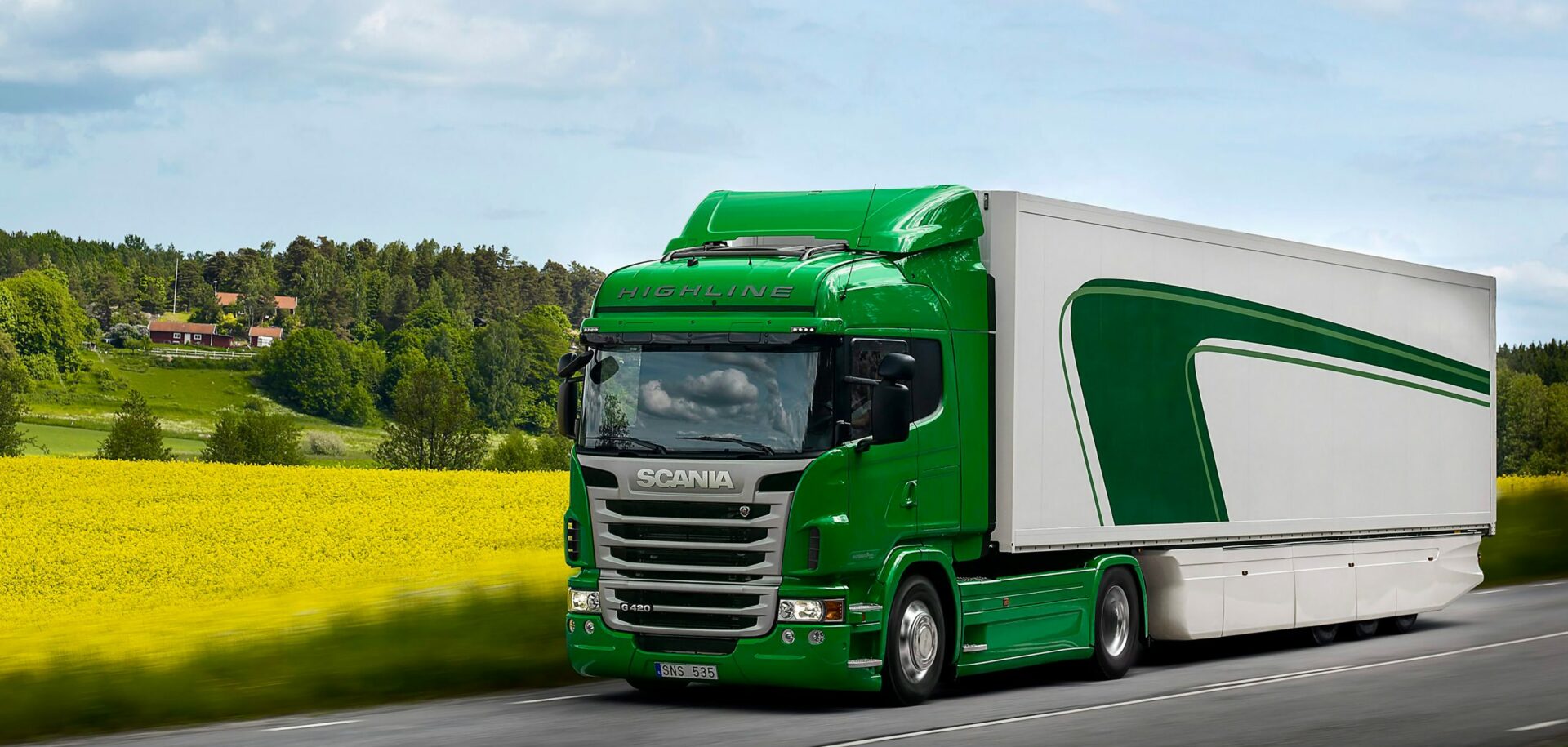 Down with fuel consumption
The high cost of fuel and increasing demands to lower CO2 emissions are driving vehicle manufacturer Scania to find new routes to efficiency. Ecolution by Scania is one solution.
Connectivity applies to just about everything these days, and vehicles are no exception. One of the latest trends is to connect services and solutions to vehicles in order to increase fuel efficiency and achieve sustainability targets. It also builds a loyal customer base.
Ecolution by Scania is just such a concept – and it's winning acceptance. Today, almost 90 percent of global manufacturer Scania's trucks in Europe are connected through the concept . By optimizing vehicle specifications, driver training, driver coaching and maintenance, operators can improve fuel efficiency and ensure longer vehicle life, for a cost benefit. This in turn has a positive impact on the environment by reducing CO2 emissions.
Ecolution by Scania starts with the Scania Fleet Management system – a black box that is installed in the truck. This is essentially an onboard computer that relays data to Scania in order to monitor such things as driving style and fuel usage. This data is then used as the basis for improvements.
"We meet with the customer every few months, getting to know their needs better and helping them to become more efficient and reach their target regarding fuel consumption," says Jon Månson, Scania's head of development of intelligent solutions, Connected Services and Solutions. "This is done by analyzing a number of parameters."
How a person drives has a direct effect on fuel consumption, which is why Scania helps drivers enhance their skills. Caroline Ede, head of sales and implementation for Scania's Fleet and Driver Services, explains. First the driver completes a theoretical session on improving driving style and a practical session using Scania's Wickit tool to get real-time feedback on how he or she is actually driving. This is followed by monthly 20-minute telephone coaching calls. "When comparing the first session to the final session, we see big improvements in driving for better fuel efficiency," says Ede.
There are many ways to save fuel through driving, Ede adds, for example by releasing the gas pedal when coasting down hills. "Coasting consumes almost zero fuel," she says.
"Using cruise control can also save fuel and by anticipating what is going to happen down the road you won't need to use the brakes as much, which also saves on fuel," Ede says. "The same principles that apply to cars apply to trucks, only the effects are much bigger."
The savings are substantial. In trials with a Swedish operator running at a 56-tonne load, fuel consumption was reduced from 48 to 35 litres per 100 kilometres by adopting the Ecolution by Scania concept.
Getting greener by the day
As governments tighten restrictions on CO2 emissions through Euro VI and other regulations, Scania has been refining its vehicles to come out as a leader in fuel efficiency. SKF has made great strides to support that direction.
Scania and SKF have a relationship that goes back some 20 years. Today, SKF has a complete team in Gothenburg, Sweden, dedicated to servicing this major customer. SKF is Scania's major supplier of bearings and bearing units. The main applications are wheels, gearbox and transmissions. Bearing sizes range from 80- to 120-millimetre bore. SKF also supplies seals and lubricants.
To help customers achieve their energy-efficiency goals, SKF has developed E2 (Energy Efficient) bearings. "These bearings have lower weight and reduced friction," says Peter Olsson, global account manager, SKF. "SKF also supplies low-friction seals. All in all, this results in lower fuel consumption. Furthermore, improved seals and optimized lubricants contribute to longer bearing life."
Optimized bearing design and the highest quality have resulted in a gearbox design life of 1 million kilometres compared with 300,000 kilometres 10 years ago, he says.
"To complete the picture, Scania wants daily and just-in-time delivery," Olsson explains. "SKF has never caused a stoppage in Scania production. That is something we are proud of."
In another example from Switzerland, an operator running at lower weights achieved savings of approximately 10 percent.
"Thirty-five percent of the average European haulier's costs are spent on fuel," says Ede. "If we can reduce that by 10 percent it will result in big cost savings for the customer." Månson adds: "The margins for haulage companies are extremely low, so if we can reduce fuel consumption through less wear and tear and prolong the life of the vehicle and its parts through regular maintenance, etc., then we can help operators double their EBIT [earnings before interest and taxes] margins."
With the Ecolution data, Scania can also see which parts need replacement, and can have them ready for the customer, thus minimizing truck no-availability. "The more information we get, the better we can adapt our maintenance to make sure we have the right parts for the customer," Månson says.
Connectivity has its side benefits too: "Ecolution's connectivity has helped operators track their stolen trucks," says Månson. And there's the safety aspect.  "Driving in a better way saves lives."