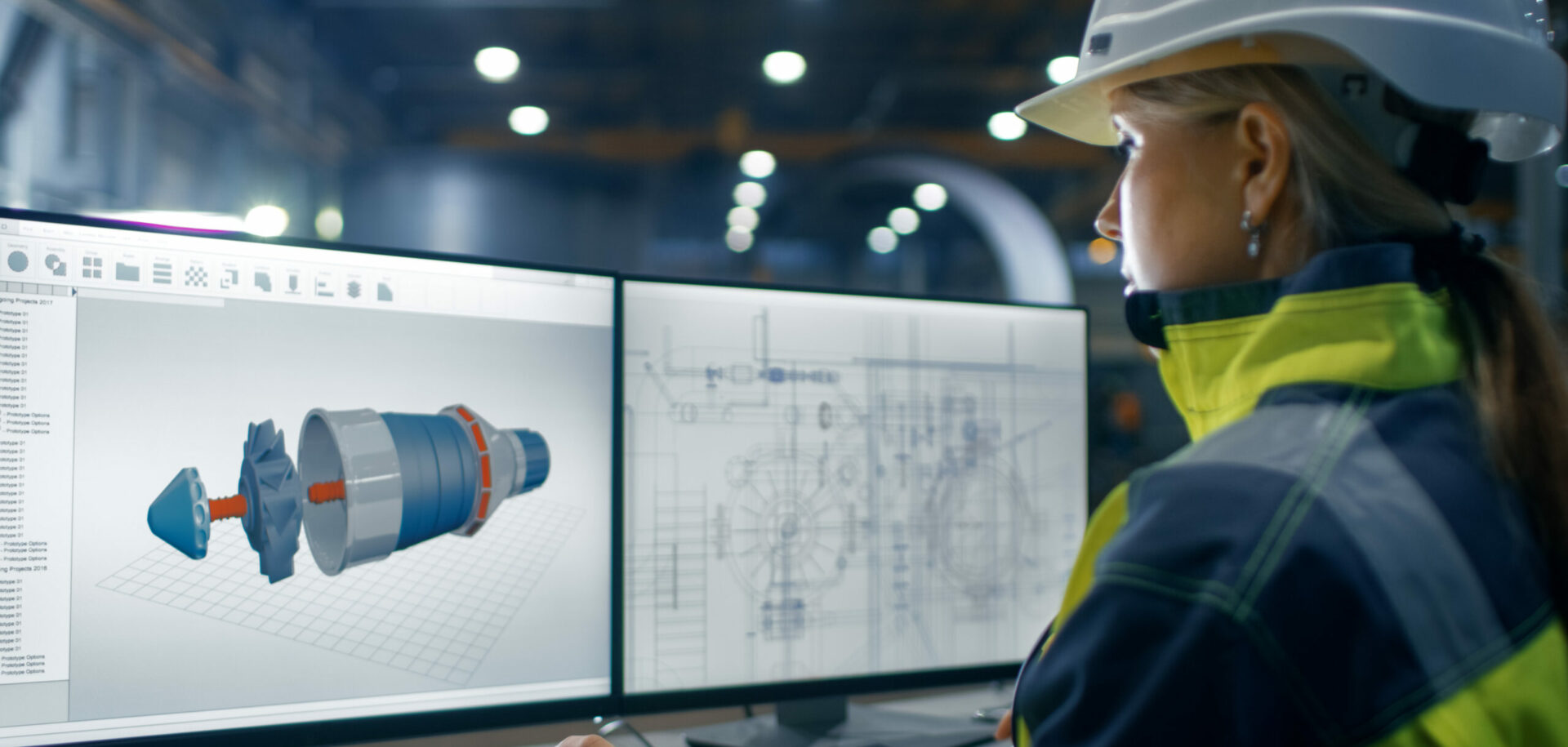 Hard life for shopping trolleys
A Canadian manufacturer aims to improve the durability of the prosaic buggy, and at the same time provide customers with a quiet trip through the supermarket aisles.
Summary
Re-inventing the wheel
Cari-All has re-invented the wheel, the most critical component in the shopping-trolley assembly, creating a polyurethane-moulded elastomer wheel that is more durable, quieter and 30 percent smaller than traditional trolley wheels.
Before the advent of the new wheel, Cari-All's wheel supplier assembled its product with two simple bearings that were exposed to the elements. These displaced through wear and tear and eventually made the wheel shudder. To create the new wheel, which is produced in-house, the Trubianos researched bearing alternatives that would eliminate this problem. Their choice was the TUBEARING from SKF.
The TUBEARING is a double row angular contact ball bearing. It consists of two concentric flanged tubes with rolling elements situated at each end between the flanges. (See cross-section below.) Both radial and axial loads can be accommodated, which means that a TUBEARING can replace two bearings in many low-speed applications.
The TUBEARING promised a high-quality bearing system, but Cari-All faced several production challenges. The first – and most formidable – was how to inject polypropylene elastomer around the bearing so the TUBEARING would become integral with the wheel, rather than the traditional loose snap-fit used for trolley wheels.
Cari-All was not sure how the TUBEARING would withstand the 22,500 N pressure force that REPLACE moulding demanded, so SKF and Cari-All embarked on a joint research project to create a small prototype mould to prove the process and finally to refine it. As an important finishing touch, Cari-All designed a plastic double hubcap to seal the TUBEARING off from water and dust. The result has been gratifying. Cari-All produced a wheel that is 20 percent stronger, more reliable, carries a five-year guarantee and reduces material use by 30 percent.
Pity the shopping trolleys of the world, with their lives spent in endless journeys around the meat counter past the vegetable bins through the check-out line to the parking lot and back again.
They are dinged by cars, whacked by patrons, dragged by trolley attendants and attacked by the elements. People steal them. Delivery trucks run over them. At best, shopping trolleys can expect maybe 10 years of service – and they are brutal, nasty years at that.
But things are looking up. Montreal-based Cari-All Products Inc., North America's second-largest manufacturer of supermarket buggies, is developing a new generation of trolleys, intended to endure these most punishing of retail conditions and at the same time provide shoppers with a quieter glide through the aisles.
Humble beginnings
Cari-All is a family-owned business, started in 1974 by Antoine (Tony) Trubiano with equipment purchased from a wire company that was closing its Montreal factory. That year the company turned out 10,000 steel-wire shopping trolleys. Some 23 years later, in 1997, Cari-All's annual output had risen to 450,000 trolleys, second only, according to Cari-All, to U.S.-based Unarco Commercial Products of Wagoner, Oklahoma, and the company recorded annual sales of CAN$80 million (US$57 million). Now with 700 employees, Cari-All has manufacturing plants in Montreal and North Carolina in the U.S. and has added shelving, racks, surgery trolleys and mail baskets to its product line. Together with subsidiary Technibilt Ltd., the company sells to 28 countries.
If supermarket retailing had remained the same during the decades Cari-All has been in business, there would be few technical challenges facing trolley manufacturers: It was mostly a matter of replacing worn-out or stolen buggies. "They're not stolen," jokes Trubiano's son, Denis Trubiano, Cari-All's executive vice president. "They're borrowed on a long-term basis." But changes in grocery marketing have made life ever more demanding for shopping carts and their makers.
One big change has been to store shopping carts outside instead of inside, to free up more selling space within the stores themselves. This is good for retailers but bad for shopping carts. Trolleys stored outside are subjected to heat, cold, acid rain, dust and other attacks from the elements, causing them to rust. To combat this, Cari-All has spent CAN$6 million (US$4.3 million) to develop Tech-Seal, a rust-proofing process in which the chromium-plated steel portions of trolleys are electro-coated and covered with a PTFE-polyester combination.
However, wheel noise presents an even trickier problem than rust. Ronald Trubiano, Cari-All's vice president of operations (and Denis' brother), explains that today trolley wheels are made out of polyurethane. At one time, though, they were made out of rubber, which wore out quickly, especially when attendants dragged nested trains of trolleys sideways to line them up. It would not take long for a 12-centimetre wheel to grind down to nine centimetres, and the trolleys would nest improperly, locking together in those useless tangles loathed by shoppers and store managers alike.
Appalling noise
Wheel suppliers switched to polyurethane, which is very hard, thus avoiding the erosion problem of rubber. But it led to a new problem when supermarkets started redecorating with more attractive floor coverings, especially ceramic tiles: Hard polyurethane wheels on ceramic tiles create appalling noise. Suddenly, a brisk tour of the frozen food aisle had become a journey into cacophony. "You couldn't hear the music," Denis Trubiano says. "Stores put the music in to calm you down and persuade you to buy more, but you can't hear it because of the wheels."
The Trubianos contemplated the problem for a long time. Then one day, when third brother Normand, vice president of production, was having a drink in a downtown bar, he observed that the courier whizzing down the sidewalk on in-line roller skates was whizzing very quietly. He began asking couriers about their wheels and found that the secret lay in the material the wheels were made of – polyurethane-cast elastomer, a new material that delivered the durability of ordinary polyurethane and the quietness of rubber.
The next step was to incorporate this material into shopping trolley wheels. Cari-All began laboratory testing on a new polyurethane-cast elastomer wheel with more reliable bearings. But there is no mud, salt or rain in a lab. To emulate real-life conditions, for three months a Cari-All employee pushed shopping trolleys around the perimeter of the Montreal plant to test various combinations of wheels and bearings. For each test, the trolley was loaded with some 68 kilograms and pushed for 300 kilometres – through mud and over concrete-sidewalk joints. The employee zigzagged the trolley all about, to subject it to the tortures of real-world buggy wheels. After every 10 trips, researchers steam-cleaned the trolley, accelerating the wear and tear.
The winner that emerged from this long process is a durable, precision-tech wheel constructed of polyurethane-cast elastomer, using SKF TUBEARING. It is 30 percent smaller than a conventional trolley wheel – a feature developed partly to offset the 30 percent higher cost of production.
Cari-All has been producing the new wheel since October 1997. Initially retailers have greeted it with coolness, which may be the result of past problems with industry innovations. "They got burned, so they're hesitant now," says Denis Trubiano. "We'll have to do a lot of marketing." But the Trubianos are confident that their tough little trolleys will find a future in the demanding world of supermarkets.
Jared Mitchell
a freelance writer who shops in Toronto