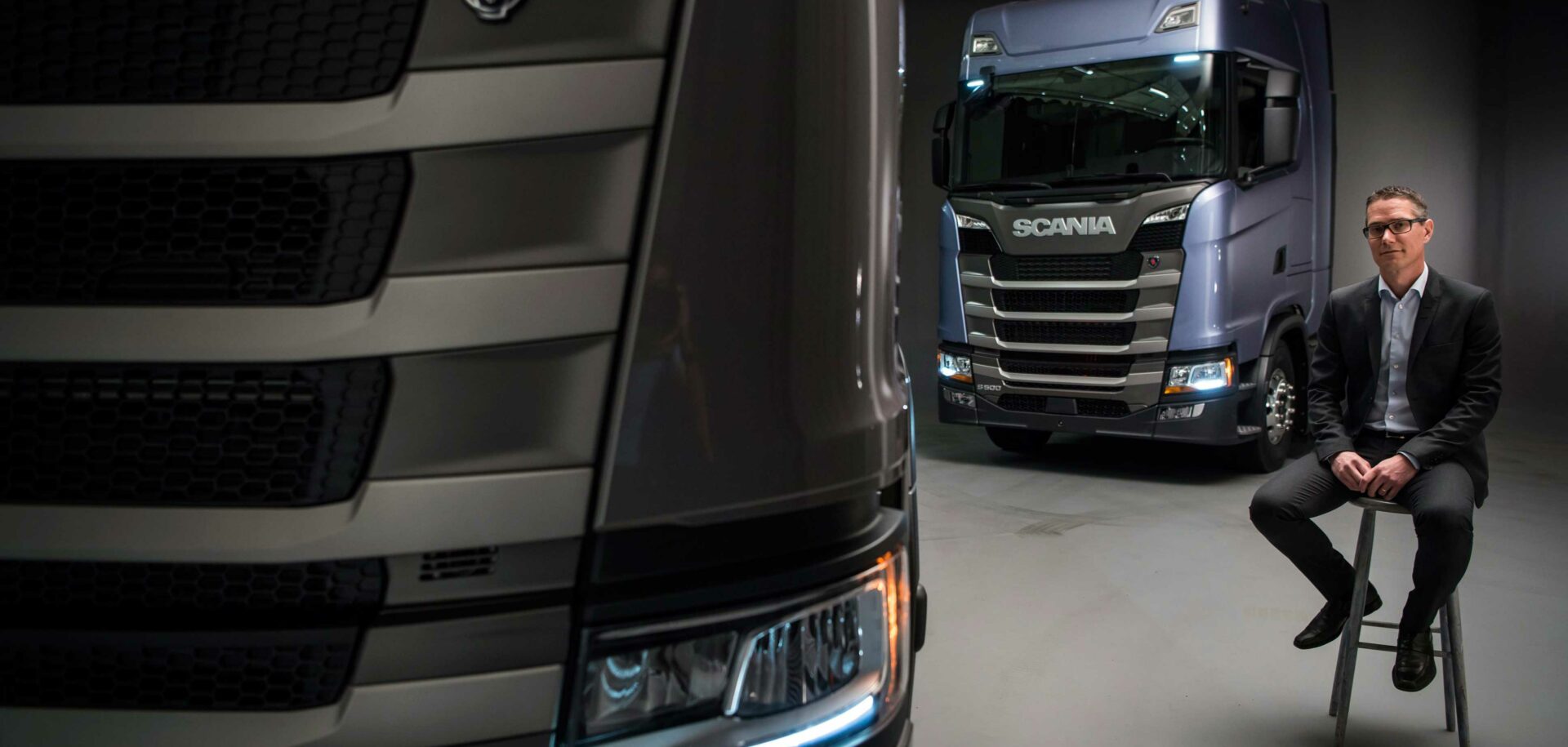 Navigating the Next Generation
Scania Project Manager Lars Bygdén couldn't resist the offer to steer Scania's biggest truck project ever. Yet at points during the seven years of the develop- ment project, he sometimes wondered what he had got himself into.
In August 2016, commercial vehicle manufacturer Scania proudly unveiled its next generation of Scania truck series. Among their features, the new trucks offer high security and a better driver environment with a wider view, ergonomic comfort, rollover crash cushions, shorter braking distance and directional steering. On average, the trucks also have a 5 percent lower fuel consumption than the previous series.

Name: Lars Bygdén
Born: 1972
Lives: Rönninge, south of Stockholm, Sweden
Works: Scania in Södertälje, Sweden
Family: Wife, a 14-year-old son and an 11-year-old daughter
Favourite pastime: Orienteering and other sports; has participated in many cross-country ski races in Europe, including Sweden's 90-kilometre Vasaloppet and Italy's 70-kilometre Marcialonga race.
Education: Master's in Mechanical Engineering from KTH Royal Institute of Technology in Stockholm, Sweden
Currently reading: The Past and Future of the American Economy, by Robert D Atkinson. Enjoys mystery and crime novels and books about how companies work.
The highly anticipated trucks had been incubating at Scania's facilities in Södertälje, Sweden, for nearly 10 years.
20 billion SEK (2 billion euros) were invested in developing the prestigious series, one of the largest industrial projects in Sweden and "the biggest investment in Scania's 125-year history", according to Scania President and CEO Henrik Henriksson. The new truck series was test-driven for more than 10 million kilometres, and an estimated 8 million work hours went into the project.
You have to see the big picture, focus on your targets, plan and make quick decisions.

Lars Bygdén
Senior Project Manager Lars Bygdén was the man responsible for ensuring that the project was a success. "I didn't realize the size of the project when I started," he says, "and 2016 seemed like a long way off at the time." It was hard to resist what Bygdén calls a "once-in-a-lifetime challenge".
Keeping the project on track required extensive coordination and planning. The project was divided into five categories, focused on the interior, exterior, chassis, engine and electrical components. Each of these categories included up to 15 sub-projects with a project manager. "In the beginning it took a while for the project to settle into good routines and move forward," Bygdén says.
Naturally, there were a number of technical challenges that popped up along the way, and some unnerving discoveries – such as when the test trucks experienced cracking on some rough road conditions in South America. "We thought we had a good truck, but after that test we had to recalculate, strengthen and rebuild our test trucks," Bygdén says. "This pushed us to the limit, challenging both us and our suppliers, but we have a more robust truck today because of this."
Another challenge was guarding the new truck series from the prying eyes of journalists, photographers, other Scania staff and the public while it was still under development. It was not an easy task, keeping the new series literally under wraps for so many years, especially when the time came to test-drive the vehicles on public roads. Some media outlets went so far as to send out drones with cameras in their efforts to scoop the story.
"We had to mask the test trucks in different ways," Bygdén says. "Sometimes we attached plastic parts on the outside of the trucks to make them look older, and whenever the trucks were stopped we drew the curtains to hide the cab interiors."
It was equally important to keep the test trucks and development information a secret from the competition. This meant that design patents could only be filed at the last minute, so proprietary information wouldn't be released too early and acted upon. Secrecy was so imperative that Scania had staff working full-time to continuously conceal the project details.
In 2014 yet another challenge came when Volkswagen and Scania merged, bringing new top management with a different culture and way of working. "This was a personal challenge for me, but eventually we got to know each other and adjust to each other and it turned out well," says Bygdén, adding that in Scania's corporate culture, transparency with executive management and the organization is important, so that issues and problems can be discussed openly to help solve them.
Project leading required multiple skills. "One of my strengths is getting people to work together to achieve the same goal," says Bygdén. "Communication is so important in a project as big as this one. People want to know about the big picture to feel more a part of the project. My role is to inspire, enthuse and provide clear requirements and deadlines. It's important to focus on the main milestones rather than get involved in all of the details – and to rely on the competence and skills of the people within the project."
Being a sporty person who is "somewhat competitive" doesn't hurt either, Bygdén adds. He is passionate about orienteering and sees clear parallels between the sport and his job. "Orienteering requires navigation," he says. "You have to see the big picture, focus on your targets, plan and make quick decisions. These are the skills I use daily at work."
SKF technologies can be found throughout Scania's new generation of trucks. These include gearbox bearings, propeller-shaft bearings, and engine bearings and seals. SKF also supplies linear actuation technology for the wind deflector and updated front- and rear-wheel truck hub bearing units.