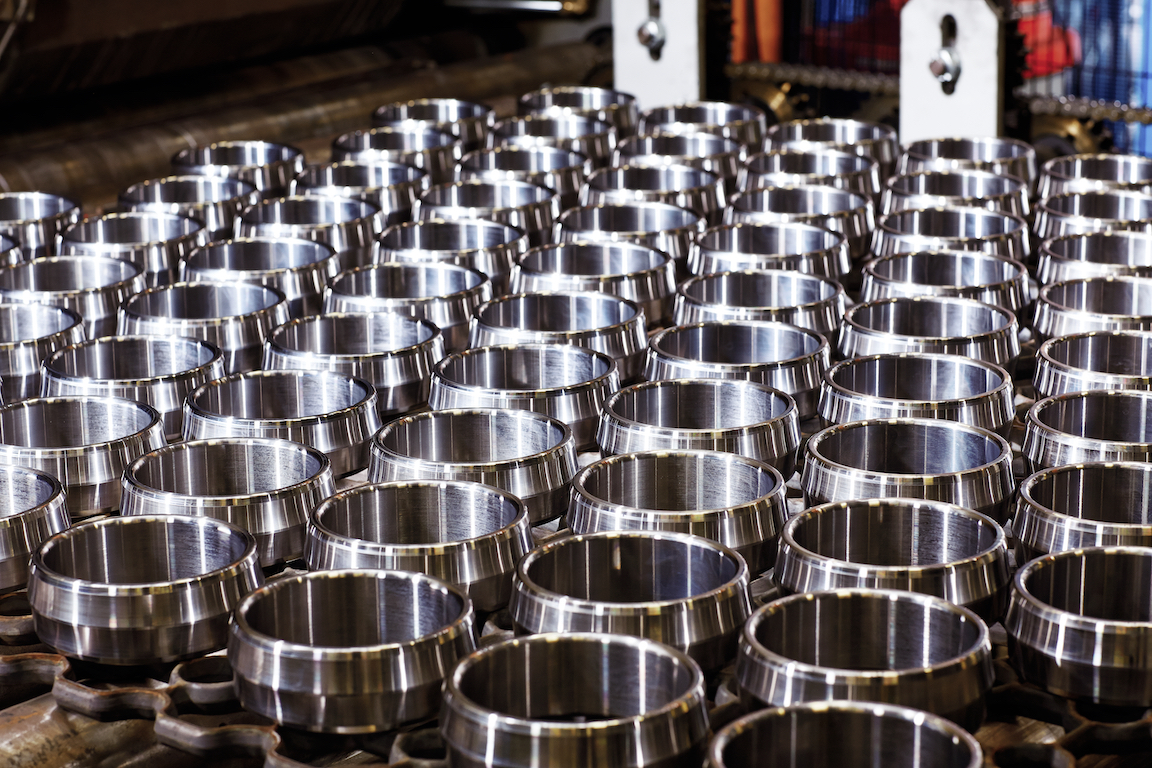 The finishing touch
Groundbreaking technology gives industrial floors higher quality and an extended life.
Diamonds have become a floor's best friend since HTC Floor Systems began using them to grind away at flooring's dirt and imperfections. HTC is headquartered in Söderköping, Sweden, where the company has created a wide range of original diamond tools and machinery designed to treat different kinds of floors. Its products are sold through subsidiaries in France, Germany, the UK, the United States and distributors in some 60 other countries.
It all began in 1987, when a man named Håkan Thysell decided to branch off from his cleaning business. Dissatisfied with the machines and methods available for natural stone floor cleaning and renovation, Thysell was determined to develop a better solution. He named the new business HTC, for Håkan Thysell Company, and began experimenting.
Thysell wanted to develop a powerful machine that could grind a vast area quickly, and he turned to his brother, an engineer, for help. Their first efforts, developed in his brother's garage at home, had significant flaws, explains Håkan's son, Marketing Director Karl Thysell. "They built a big machine, one that was 80 centimetres wide instead of the usual 50," he says. "When the time came to test-drive the machine, it spun around in the same direction like a Frisbee, and an employee drove it into the wall."
By 1991, however, the "spinning" dilemma had been resolved in a model named DiaNova, today known as the HTC 800 Classic. The new machine was test-driven against the competition and won repeatedly. The HTC 800 managed to increase the typical amount of natural stone flooring that could be treated in a day from an upper limit of 30 square metres to 200 square metres.
When a Swedish builder read about the company in a local paper, he contacted HTC and asked if the new machine could be applied to his concrete floors. "We tried it, and it worked!" says Karl Thysell. "Suddenly HTC was grinding concrete in addition to marble and other natural stone flooring."
HTC had found a way to give even the dullest of concrete a shiny lustre, and soon the company discovered a way to eliminate the use of water in the process, making it cleaner and more environmentally friendly.
HTC's grinding process requires no chemicals, and it generates less noise and dust compared with other methods. The treatment consumes 1.7 kilowatts an hour per square metre, Thysell says; other methods consume up to 50 kilowatts an hour. In addition, he points out, the company's polishing and grinding methods generate up to 190 times less carbon dioxide emission than other methods.
Today, a bright, clean industrial environment is increasingly important for attracting people to industrial jobs. "Production areas are becoming as nice as offices, so that people enjoy working there and look after them better," says Thysell. "This is a big change for industrial work environments. Polished concrete has become a much bigger trend than we ever imagined."
Beyond easy maintenance, ground and polished concrete floors have other benefits. One HTC customer experienced fewer technical problems with the electronics in forklifts after the concrete floors had been treated. "Static electricity was reduced," explains Daniel Gustafsson, who works with R&D at HTC. "Additionally, the forklifts made less noise and operated with lower vibration levels after our machine ground away the holes and rough seams in the floor. And a highly polished floor reflects the lighting better, which means you can cut down on lighting and save energy."
The company's 10-person R&D department recently developed the world's biggest floor-grinding machine – 2.5 metres wide – to polish floors cheaper and faster. HTC's ambitions continue to grow. The company is working with Sweden's traffic institute to test new methods for maintaining roads and bridges.
"We have created a market that didn't exist before and have maintained our lead in it," says Thysell, who points to the company's hundreds of patents. "We call ourselves 'the innovators', and some of our competitors proudly call themselves 'the imitators'."
Live long and prosper
An SKF customer for more than 15 years, HTC uses SKF hub bearing units, bearings and seals in its floor-grinding machines. Grinding hard floors puts enormous wear and tear on machine parts, and it generates dust and dirt that can damage equipment.
HTC wanted a longer-lasting solution than the use of conventional bearings (about 300 hours) for its machinery. Ceramic bearings worked better but cost more, so SKF tried another option. "We were using hub bearing units on the automotive side and then had success with them in agricultural machines that were also wearing out their conventional bearings," says Johan Fritzon, key account manager, SKF Industrial Market – Regional Sales and Service. "We decided to give them a try on HTC's machines."
The experiment worked. With SKF's hub bearing units, HTC was able to dramatically extend its machinery lifetime from 300 hours to 7,000 in one case, and up to 100,000 hours in another. And because the hub bearing units are produced in large volumes for the automotive industry, HTC could enjoy major cost savings.
"We used to have to build the machines starting with the engine," says Daniel Gustafsson, HTC R&D. "But the SKF hub bearing units enable us to build our machines the right way, from the bottom up. That's a huge improvement."
Today, HTC uses two different SKF hub bearing units, depending on the size of machine. The large hub bearing units have a lifetime of 6,000 hours, and the smaller hub bearing units run for more than 100,000 hours. "The hub bearing units last longer than our machines," notes Karl Thysell, marketing director, HTC.