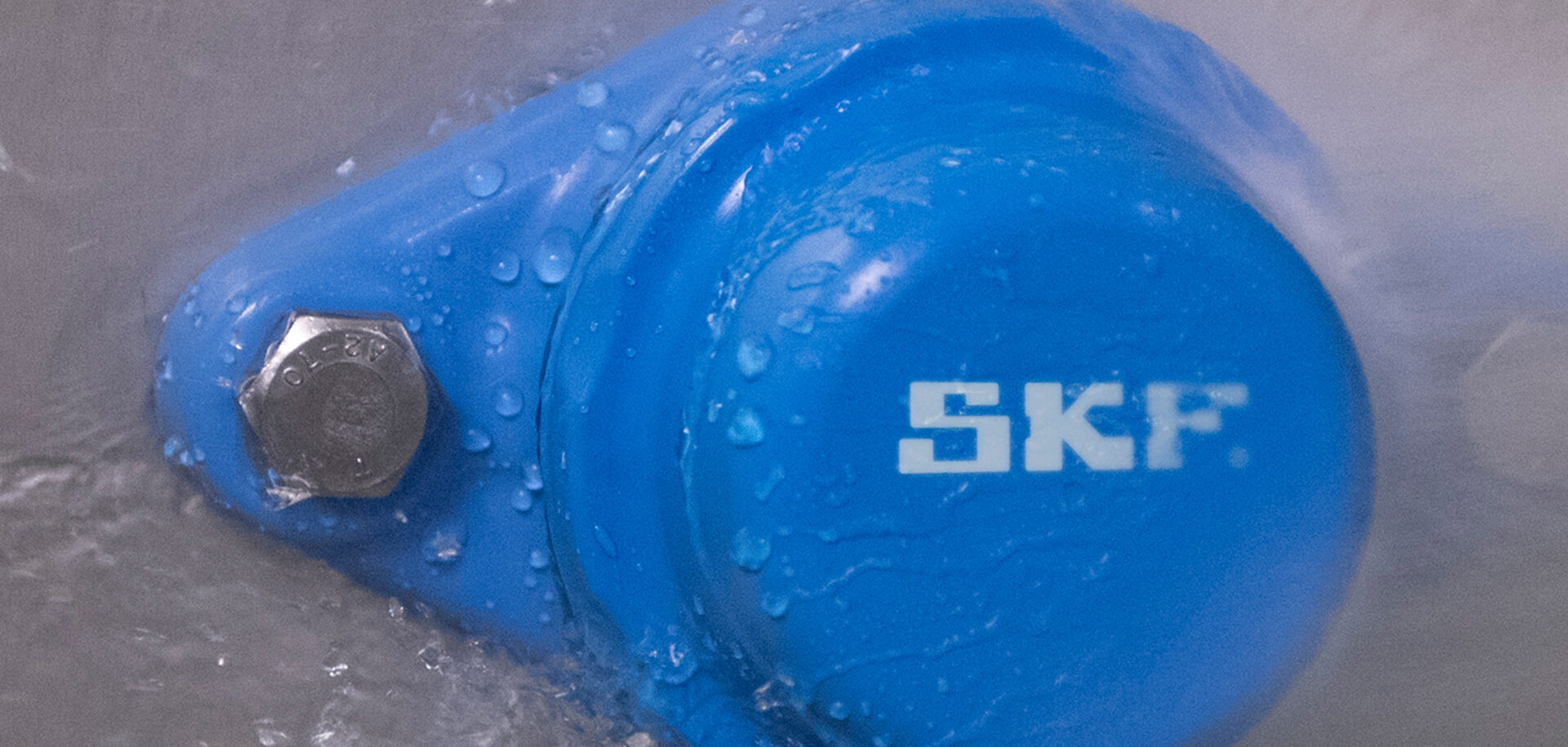 The road to hygienic design
Despite the strictest cleaning regime, housed bearings can still risk food safety – unless there is a thorough understanding where such risks come from and addressed through hygienic design and relubrication-free bearing technology. So how did SKF manage to develop an EHEDG guideline compliant bearing system that can withstand regular washdowns without the need for relubrication? SKF Product Development Manager Fabio Falaschi has the answer.
The journey to develop a hygienically designed and washdown resistant bearing unit starts with understanding how bearings can risk food safety in the first place and how they are operated. For equipment operators, bearing units create two major challenges. The first one is that they are difficult to clean, specially the excess grease from relubrication. Bearing units often include voids, flat horizontal surfaces and tight corners that are difficult to keep hygienic. The second issue is the need for frequent relubrication; ingress of penetrative cleaning agents into bearings can cause premature breakdown of the lubricants, leading to premature bearing failure. Frequent relubrication also generates considerable costs related to maintenance work, grease and the disposal of grease-contaminated cleaning rags or paper towels – not to mention the environmental impact of grease in the wastewater. But it doesn't end there.
"These challenges can interact to create further problems; SKF, with the support of microbiology and hygiene experts of RISE (Research Institutes of Sweden) have shown that there is a high level of bacteria content within bearing units and the expelled grease – which can risk food safety."

Fabio explains.
Turning a problem into an advantage
When it comes to hygienic design, offering a relubrication-free solution is crucial to reduce the food safety risks mentioned above. And, to achieve a high performance of bearings frequently exposed to washdowns, the sealing solution is critical. The cleaning fluid used in washdowns poses the worst threat possible for bearings; since detergents lower the surface tension of the liquid, fluids are able to pass through conventional seals. Once inside the bearing, the detergent goes to work mixing with the lubricant oils whereby the caustic content of the detergent – working as a solvent –
breaks the grease down. High pressure water or high volumes of process water can also cause emulsification and/or flushing grease away.
"Understanding the impact of detergents forced us to completely rethink the approach to bearing protection. Conventional sealed bearings attempt to prevent the ingress of water and other contaminants completely, but this is not fully possible under washdown conditions, "Fabio explains.
Instead, SKF explored a way to turn the behaviour of detergent-water into an advantage. The solution involves a two-part seal design with multiple interlocking flanges that act as "gutters". A conventional outer lip protects the bearing from particles and high-pressure water, but any washdown liquids that bypass the seal are channelled along the gutters under the influence of gravity – and allowed to drain away without doing any damage. If a washdown occurs during bearing operation, the centrifugal effect is even more effective.
Superior protection of the bearings through complete seal-ability
Seals are not the only crucial components in protecting the bearing. In order to limit the ingress of fluid to the bearing cavity, SKF also designed an end cover with a patent pending locking mechanism as well as a back seal, and a base seal. The high-performance end cover material provides a rigid, protective cover with sufficient flexibility to form an effective interference seal with the housing. Since end covers only contribute to hygiene if they can be relied upon to remain in place and sealed, the end cover locks securely to the housing body protecting from being accidentally dislodged. The patented rotating locking mechanism is extremely reliable, while being very easy to dismount for inspection without the needs of any tool.
The back seal seals dynamically against the shaft and statically with the housing, offering an additional double sealing protection, stopping food products from entering the bearing cavity. The static sealing in particular has a special wave shape to provide excellent sealing. Finally, a food grade rubber is selectively over-moulded (more about over-moulding below) with the composite of the housing to create an effective base seal.
The challenges of hygienic design housings
Contaminants tend to be trapped in voids or other spaces, and this is something Fabio and his team also addressed. "Since mechanical loads are usually relatively low in food and beverage applications, we decided to use polymer composite housing designs. Such materials can easily be moulded into smooth shapes, creating desirable features such as sloping surfaces," Fabio says. But if it were only that easy. Designing a moulded housing requires the use of internal or external reinforcing ribs. This structure creates voids inside the components – inaccessible voids that are hard to clean and that provide the perfect environment for dirt accumulation and microbial growth. Precisely the thing you want to avoid.
Housing geometry and surface characteristics also affect cleanability.  
To reap the benefits of a moulded housing design while minimizing the disadvantages, SKF decided to investigate over-moulding technology. This approach requires a two-step manufacturing process. You start by moulding the structural parts of the housing, then you inject a second material, in this case a flexible rubber, to fill the voids within the parts. The rubber will act as a seal between the housing and the structure of the machine.
"After evaluating multiple options, we settled on a polypropylene material, reinforced with long glass fibres to deliver the right combination of structural and moulding characteristics," explains Fabio. Polypropylene is extremely resistant to chemical attack, and unlike nylon, it does not adsorb water. Additional advantages of the material include a very smooth surface finish under the right moulding conditions and good recyclability at end of life. "That is how we created a hygienic design housing," Falaschi concludes.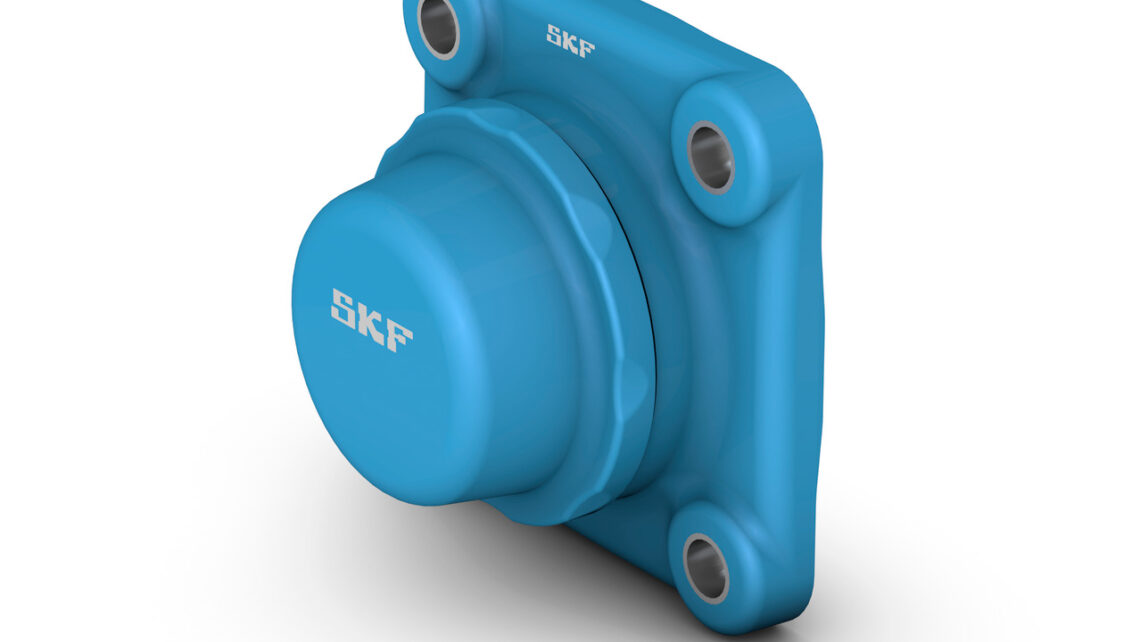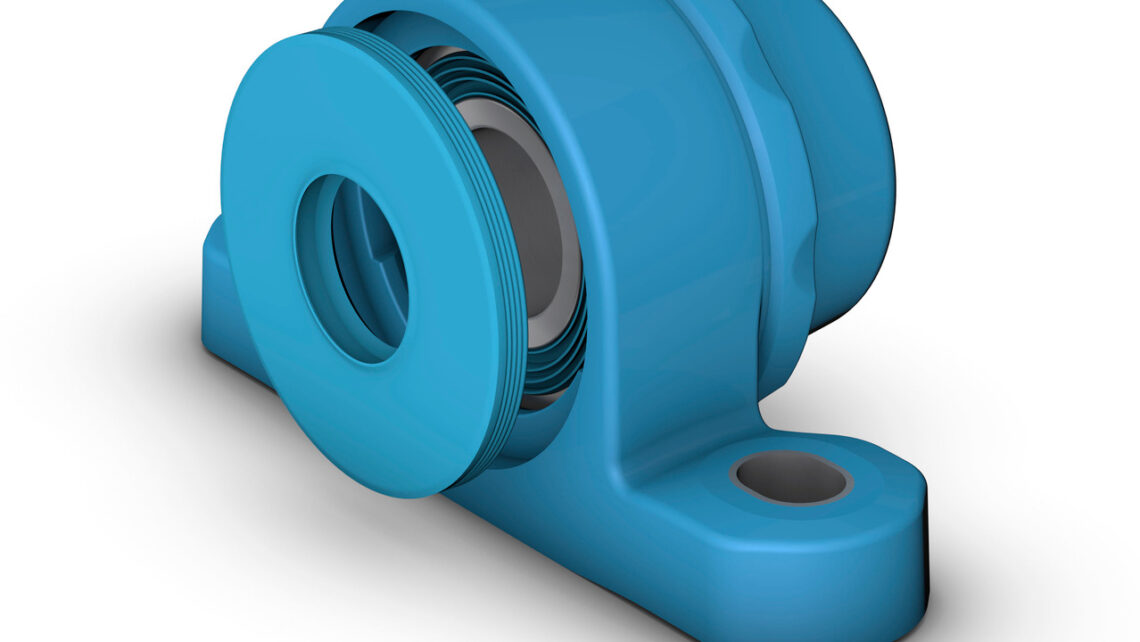 Hygienic design and complete seal ability from the front & back. The blue colour makes it easier to detect potential contaminants. The housings feature hygienic geometry and about 0,8 mircon smooth surface finish for better cleanliness.
Cleanability reaching new heights
When hygiene experts from Rise did a comparative washdown test of the new hygienically designed bearing unit and conventional re-lubricable units, the evidence demonstrated the benefits of hygienic design in cleanability. "Reduce the risk to food safety by selecting bearing units designed for hygiene and relubrication-free" said Birgitta Bergström, from RISE. Cleaning the new bearings required 30 percent less water compared to previous designs, largely owing to the elimination of grease discharge.
From a performance perspective, the bearing and sealing system have performed well in in-house testing at customer sites. In early tests of the bearing insert at one customer plant, where conventional food and beverage bearings previously needed to be replaced every three months, the bearings using the new lubricant and seal combination have operated reliably for more than 18 months without relubrication. "To be honest, the customer did not want to give them back to SKF – they are still operating reliably. The customer has since upgraded numerous other bearing positions to the new SKF food-safe technology, "Fabio discloses.
For Fabio and his team, it was an inspiring challenge to develop a hygienic solution in compliance with the guidelines from an authority on hygienic engineering and design. And with food recalls on the rise combined with stricter regulations for food safety across the globe, the SKF Food Line bearing unit – Blue Range is nothing short of a hygienic revolution for the food and beverage industry.
About EHEDG and this article
The European Hygienic Engineering & Design Group (EHEDG) was founded in 1989 as a non-profit consortium of equipment manufacturers, food producers, suppliers to the food industry, research institutes and universities, public health authorities and governmental organizations. The principal goal of EHEDG is the promotion of safe food by improving hygienic engineering and design in all aspects of food manufacture. EHEDG actively supports European legislation, which requires that handling, preparation processing and packaging of food is done hygienically using hygienic machinery and in hygienic premises according to the food hygiene directive, the machinery directive and the food contact materials directive. Visit
https://www.ehedg.org/ehedg/
In a competition to be published in EHEDG magazine, this article was the readers' choice. This text is an adaption of that article.