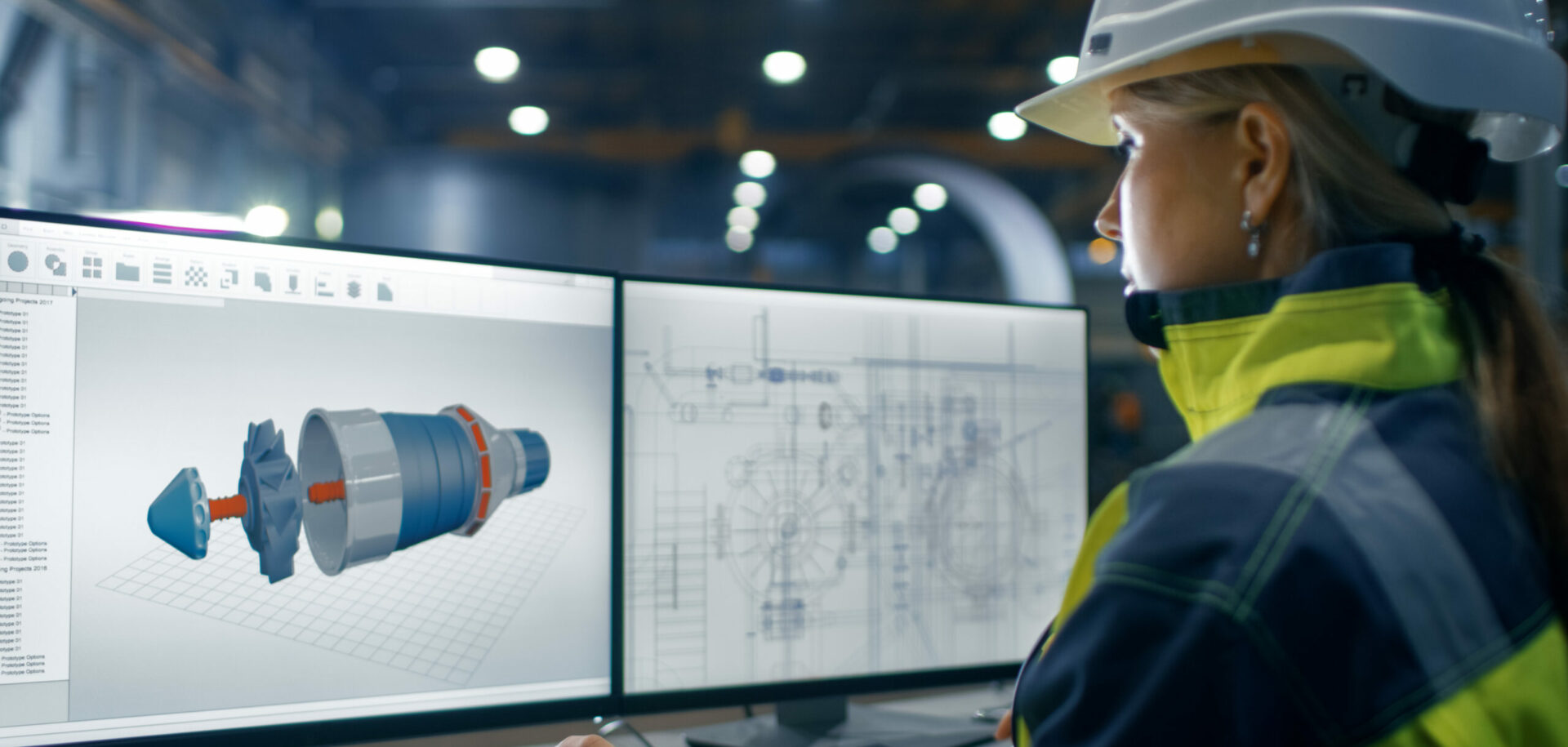 Summary
Acting like robots
Designed for easy operation, the Motch Corporation's MVSL 200 features a T-frame flow-through design. Two machines are linked with a pair of in-line spindles for the first and second operations. A turnover/transfer station between the machines allows continuous work-piece flow. In fact, the two SKF motorised spindles essentially act as robots. The loading conveyor moves a part into the load area. The spindle then moves the part to the first work area for machining.
Once completed, the spindle moves the part and transfers it to the turnover station. It is rotated 180 degrees and then picked up by the second spindle, which moves it to the second work area for further machining. After that process is completed, the second spindle moves the part to another conveyor and drops it off for removal from the machines. Capabilities include a diameter range up to 11 inches (about 28 centimetres) for a wide variety of finished parts.
"It's important to establish relationships with good suppliers," says Mike Wicken, Motch Corporation's president and CEO. "The spindles that we get from SKF are a key part of these machines. It's a high-quality item, and when we do occasionally have problems, SKF is quick to help us solve them. The accuracy of the machine is dependent on the spindle. The spindle holds the work and positions the work to the cutters. Accuracy takes no backseat; SKF spindles have done the job for us."
More assembly and less machining. That's how Motch Corporation has changed the way it makes its machine tools.If there's been one lesson that American manufacturers have learned in recent years, it is how to reinvent themselves.
A case in point is Motch Corporation, a Cleveland machine tool builder that was established in 1904. The company had strong growth through much of the century, fell on hard times in the 1980s and is now coming on strong again, thanks to an infusion of capital from its new owner, the Park Corporation. Motch was started at the turn of the century by Edwin R. Motch, Stanley Motch and George E. Merryweather, who decided to take their business and engineering expertise and become distributors for 16 machine tool and machine tool accessory builders in the northeastern part of the United States. By 1940, the company had established itself as a machine tool builder and within 20 years Motch began to develop vertical turning machines, predecessors to today's highly successful VNC line.
During the next 40 years, Motch continued to progress, becoming a premier manufacturer of vertical turning machines. In the early 1980s, the company came under Swiss ownership, and in 1988 it changed ownership again. These were difficult years for Motch – which was limited by its parent companies as to what it could produce and where it could sell. But in 1997, Park bought the company, and the new ownership has brought much-needed renovation to the facilities and capital for product development. Sales are up (35 million U.S. dollars for 1997), and within the past year the company has nearly doubled its staff, with most of the new employees in engineering and customer-related jobs.
Vertical niche
Currently, Motch's strongest client base is in the automotive and heavy equipment industries. The company counts Ford, General Motors, John Deere and Caterpillar among its clients. Brake drums, fly wheels, hubs, rotors, differential cases and housings are just a few of the parts that are machined on Motch's self-loading turning centres. These machines are divided into two designs, horizontal and vertical, but it is in the latter that Motch has its strongest niche. "The vertical machines," says Michael J. Wicken, president and chief executive officer, "are able to machine much larger parts because the product is not fighting gravity as it works. The spindle itself also acts as a loading/unloading device."
It takes three to four months to put together a machine from scratch, says Wicken. The company typically builds several models of machines at a time. "They are normally built to order or for stock. The beauty of them is how they go together. It has become more like building an Erector set [a toy similar to Meccano or Lego] than the way it was in the past. Years ago, the material came in raw and you manufactured it. You needed turning, milling and grinding machines to make your own machines. But all that has changed." Wicken points out that there are cost benefits to these changes. When all the parts were made at the site, the company needed more employees, more equipment and more scrap, all of which led to higher costs. "We've become more of an assembly facility and less of a machining facility," says Wicken. "We still have a small machine shop, but we purchase a lot of the important components. What we're selling with this philosophy is a T-frame construction and the fact that it is easy to assemble."
But it's also a question of employee skills, adds Wicken. "There just aren't as many skilled workers to make these parts as there were 20 years ago, because you don't have the companies using apprentice programmes to put young people to work in the shops. Without those skills, you need to make yourself more product-friendly in the assembly process."
Using an open distribution
The company has a unique method for sales, using an open distribution policy, says John Krisko, manager of marketing for Motch. In the U.S., there are about 500 machine tool distributors that sell a variety of machine tool products. Each of these distributors typically has a flagship line – much like a Toyota dealer who also sells Honda and Pontiac. But because Motch sells to such a niche market, the company decided to forego the usual system of distribution. Now, when a distributor finds out about a project in its area, it registers the information with Motch. If the distributor eventually sells a machine for the company, it receives a commission and Motch handles the installation and service work directly. By doing that, Motch doesn't need to worry about setting up individual outlets in every state. And it's a good deal for the distributors. As soon as they call and register the project, no other distributor can cut in. The company uses seven direct regional sales managers to assist the distributors.
Quest for efficiency
For most Motch customers, increased efficiency is a primary goal, says Wicken. "Let's say we have a customer making brake rotors. At present, this company is using five machines and five operators. And he's making 1,000 brake rotors per day. We go in and take a look at the operation and see how it's being done. Then we tell him that with a Motch machine, he can put out 2,000 brake rotors per day – that's twice as many – with three machines and three operators."
What happens next, says Wicken, is that Motch will do a statistical part runoff for the customer after the machine is purchased and built, to demonstrate how fast the parts can actually be made. Between 20 and 30 parts might be manufactured, with a permissible deviation sometimes of under one thousandth of an inch (less than three hundredths of a millimetre). It's a critical point, explains Wicken. "If you tell the customer, that you can make one part every five minutes, and you're actually making them in six-and-a-half minutes, the customer is going to be wanting to know what's going on. Materials handling, tooling and material all enter into the final equation.
"We've turned a corner in the past year," concludes Wicken. "Motch is putting forth a new image. We have new machines, new ideas and new people. So we're making our presence known as a company that offers component manufacturing solutions. And I think people here feel very optimistic about what's ahead."
Chris Petrakos
a business journalist based in Chicago
photos Motch Corporation