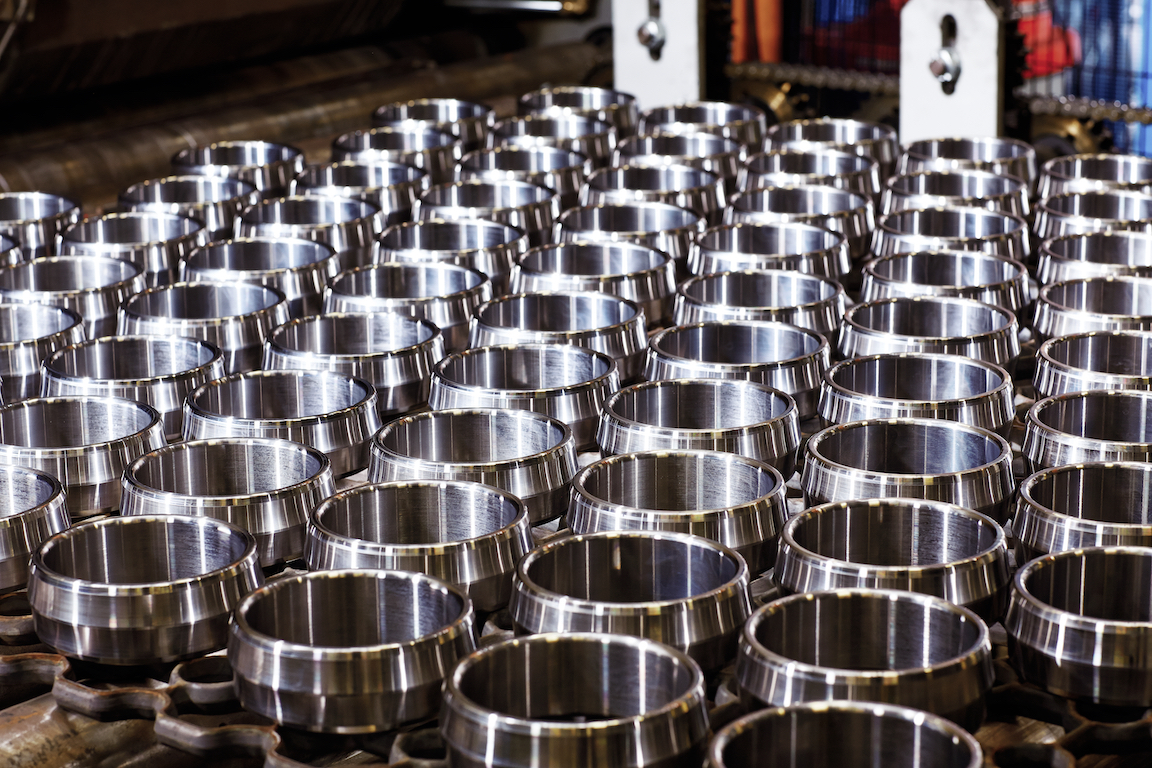 An open and shut case
An innovative new design concept, developed by Texas-based FMC Energy Systems, makes manual gate valves safer and easier to work with.
Summary
SKF roller screw SRF 48X5L
Application – petroleum wellhead manual valve.
Description – planetary roller screw with multiple left-hand thread that has been optimised for load-carrying capacity.
Specifications –
Dynamic capacity: 226.4 kN
Static capacity: 588.5 kN
Material: Nut, rollers and screw shaft are made from bearing steel AFNOR 100c6 French Norm, which is equivalent to AISI 52100.
Operating temperature: -20° C to 180° C, provided that adequate lubrication is maintained.
In the front of the Houston, Texas, headquarters of FMC Energy Systems sits a Christmas tree. Unlike the variety favored by movies and tradition, this one is bright red, angular and full of cranks. It's constructed out of products built by FMC Energy Systems, a global leader in providing solutions for customers engaged in petroleum exploration, production, measurement and transportation. Like the company, this Christmas tree has Texas roots.
"A Christmas tree is just a conglomeration of valves and fittings, and they are used to control the flow of anything from hydrocarbon fluids and gases to steam and water," explains David Cain, an engineering manager of integrated value engineering at FMC Energy Systems.
It's through such valve and pipe collections that petroleum is extracted and sent to refineries to power the modern world. Going forward, these Christmas trees will be easier to work with, safer and potentially longer lasting – all thanks to recently introduced valves developed by FMC Energy Systems in conjunction with SKF Motion Technologies. The key to this innovation is the incorporation of an SKF roller screw in the floater sliding gate valves produced by FMC Energy Systems.
"A roller screw simply lowers friction and allows us to open the valve with lower torque, and we can do it with the same number of turns," notes Cain.
FMC Energy Systems makes valves for petroleum and hydrocarbon wellhead installations on land and at sea. In both cases, the valves operate in remote locations and under harsh conditions. Surface installations are expected to work flawlessly for decades. So FMC Energy Systems designs and manufactures its products to meet the standards set forth by the American Petroleum Institute (API). The API specification outlining wellhead and Christmas tree equipment, API 6A, covers temperatures spanning minus 76 degrees Fahrenheit to
350 degrees Fahrenheit. The standard also specifies allowable metallurgy for valve components for well environments ranging from those with non-corrosive to those with extremely corrosive fluids. Finally, API 6A also covers rated working pressures from just under 14 megapascals to 10 times that much.
However, it's the differential pressure that's the problem. There are actuated valves powered by machines and robotics, but all surface Christmas trees have at least one, and possibly two, manual valves for every automated one. The manual valves act as a backup to the automated valves, to make sure that the wellhead can be turned on or off as needed, even if the power fails. A manual valve must be operated by hand, and someone must be able to turn the crank. That can be difficult for high-pressure wellheads.
In case of emergency
As a gate valve slides open or closed, there comes a point in the gate travel where the differential pressure presses the gate against the seat. The force required to overcome this can make the valve difficult to operate. The solution in the past has been to use mechanical means to step down the torque required by a factor of eight or more. The trade-off, as Archimedes would have predicted, is that eight or more times the number of crank turns are required to open or close the valve. That can be a problem in an emergency, when it's vital to shut things down immediately.
The more leisurely travel also increases the valve's exposure to gas throttling or cutting. The stream of fluid emerging from a wellhead is filled with grit, as well as corrosive liquids and gases. When that stream squeezes past a partially closed gate valve, it leaves an impression.
"Anytime you're going between open and close you're doing some form of throttling, and that cuts the seats and the gates," comments Don Hallden, a project engineer at FMC Energy Systems.
So what FMC Energy Systems needed was a manual gate valve that opened and closed quickly. That would minimize the gas-cutting problem and the time to close in case of an emergency. The company also needed a valve with relatively low torque and good reliability.
In considering the situation, Cain, Hallden and others at FMC Energy Systems looked at various options. The company's mechanical engineering expertise is extensive, with hundreds of years of valve engineering experience in the organization. The group looked at roller screw products from SKF. This would allow a direct drive operation, without the need for any mechanical step down. That was a plus, as was the reliability of the product.
On the other hand, a roller screw had not been used in petroleum gate valves before. Also, in a typical roller screw application a nut travels at fairly high speed and at fairly high duty cycles up and down a screw. FMC Energy Systems was interested in a nearly static use with fairly high load-bearing demands. These needs were unusual.
Collaborative effort
The engineering staff of FMC Energy Systems and SKF worked together in a back-and-forth manner to understand and solve the problem. The process took about a year, including the testing of the finished valve.
For its part, SKF had to optimize the screw selection. This minimized the number of turns required to open and close the valve. SKF also had to customize the ends of the screw shaft to facilitate the connection with the valve stem, which is exposed to corrosive conditions.
SKF had another engineering challenge to contend with as well. "We had to go with an optimized design with the roller screw, to maximize the load-bearing capacity within the limits of the valve bonnet," recalls Wayne Greer, business manager for linear systems at SKF Motion Technologies.
At the same time, FMC Energy Systems had to create a design that protected the roller screw from any corrosive fluid. The company also had to overcome various issues that had kept roller screws from being used before in wellhead applications. FMC Energy Systems did this and has patented the resulting innovation.
After extensive testing, the company's new line debuted in early 2002. Dubbed very low torque (VLT) gate valves, these have been tested and qualified from about minus 22 degrees Fahrenheit to more than 390 degrees Fahrenheit. The company's VLT gate valves have been certified for working pressures of more than 100 megapascals.
Because of the reputation of FMC Energy Systems, the company's testing and qualification data were readily accepted by its customers. Thus, the customers only required a single operational trial to place orders for this new product.
A similar willing reception, according to FMC Energy Systems' Cain, is true of the valve line itself.
As he says, "It's been very warmly welcomed in the industry.  It's still a fairly new product, so we don't have a multiplicity of applications. Ultimately, we'll have valves all over the world."