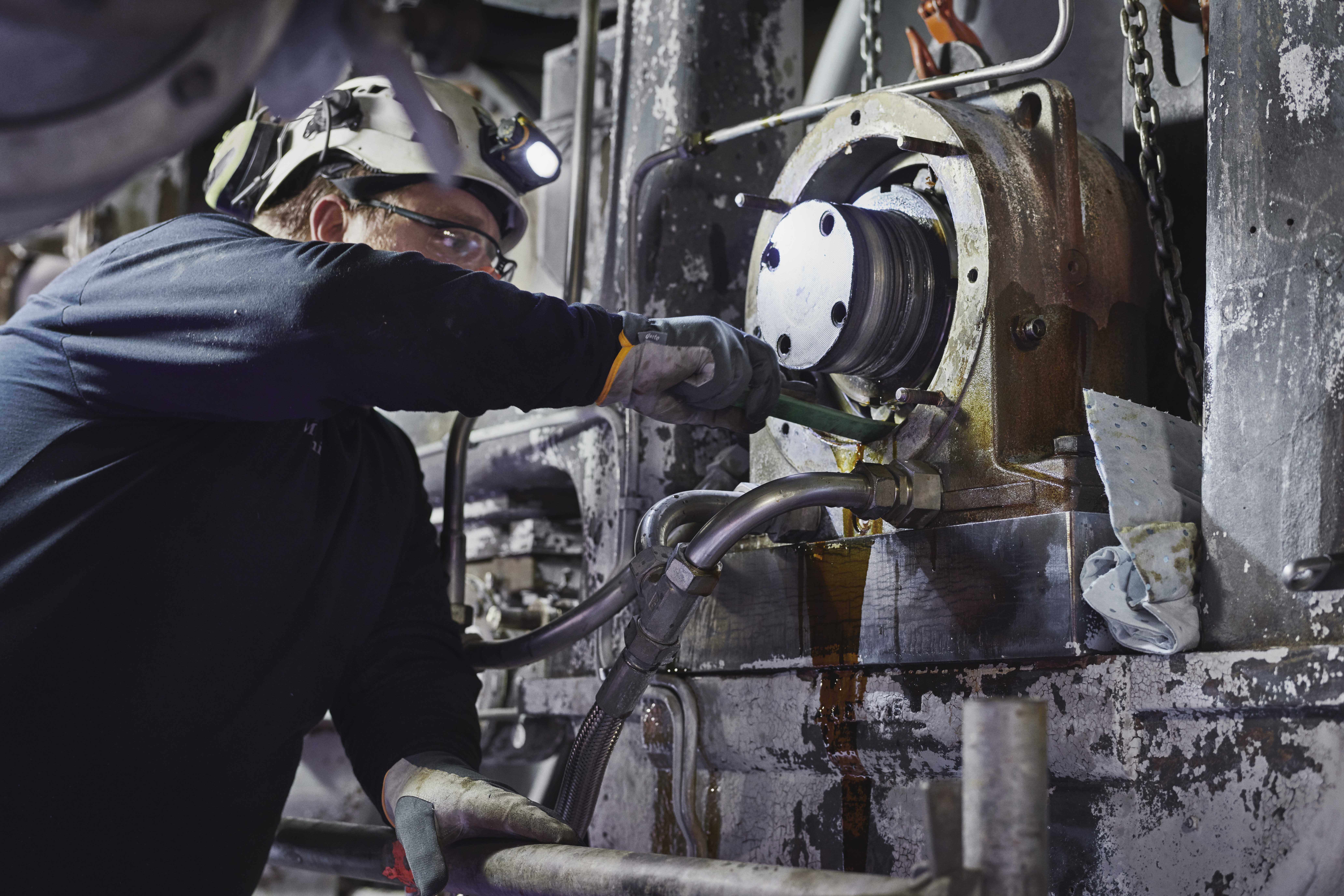 Le futur du montage de roulements
Le montage de roulements est l'un des aspects essentiels des performances et de la durée de service des roulements. On estime que 1 défaillance de roulement prématurée sur 6 dans des applications industrielles est liée à des erreurs de montage et de manipulation. Aujourd'hui, grâce à un nouvel outil digital, un grand nombre d'entre elles peuvent être évitées.
Les roulements sont des composants de machine fiables qui peuvent offrir une longue durée de service et de bonnes performances, à condition d'être montés et entretenus correctement. Mais un montage correct implique à la fois expérience, soin, propreté et précision, ainsi que l'utilisation de méthodes et outils appropriés. Éléments de précision, les roulements doivent toujours être manipulés avec précaution.
Tout d'abord, un roulement correctement monté implique un certain niveau de préparation. Premièrement, vous devez identifier le type, la taille et le modèle de roulement. Il est aussi important de connaître le mode de stockage du roulement : de préférence sur des étagères non soumises à des vibrations, dans un endroit sec, dans son emballage d'origine non ouvert, protégé contre la contamination et la corrosion. De plus, vous avez besoin d'un environnement de montage dans lequel le roulement est convenablement protégé de l'humidité, de la poussière, des copeaux et d'autres résidus des processus d'usinage.
Il est également crucial de comprendre l'ordre correct de montage des différents composants. En outre, des exigences de lubrification particulières peuvent s'appliquer, détaillant le type de lubrifiant requis et la quantité exacte. Lorsque vous êtes finalement prêt au montage (lorsque vous disposez de toutes les pièces, outils, équipements et données nécessaires), vous devez être certain de choisir la bonne méthode de montage. Utilisez-vous les méthodes mécaniques de base du montage à froid ou la méthode à pression d'huile plus sophistiquée ? Un montage à chaud est-il requis pour votre équipement spécifique ? Si l'on tient compte de la complexité du montage de roulements, il est clair qu'un accès rapide aux informations appropriées est vital.
The reality on the floor
For many technicians, however, mounting instructions and methods might not seem that important. Relying on years of experience, they tackle most jobs without assistance. But time management issues can be overwhelming for most; on the factory floor, the daily routine likely entails rapidly performing a variety of tasks on a number of different applications. This means that there's basically no time to become a specialist on bearing mounting. But given the complexities involved here in terms of storing, safety, handling, tools, components, the right mounting process, etc., relying on general maintenance experience might not be enough.
What's more, even with proper experience, what if you don't know what type of bearing you are replacing? Or what if the replacement bearing doesn't come straight out of the box? Then what do you do? Spending time identifying the bearing and searching for the right mounting instructions when you're in the middle of something else can be stressful; a tight schedule doesn't just mean it's difficult to find the time to look for a manual or for information about the existing bearing. It also affects the follow up work and the sharing of relevant information with other team members. Solutions for easy handovers are scarce, and maintenance teams are struggling to find more efficient ways of working together.
But it's not just the bearing selection, the mounting itself or the general routines that challenge many companies within their maintenance operations. Quite a few also suffer a shortage of skilled staff. Meanwhile, the pressure to improve reliability is growing – as are the demands to reduce costs and staffing levels. Whichever way you look at mounting, there seems to be a conflict between the need for efficiency and accuracy – and the everyday reality for most maintenance professionals.
Assistance on the go
Being recognized as a leader in bearings and related services, many companies turn to SKF for new tools and solutions. The mounting of rolling bearings is no exception. With the explicit aim of developing a practical and accessible solution, Linus Waltherius, senior project manager at SKF Technology, set out to map the world of mounting issues. Quickly, a working hypothesis formed: what if you could get all the knowledge you need for successful mounting, in the palm of your hand?
This idea seemed to resonate with what people in the field were looking for. "When we asked our customers how we could use new technology to better support them when working with our bearings, their answers where very consistent: quicker access to product information and maintenance instructions," Linus says.
Many interviews, workshops and tests later, the solution became SKF Bearing Assist – an easy to use mobile app that aims to ensure quick, correct and easy mounting through a step-by-step process through the whole mounting procedure.
The app provides a structured way of working. It's easy to understand and use. I immediately provided my staff with mobile phones so they could start to document our maintenance work in the app. We also share it the with external fitters so they get guidance, which helps them complete their work with less support from us. And once they're done we can go through a checklist in the app. So, I really enjoy this new way of working with the SKF Bearing Assist app.

Ove Jansson,  Roll Shop Manager, Holmen Paper AB, Sweden 
Every step of the way
The new digital tool is meant to support everyone who mounts a bearing. By entering the bearing designation or scanning the barcode on the packaging, the user can access product information and mounting instructions. Checking the bearing details to make sure the right bearing is selected before mounting is, as discussed above, crucial, and by searching for dimensions and bearings, users can select the appropriate bearing and also keep track of their most recent bearing exchanges.
The app also offers support around mounting preparations, including information about the right tools and equipment. In addition, there are check lists to make sure nothing is forgotten. "The new SKF Bearing Assist app not only lets you save time and effort when mounting bearings," Linus explains, "it actually improves your mounting skills and methods."
But it does more than that. Actually, the purpose of the app's documentation features is to help establish efficient maintenance routines. For example, you can create a team and invite colleagues to exchange experience and knowledge. There's also functionality for sharing mounting notes and photos within the team to hand over jobs without hustle. In short, SKF Bearing Assist covers everything from planning to completion and sharing, making sure the right information and instruction is always at hand for successful mounting.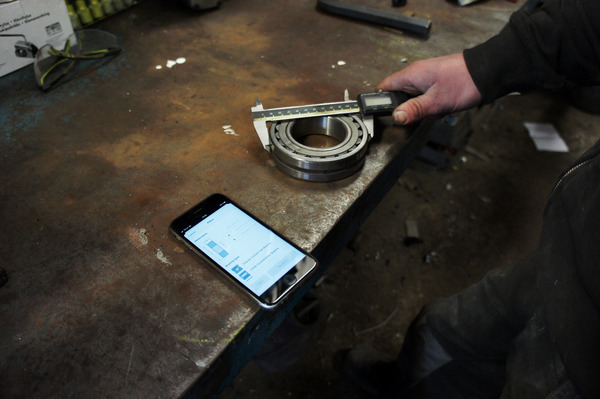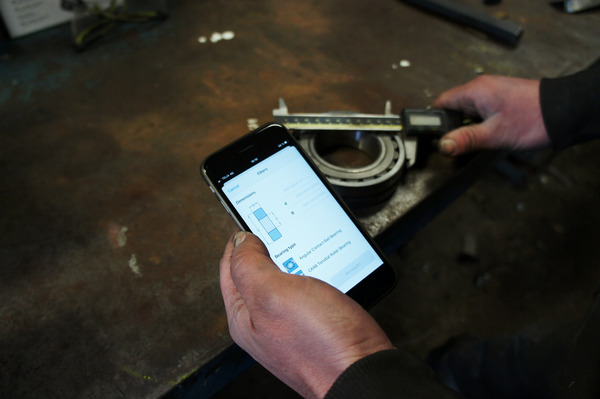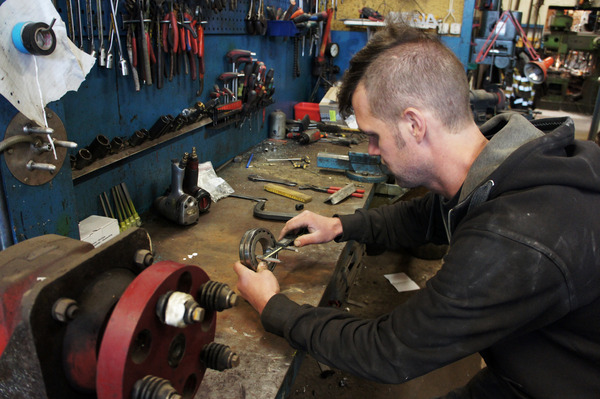 A tool for future technicians
A crucial insight driving the app development process was the industry's increasingly harder struggle to recruit maintenance professionals. This meant a growing demand for effective digital tools supporting those lacking years of field experience.  As Linus puts it, "We clearly needed to develop a tool that could turn new recruits into experts."
Mounting is indeed a critical stage of a bearing's lifecycle, affecting the productivity and reliability of industrial applications to an uncomfortably high degree. Now, as the solutions to many long-established mounting issues move into the digital domain, SKF Bearing Assist offers better and more accessible assistance for everyone – both veteran and rookie – who mounts or replaces an SKF bearing. "By providing more value and a better user experience to our customers, we're aiming to strengthen our position as a leader in the bearing industry and being the preferred brand for the next generation of maintenance technicians," Linus concludes.
Get more information about 'Bearing Assist' app and where to download
Assistance at your fingertips
SKF Bearing Assist is a mobile tool that helps to ensure quick, correct and easy mounting. Guiding you step-by-step through the whole mounting process but also enables you to select the appropriate bearing and keep track of your most recent bearing exchanges. Find all details of 'Bearing Assist' on
SKF.com
.
For direct download of the app choose from iOS and Android.