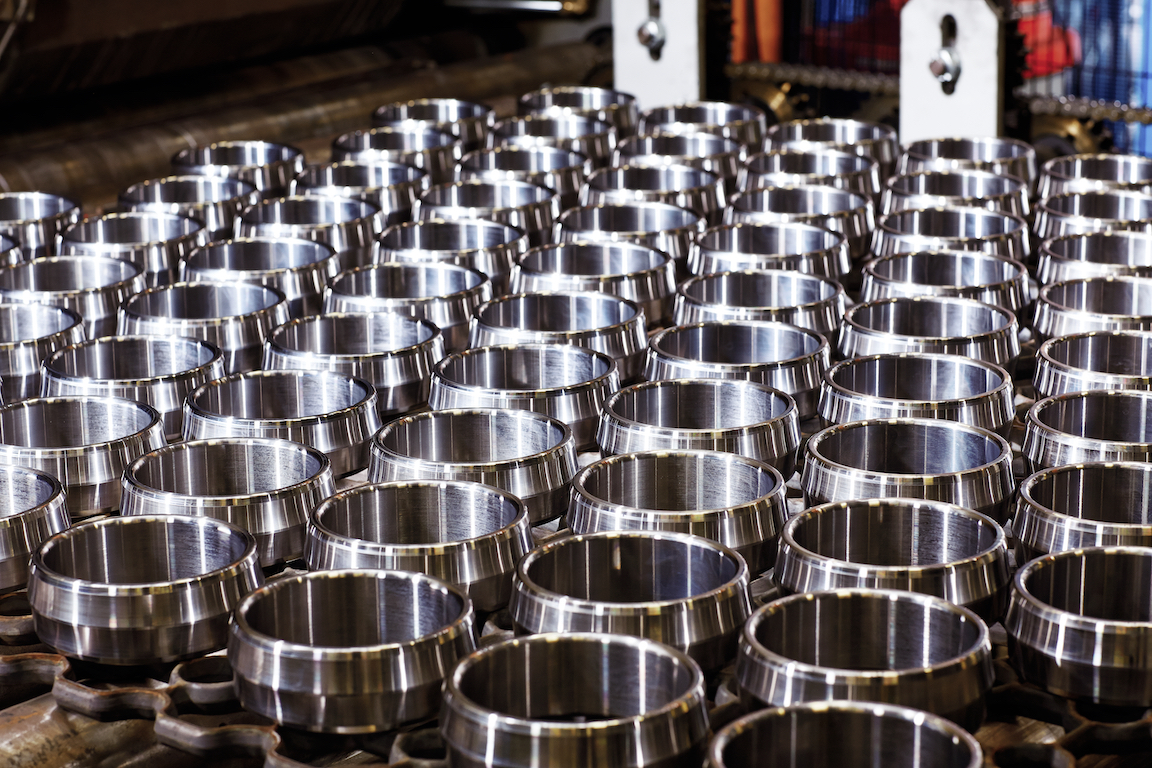 Get into top gear
Höfler Maschinenbau has developed machinery for grinding gears before they are put into operation; in the process it has developed into the sort of forward-looking medium-sized company that has become Germany's economic backbone
Summary
Where accuracy is king
Höfler Maschinenbau, a German company that manufactures gear-grinding machines, stands as an example of the class of medium-sized businesses that are being touted as the backbone of the German economy.
SKF has supplied the spindles for Höfler's grinding wheels for the past 25 years. All the models except the Maxima use the same spindle, which leads to savings for Höfler as well as for its customers.
SKF spindles and their bearings have to be built to the highest degree of accuracy, since any play in the construction will have an influence on the accuracy of the grinding. One micron is the maximum tolerance. A unique feature of the SKF spindles supplied to Höfler is the way in which the grinding wheel is fastened to the spindle. By adjusting a screw, the spindle expands within the grinding wheel to grip it tightly. SKF is currently experimenting with Höfler on fitting the spindle with hybrid ceramic bearings to provide even greater running accuracy and lower running temperatures.
Höfler Maschinenbau has developed machinery for grinding gears before they are put into operation; in the process it has developed into the sort of forward-looking medium-sized company that has become Germany's economic backbone
Höfler Maschinenbau (Höfler Machine Construction) is one of what are termed "mittelständische Betriebe" (medium-sized companies) that are the pride of the German economy. Höfler Maschinenbau is a private limited company with 150 employees, many of whom have been with the company for years. Its factory is located in the small town of Ettlingen in Baden-Württemberg – the southern German state that perhaps more than any other has made medium-sized companies into a political and economic philosophy. Hard work, high quality and commitment to the firm are the rules.
Höfler Maschinenbau was founded in 1959 by the engineer Dr. Willi Höfler and a couple of friends. Initially the company made measuring equipment. It also repaired machines, including machines for grinding gears. In the process of this repair work, Höfler and his colleagues formed ideas about how the machinery could be improved, and soon they were making gear-grinding machines themselves.
"Gear grinding" is a relatively new phenomenon. Originally gears were allowed to work off the rough edges during operation. Two gears would rub together until they had ground each other into a perfect matching pair. Now, through the process of gear grinding, the gears are honed to match before they are put into operation. A grinding wheel touches up the gear teeth and the gaps between them until they conform precisely to requirements. In addition, heat distortion from the manufacturing process is corrected.
Full range of grinders
In 1968, Höfler Maschinenbau delivered its first gear grinders – 11 conventional machines destined for China. In 1970, the company started developing its big Maxima grinder, and in the following years developed a full range of machines, to allow gears of all sizes to be ground. Flexibility makes Höfler gear grinders particularly attractive; one machine can grind many different types of gears within a particular size range.
Gears ground by Höfler machines can be found almost everywhere gears are used, but predominately they are found in large motors such as ships' turbines. They are also used in gearboxes and transmissions for a wide range of vehicles and machines.
"Some 70 to 80 percent of our products are for the export market," says Robert Stöss, purchasing manager for Höfler Maschinenbau. "Our customers are located all over the world." Several Chinese companies, such as Sichuan Gear Box, Nan Jing Technology and Rexroth in Beijing, are Höfler customers. Many Chinese trams run on Höfler-ground gears. Areas of new technology, such as wind energy, also rely on Höfler-ground gears. The German company Eickhoff, Bochum, which produces transmissions for wind-energy plants, is a Höfler customer.
In the early 1980s, Höfler Maschinenbau began experimenting with computer involvement in the grinding process. These first moves comprised a mixture of computer numeric control (CNC) and mechanical control – and weren't totally successful. But lessons learned in this early period set Höfler firmly on the path of building high-quality products that meet exacting customer requirements. Now all Höfler machines operate via CNC and offer the high technical quality and short completion time that computer control brings.
Same components
To reduce costs, different models of Höfler grinders use the same components. "Originally we thought that each machine had to have a different control panel, so that the control panel on our big machine, the Maxima, would be very big, and the one on our small machine, the Nova, would be smaller," says Stöss. "But we realised that it didn't matter, and that it would be much more efficient to have the same size for all of them."
The same applies to the SKF grinding spindle; all Höfler machines except the biggest have the same part – a spindle that Stöss describes as one of the best on the market, with a unique system of securing the grinding wheel.
All manufacturing processes are under permanent observation for possible savings, says Stöss. On the medium-sized Supra range, the company has reduced costs by 20 percent in two years.
Höfler's biggest machine is quite dramatic. The Maxima can grind gears of up to four metres in diameter and 35 tonnes in weight. It works on the same principle as the Supra and the Nova, its smaller and more frequently manufactured brothers.
Gear grinding is a highly complicated process. The grinding wheel is automatically dressed for the task in hand by diamond dressing rollers. The gear to be ground is roughly placed into position, then the computer takes over and tells the grinding wheel exactly where it should go and what it should do. It rolls around the gear gap in accordance with its computer-defined instructions, taking off just what is needed. To the outside observer it is an impressive sight to watch the various parts of this giant machine move against each other: The main sliding parts are friction-free, floating on 0.03 millimetres of oil, so that a 35-tonne gear wheel can be pushed into place with just one hand.
Höfler Maschinenbau continues in its efforts to innovate. The Helix and Promat, the new profile grinding machines, represent a new product line for the company. Instead of the grinding wheel rolling around the gear gap, as in other Höfler machines, the Promat's grinding wheel grinds the whole tooth gap at once. The advantage is that the grinding process is much faster. Currently, the Promat can take gears up to 400 millimetres in diameter.
Both machines deal only with cylindrical gears. Höfler has also developed a profile helical gear grinder, says Stöss. The new Helix CNC 400 was unveiled at the EMO Fair in Hanover, Germany, in September 1997.
Experience invaluable
So Höfler Maschinenbau, with an annual turnover of 35 million DM (US$19 million), can be considered a bright spot these days amid difficulties in German industry. But the company is not immune to these difficulties. German wage costs continue to be a problem because of their inflexibility, Stöss says.
If orders slow down, the company can cut back on materials, but wages must continue. As a result Höfler has agreed with the local works council that its employees will work longer hours when needed, and can take time off when work is short. But during the recession of the early 1990s, Höfler had to reduce its workforce. Notes Stöss: "We didn't need to re-employ the staff when things got better, because our productivity improved."
Often in Germany, politicians and business leaders talk of German workers pricing themselves out of the market, so that companies close down their German factories and open up where labour is cheaper. But that's not an option for Höfler, says Stöss. "We have many older, experienced employees, and their know-how is valuable."
Like the best German middle-sized businesses, Höfler managers know what work to do internally and what to outsource.
The central elements of their work they do themselves. Höfler has its own software developers, for example, and its own service staff: 15 engineers who are prepared to dash out all over the world to solve customers' problems. This soon may not be necessary, however. Machines are now equipped with modems, which send all the data back to Höfler, so that a long-distance diagnosis can be carried out.
Companies like Höfler may well be the backbone of the German economy, but they have their work cut out for them. The good ones have to keep ahead of technology and offer value for money, and there are no prizes for those who are left behind. But Höfler Maschinenbau seems up to the challenge.
Michael Lawton,
a business journalist based in Cologne.