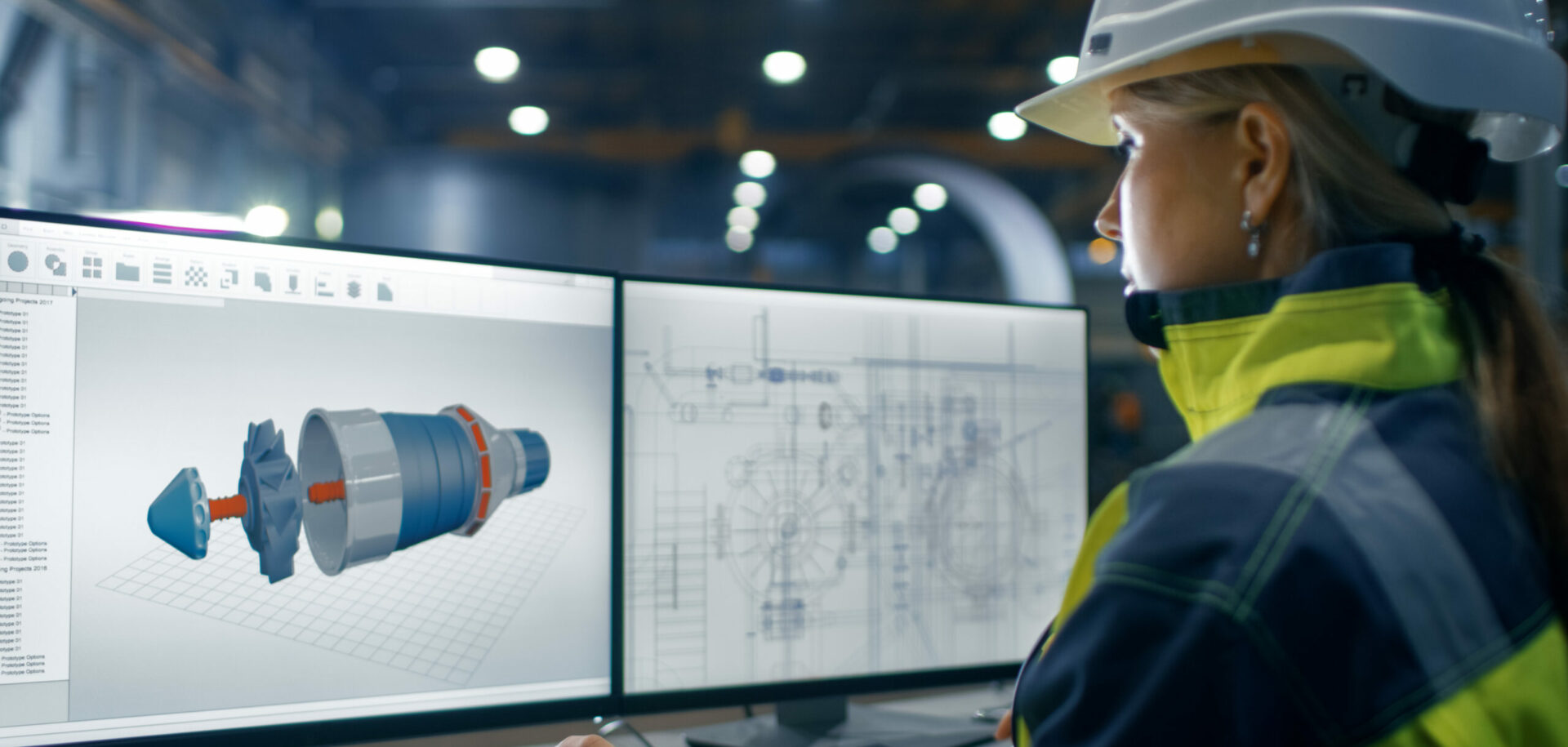 Summary
Searching for clues
The key traits of a centrifugal pump are its reliability and reduced maintenance requirements. But for half a year after its installation, the centrifugal pump at Enerserve was nothing but trouble. It was plagued by bearing failures, misalignment and balance deficiencies.
Troubleshooters Johnny Simmons and Randy Camilleri, SKF reliability maintenance specialists, got the case. "We are the engineers of last resort," explains Camilleri.
They had seen situations similar to Enerserve's. The motor and pump manufacturers were not the same, and installation was not done to standards. Consequently, Enerserve didn't have a sole supplier they could go to with their problems.
The water-treatment plant did not know a lot about vibration, alignment and the correct installation for the centrifugal pump. "We relied on the unit supplier," says Bart Vervetjes, Enerserve's technical director, adding that the supplier also was unaware of correct specifications for the pump's installation.
SKF ran tests, collected data and installed the pump correctly. One problem was that Enerserve's main plant operates at 460 volts/60 Hz, while the centrifugal pump motor was manufactured for use at 50 Hz. This made the pump run at 3,600 rpm instead of 3,000 rpm, which it was designed for. This also exceeded the speed rating of the originally grease-lubricated bearings, which lead to vibrations and failures.
There were also other mechanical faults occurring in the pump that could be energy-related. Vervetjes says that the SKF specialists found the bearing cage's natural frequency was too close to the actual running speed, which could cause resonance and vibrations.
Renowned by tourists as a small part of paradise, the tropical island of Saint Martin is blessed by an idyllic climate and scenic, sun-kissed beaches. Here, Vivendi Enerserve NV plays a key role in the daily lives of visitors and islanders alike.Access to clean drinking water is a universal necessity, even in a place such as Saint Martin that has the enviable good fortune of being surrounded by the turquoise waters of the Caribbean Sea and the Atlantic Ocean. Here, amidst tropical breezes and rustling palms, an Enerserve water-treatment plant operates around the clock, producing some 9,500 cubic metres of fresh drinking water per day.
Saint Martin lies at the crossroads of the Greater and Lesser Antilles, about 300 kilometres southeast of Puerto Rico. Measuring only 96 square kilometres, it is the smallest piece of land on earth shared by two countries. France and the Netherlands have cohabited here since they first divided the island back in 1648.
Enerserve's operations on the island began about 20 years ago with small water-treatment plants for local hotels. Since 1997, when water production was privatised, the company has provided potable water for the entire Dutch side of the island (the French side has its own water treatment facility and distribution). In addition to the main plant, the company has several smaller plants at hotels and private houses.
Enerserve also sells water-treatment facilities to other islands and countries in the region. And it has several water sales contracts. The biggest, after Saint Martin, is in Antigua, where the company sells 7,500 cubic metres of fresh water per day.
In 1999, Enerserve became part of the French-based Vivendi Group of Companies, the biggest water-treatment corporation in the world.
Making water
Enerserve's main water-treatment operations begin in the waters of Cay Bay, on the leeward side of Saint Martin. "It's a continuous closed process," explains Bart Vervetjes, technical director of operations. First, seawater is drawn through two intake pipes that extend 330 metres into the bay. Then, the water travels through a series of filters, which remove such things as sand, coral and small fish before passing through a high-pressure pump, which propels the water, at a pressure of 70 Bar (1,000 psi), through a series of semi-permeable membranes, which remove bacteriological contamination and separate fresh water from the salt water.
In the end, 50 percent of the water taken in is returned to the bay as brine, or double-salted wastewater. The maximum amount of fresh water produced in this plant is 14,500 cubic metres per day.
The water is desalinated through a process called "reverse osmosis." It is a fairly new technology, says Vervetjes. Seawater passes through two separate stages of semi-permeable membranes. This results in water so pure, salt measurements are only 150 parts per million.
"The water we produce is a much better quality than the world standard," explains Vervetjes. "One of the main reasons is that the distributor still has old steel pipes. With steel you get corrosion. That's why we make very pure water, so the distribution pipes don't rust."
Factors in production
Twenty-five years ago, the population on the Dutch side of Saint Martin was only about 2,500 people. The numbers have risen to some 35,000 today, and they increase another 50 percent during the tourist season. "Normally at high season, we run about five, sometimes six production trains," says Edo Sipma, plant manager and general manager for Enerserve's regional operations in the Windward Islands and Antigua.
Only three or four are needed in the other months.
Another factor affecting production is the amount of rainfall on the island. Rainwater was – and still is – the traditional method of getting water on the island. It is collected on roofs and stored in concrete cellars, or cisterns. The custom is still practiced in 80 percent of the houses on the island, as well as in some hotels.
"It's because water is so expensive," says Vervetjes. For many people there is no choice but to catch rainwater, which is free, instead of using water produced by the treatment plant. So when there is a lot of rainfall, people use less treated water.
For some houses, rainfall is the only source of water, because they are still not connected to the island's water distribution system.
Pumps and power
The workhorse in Enerserve's main plant is unit No. 7 – a big 1,000 kilowatt centrifugal pump that was installed in 1999 and runs non-stop. The plant also has six positive displacement (PD) pumps. The big unit produces 40 percent of the plant's total capacity. "It is a little bit less efficient than the PD pumps," says Sipma. "But the benefits are less maintenance and more reliability."
Electricity on the island is very expensive, in part because it is generated by a relatively small power plant. In fact, electricity is Enerserve's main cost. Every cubic metre of water produced requires five kilowatt-hours of electricity. But while one kWh costs about two cents in the United States, Enerserve pays 13 cents in Saint Martin.
Sipma starts working the figures on his calculator. With average plant production, it means 47,500 kWh at a cost of 6,175 US dollars per day, he says. Expand that to a weekly average of USD 43,225 or USD 2.25 million yearly, and one can understand why saving energy is a No. 1 priority.
If the plant can save electricity, says Sipma, it can save a lot of money. So, the entire treatment process comes under scrutiny. Energy savings are sought through technology, in the form of energy recovery devices such as pressure exchangers and other systems. The plant even replaced 80 percent of its membranes – not because they were old or worn – but because a new type of membrane used less energy. In four years, the plant cut its energy use by 25 percent.
"We do invest a lot of money for it. But it's worth it," says Vervetjes.
Acts of God
Hurricanes – or "acts of God," as they are referred to on the island – pose their own problems. During hurricanes the power plant shuts down completely, so the water-treatment plant and distribution network also shut down. "It can be off for a couple of days," estimates Sipma.
Or longer. In 1995, a particularly devastating storm, Hurricane Luis, resulted in power being off for more than three months. "It was not a nice period," Vervetjes recalls.
Another challenge is getting the plant's staff back to work after the storm. Vervetjes says he can manage the start-up process by himself, but "it means you are running around like crazy."
Life on a tropical island is not always relaxing.
Kathleen Saal
business journalist based in Georgia, USA
photos Getty Images and Kathleen Saal