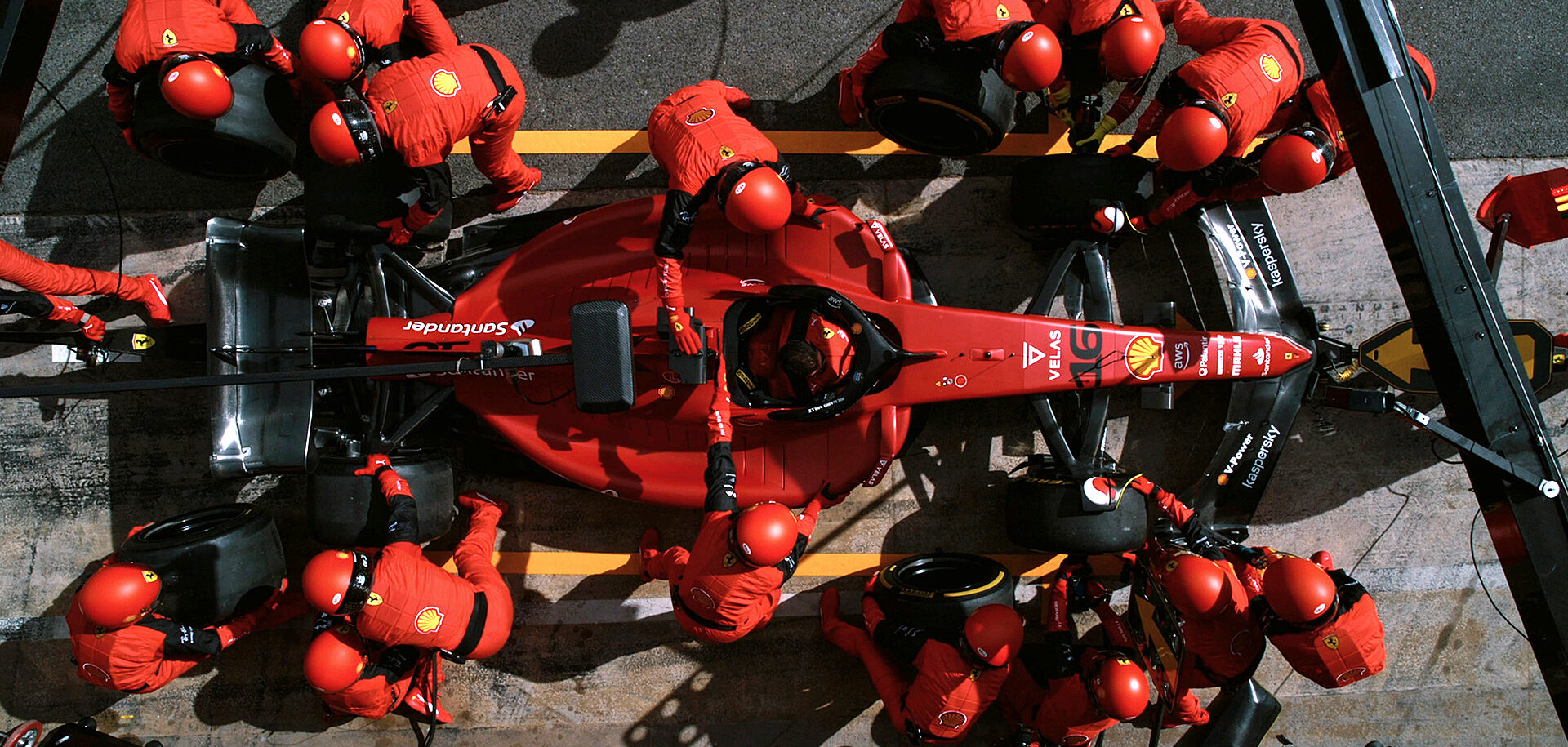 Sustainability from track to road
When you think about a 1,000 hp Formula 1 race car, words like speed and competition likely come to mind. But now sustainability could also be added to that list. In fact, the current F1 hybrid engine is already the most efficient in the world, delivering more power with less fuel and thus less CO2 than any other car. In fact, several emissions-reducing race car components show great potential to be transferred to road cars, if they have not been already.
Did you know that the g-force experienced by a Formula 1 driver rounding a racetrack corner is similar to what an Apollo astronaut experiences during re-entry to Earth? Just one of many examples of how Formula 1 engineers face challenges resembling the obstacles facing the makers of spacecraft.
Similarly to aerospace, the innovative technologies born from creating a vehicle that needs to perform under extreme pressure – in the case of F1 to gain even just a fragment of a second's competitive advantage – can inspire and influence other fields and even benefit society as a whole.
This has been true throughout the history of the race, relating to both road safety and performance of passenger cars. Among the F1 innovations that have made their way into road cars are hybrid powertrains, adaptive suspension and even the buttons on your steering wheel. But can it also be true for solutions that bring down the carbon emissions of your car?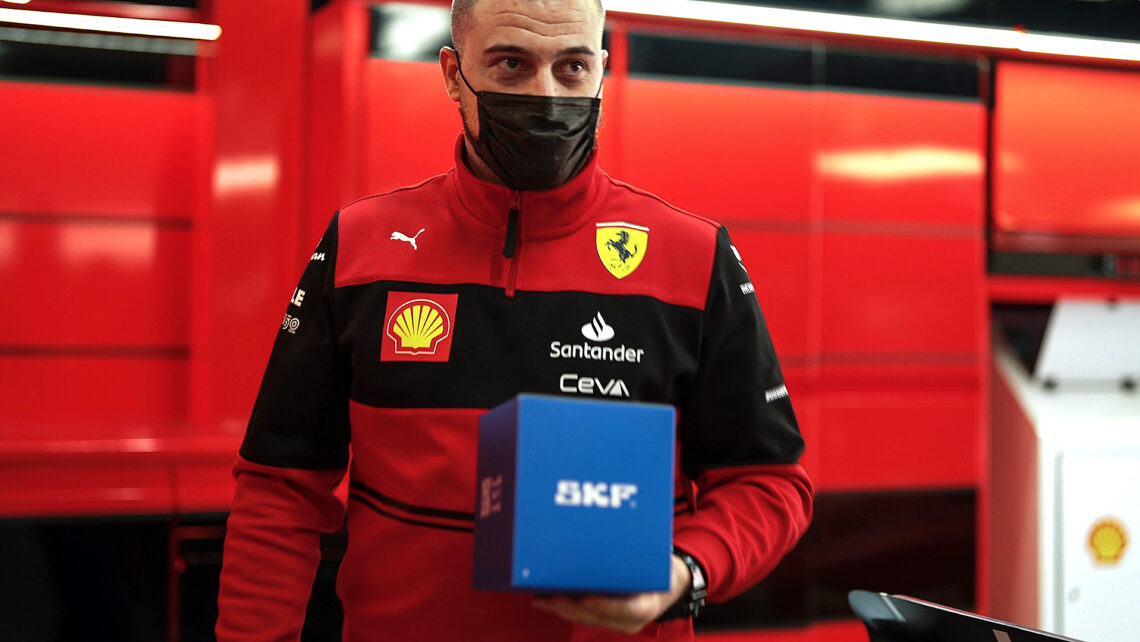 The most efficient hybrid engine
In fact, the current F1 engine is already the most efficient in the world, delivering more power with less fuel, and thus less CO2, than any other car. And for Scuderia Ferrari, the most successful racing team in the history of F1, the transfer of sustainable technology from track to road is already many years in the making.
Sustainability has become another parameter, another target.

Marco Civinelli, chassis mechanical and operation design manager at Scuderia Ferrari.
"Driven by the heat of the competition we develop more sustainable technology that can have a concrete application into our road cars," explains Laurent Mekies, Scuderia Ferrari race director. "Electrification is a very good example of that.
"We started to introduce a partly electrical engine in Formula 1 back in 2009," he continues. "Shortly after that Ferrari introduced that technology into its road cars, with the first one being La Ferrari. Now it has developed into a whole range of hybrid vehicles. We have four currently, and of course it is going to further expand. We feel the responsibility, and we want to be a catalyst for change through measurable actions.
"After presenting our journey towards carbon neutrality by 2030 we move from purpose to action, and we have already put in place a number of key activities and have committed to set science-based targets in line with the 1.5 C pathway." says Mekies, referring to the Paris Agreement goal calling for the reduction of greenhouse gas emissions to limit global warming.
Change of mindset for engineers and designers
Mekies calls F1 an "innovation lab" where a range of technical solutions developed for the racetrack bear great potential when applied to regular road cars.
"Performance and reliability remain two key targets," says Marco Civinelli, chassis mechanical and operation design manager at Scuderia Ferrari. "It is a change of mindset for engineers and designers; sustainability has become another parameter, another target. The way we can achieve this target is to design components that are lighter and more efficient compared to the current solution."
Making a race car more lightweight within the strict regulations of Formula 1 (in 2023 a race car weighs no less than 789 kilograms) has the potential to increase performance while decreasing fuel consumption.
Ferrari and SKF partners since the start
SKF has been a technical partner to Scuderia Ferrari since its foundation. There are around 300 fully customized SKF bearings fitted in the 1,000 hp race cars that can travel at top speeds of around 370 kilometres per hour. The SKF bearings can be found in the gearbox, suspension, power unit and wheels.
SKF works closely with the Scuderia Ferrari team to create new solutions that are lighter and more efficient than ever before. "One possibility is to design components which help to reduce friction," says Andrea Rifici, key account manager at the SKF Racing Unit. "For example, we provide hybrid bearings, meaning bearings with ceramic balls or ceramic rollers, and now we have developed ceramic needles."
SKF is unique in its use of ceramic needles instead of steel in the race car's gearbox. And according to Scuderia Ferrari's own test bench, the ceramic needles can boost engine power while at the same time reducing friction by nearly 70 percent. The use of ceramics and composites, water-based lubricants and the optimization of the bearings' internal geometry are other SKF innovations designed to improve efficiency.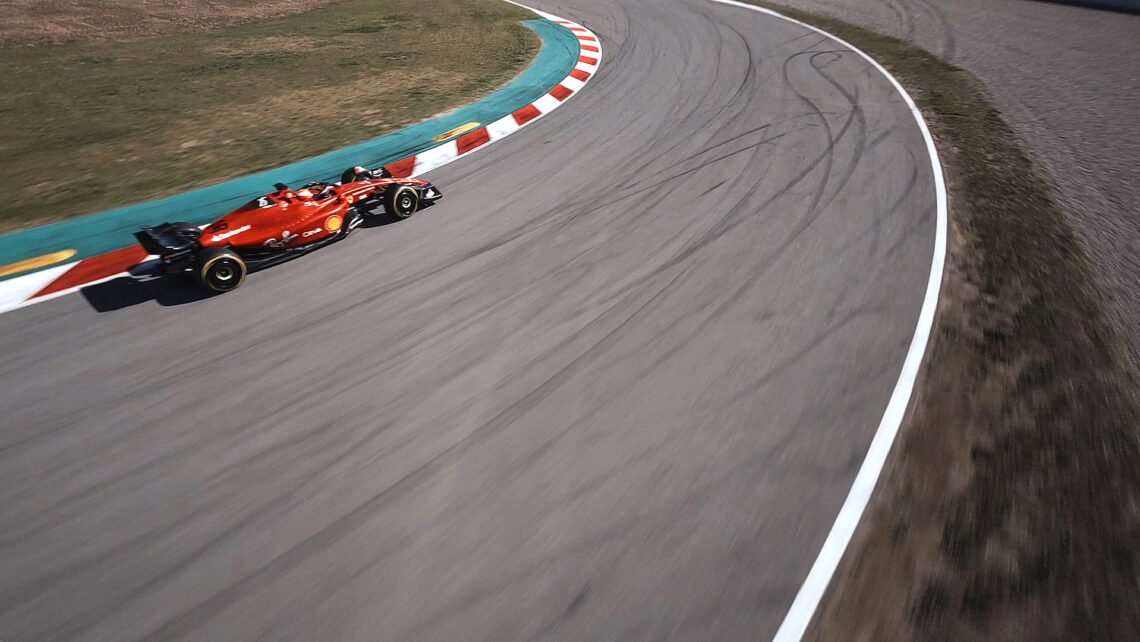 Hybrid ceramic bearings in electric cars
The automotive industry as a whole is going through significant change, driven by environmental awareness as well as tough emissions legislation. Car manufacturers around the world are turning every stone in order to lower vehicle weight and reduce emissions. There is much that can be achieved on a component level. Hybrid ceramic bearings are already being used in several electric car models, and with plug-in vehicles predicted to make up 23 percent of new passenger vehicle sales globally in 2025 (up from just under 10 percent in 2021) there is big potential for carbon reduction.
"Scuderia Ferrari's efforts towards emissions reduction imply great challenges, but we cannot do it alone," says Mekies. "Working with partners with the same mindset and ambitions when it comes to carbon reduction is key."
Andrea Rifici says, "For us it is a great opportunity to test the most innovative solutions and learn from this field. We transfer back this knowledge to all the other industries where we continue to develop them. Some bearings that we have in the [Formula 1] car are even used in aircraft. We believe that our involvement in Formula 1 throughout the years is a great opportunity for us to accelerate the road to sustainability."