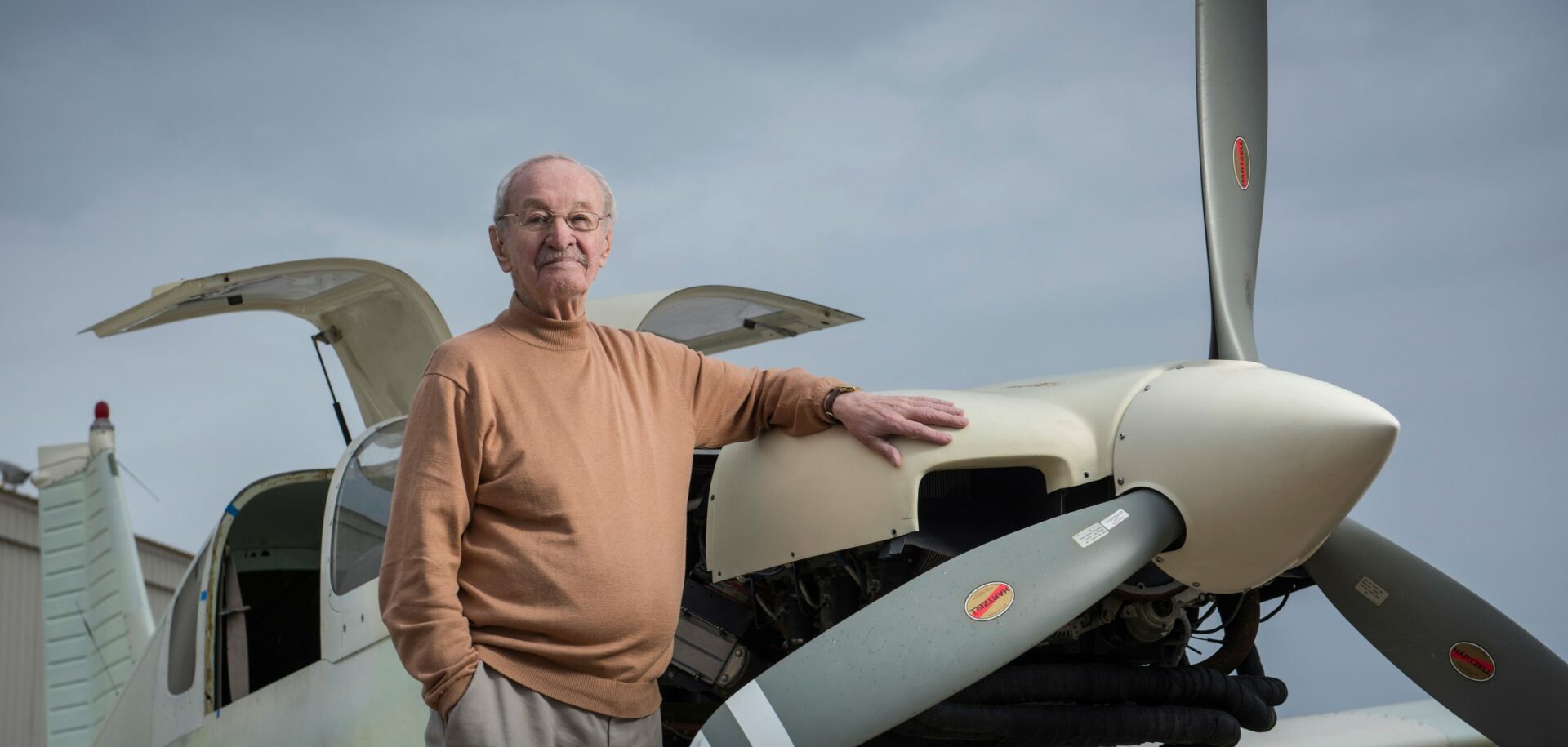 The sky is the limit
At age 94, aeronautics engineer Karl Bergey is not slowing down. Following a lifetime of innovation, Bergey is now focusing his energies on working with students to develop a plane that can beat a long-standing altitude record.
On 22 October 1938 Italian pilot Mario Pezzi and his small biplane soared into the stratosphere, setting the world record for maximum altitude achieved by a propeller-driven, piston-engine aircraft at 17,083 metres (56,047 feet) – a record that still stands, 79 years later. Karl Bergey was just 15 then, and today, at 94, he still aspires to beat it.
"We just want to break that record," says Bergey with a smile. "That's the only purpose." Bergey is talking about his project to create a high-altitude research plane (HARP) with the design firm he founded, Bergey Aerospace, in conjunction with the University of Oklahoma in the United States. The goal is for the plane to soar above 18,000 metres (60,000 feet). While that may seem an unreachable pipe dream for a near-centenarian, we would be wise to believe that Bergey can make this dream come true. The slogan for another of his companies, Bergey Windpower, is "Power your dream with the wind"; perhaps it's a slogan for his life as well.
I was crazy about aeroplanes for as long as I can remember.

Karl Bergey
"I was crazy about aeroplanes for as long as I can remember," says Bergey. In particular, he was fascinated by the tales of Antoine de Saint-Exupéry, the writer, poet, journalist and aviator who vanished over the Mediterranean during World War II. Bergey incorporated one of Saint-Exupéry's maxims – "Perfection is achieved not when there is nothing more to add, but when there is nothing more to take away" – into his own philosophy, setting a standard of simplicity as a hallmark of his work.
Born: Christmas Day, 1922
Lives: Norman, Oklahoma
Education: Degrees from Penn State and the Massachusetts Institute of Technology.
Achievements: Professor emeritus of engineering at the University of Oklahoma, founder and chairman of Bergey Windpower Company, and founding director of Bergey Aerospace. Bergey has written more than 50 technical papers and received numerous awards.
Family: Father of four. Sons Mike and Dan are, respectively, president and vice-president of Bergey Windpower. Son Andrew works in television in Colorado, and daughter Elizabeth is a professor of biology at Oklahoma University.
Leisure activities: Literature, playwriting, studying Shakespeare and his relation to Christopher Marlowe, and working on his farm.
In pursuit of his dreams, Bergey received his education as an aeronautical engineer at Penn State, interrupted by a stint in World War II and followed with a master's degree from the Massachusetts Institute of Technology. He began his career in California, where he met his wife, Patricia. After five years they moved to Vero Beach, Florida, where he designed one of the most enduring small planes, the Piper Cherokee, in 1960. The Cherokee is still in production and some 40,000 aircraft have been built to date.
"Simplicity has been my mantra all along," says Bergey. "Minimize your costs by simplifying your design with the minimum number of parts."

Bergey applied that theory to the wind turbines he designed at Bergey Windpower, the company he started with his son Mike in 1979. One of the earliest pioneers of small wind turbines, Bergey WindPower has persisted with its simple model of three moving parts and no requirements for scheduled maintenance, while hundreds of wind companies have come and gone.
Paul Gipe, publisher of the non-profit industry report Wind-Works.org, in his latest book, Wind Energy for the Rest of Us (2016), calls Bergey Windpower an aerospace success story. "A Bergey wind turbine is about as simple as a wind turbine can be," he writes. "It's safe to say that of all both large and small wind companies in the United States, Bergey Windpower has been the most successful. Its brand is now recognized worldwide."
Bergey has sold wind turbines in more than 80 countries and all 50 US states. "One key to the company's enduring success has been keeping it a family-owned business and designing products for maximum simplicity," Gipe writes.
But life has not always been a breeze for the Bergeys. Father and son are clear about the challenges of mixing business with family, and throughout the years of building the wind business, Karl Bergey always longed to get back to his first love, aviation, as he has finally done with Bergey Aerospace. He also established a career at the University of Oklahoma as a professor of aeronautical engin-eering, and he continues to work with his best students on the HARP project for his aerospace firm.
"He was always totally loved by his students," observes Mike Bergey. "He worked hard for them, and they really worshipped him."
When asked about his greatest accomplishments, Karl Bergey says without a moment's hesitation, "I had four great children and designed an aeroplane, the Piper Cherokee, that was met with a great deal of approval. There have been over 40,000 of those built. I've managed to amuse myself with a few heartbreaks in between."
Bergey keeps his spirits up by working the land at his 40-acre farm and overseeing the development of the HARP aircraft. He continues as chairman of Bergey Windpower as sons Mike and Dan, president and vice-president, guide the company through the sea of "hucksters and hype" to remain at the top of the game. The Bergeys anticipate a strong future, with growing markets and a cost-saving design to be unveiled soon.
"It's been tough," says Mike. "We couldn't have done it without him."