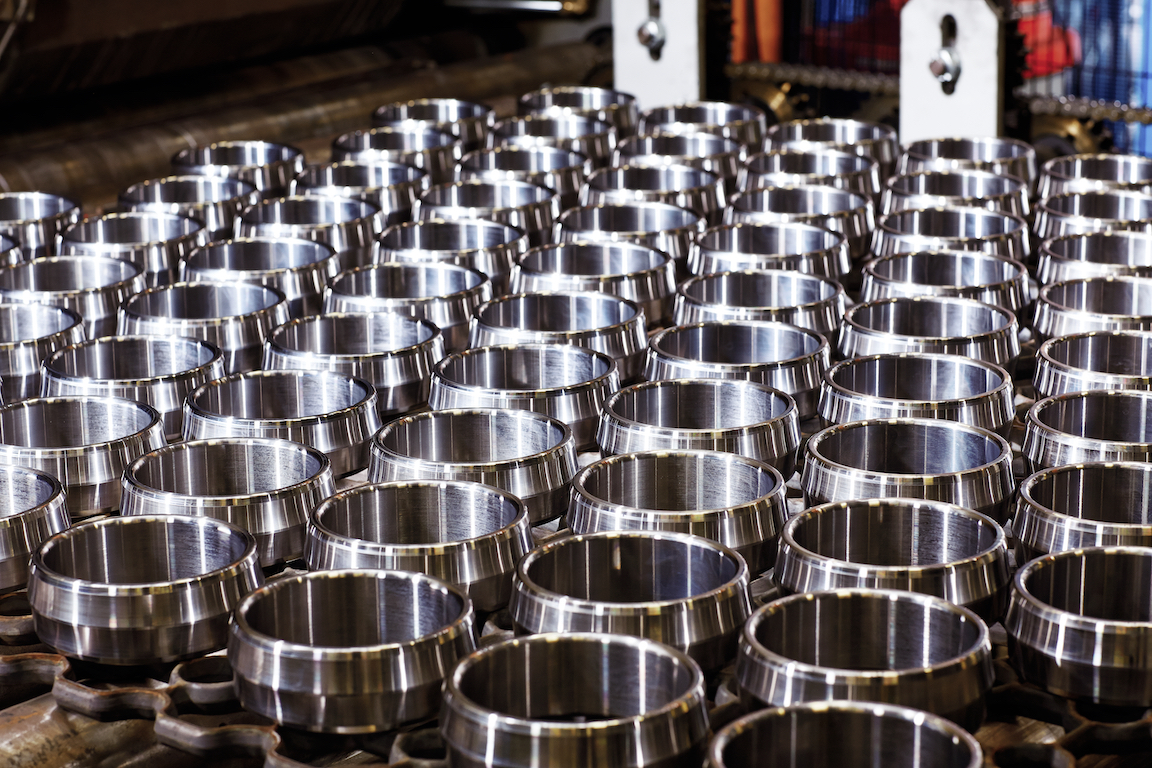 Coating against corrosion
Summary
Reconditioned bearings
The aim of increasing production from 400,000 tonnes in 1993 to 600,000 tonnes in 2000 will be achieved partly by enlarging Galvalange's product range to include 2.3 millimetre sheet. But increased efficiency is also an important factor, and here Galvalange is helped by its partnership with SKF.
Efficiency can best be achieved by reducing downtime and increasing precision in manufacturing. Both aims have been achieved in the pioneering agreement between the two companies for the maintenance of a specific set of bearings.
A six high Sendzimir skin-pass on Production Line 2 roughens the surface of the treated steel to make it more suitable for painting. The roughening is performed on both sides by cylinders, behind each of which are two intermediate rolls. The rolls are supported by a cassette consisting of three axles, on each of which is a series of 11 backing rollers. Each of these rollers is actually a heavy bearing, and SKF now has the sole maintenance contract for the entire cassette construction.
The deal was one of the first reached by SKF's Industrial Services Centre (ISC) in Steyr, Austria, in 1998. SKF had been involved in the design of the bearings, but maintenance had always been carried out by the original manufacturer of the skin-pass. "We decided to give the task of maintaining the bearings to bearing experts so that maintenance and development would go together," says André Gierenz of Galvalange. The process of maintenance became a matter of team work, with input from Pierre Moro of the galvalange operations department, the ISC experts in Austria and the local service division from SKF Belgium.
Service intervals have since lengthened from every 8,000 tonnes of throughput to every 14,000 tonnes. Instead of merely grinding the outer diameter, SKF checks and reworks every component of the bearing, even replacing single damaged components if required, says Hubert Braunegger of the ISC. "Only this way can you be sure that they work perfectly," he says. In addition, the ISC has improved lubrication and sealing, both highly significant for bearings that have to work in a wet atmosphere.
A new challenge
SKF bearings are found in most parts of Galvalange's two production lines, but an interesting current project is the development of a bearing to be used inside the liquid aluminium alloy bath. The steel sheet shoots down from the annealing furnace into the bath and runs under a roller, which sends it back up again to the cooling system. Currently the roller runs on plain bearings, but SKF and Galvalange are planning a new bearing that will cope with the high temperatures and the liquid metal environment. This will mean less friction and more accurate running, which in turn will mean that the alloy coating can be thinner, since tolerances will need to be smaller. The development of the new bearing has to meet some difficult challenges, since the combination of aluminium and high temperature results in chemical attack on standard materials.
The use of hot-dip coatings for steel sheet improves quality and lifetime of industrial goods. Most of the steel used for such purposes is galvanised with zinc, but for some purposes an aluminium-based coating is superiour.Flash back to the steel crisis of the 1970s: Western European capacity was far too high, many steel facilities were closed, and widescale unemployment and destruction of communities followed. In Belgium and Luxembourg, the two giants of the region's steel industry, Arbed and Cockerill Sambre, decided to rationalise production, closing down uneconomic plants and concentrating production on modern efficient facilities. A steel-making plant in Dudelange, Luxembourg, was among the victims, but Arbed and Cockerill Sambre, which is now part of the Usinor Group, wanted to keep the jobs in the region. They launched a joint venture, Galvalange, to specialise in hot-dip aluminium-rich coatings for steel sheet. Galvalange bought the licence to make its main product, Aluzinc – an aluminium-zinc coating – from the Bethlehem Steel Company in Pennsylvania, and production started in 1982.
In 1982, European Community steel quotas limited production to 150,000 tonnes a year, but the quotas were lifted in 1986. That year saw the launch of a second product, Alugal, an aluminium-silicium coating. By 1989, Galvalange was producing 275,000 tonnes a year. A second production line in 1991 brought production capacity to 500,000 tonnes. Now the company is aiming for 600,000 tonnes a year.
About two-thirds of production is devoted to Aluzinc. The other third is Alugal, a special coating used in high-temperature environments.
The use of coated steel has made a major difference in the quality of industrial goods. You may remember the days when many cars were seen on the streets with rusting body panels, where paint would blister or the bodywork would slowly deteriorate into sharp, dangerous blades of rusty metal. Most of the steel used for such purposes is galvanised with zinc, but for some purposes an aluminium-based coating is superior.
The Aluzinc coating consists of 55 percent aluminium and 43.4 percent zinc, with 1.6 percent silicium to help bond the coating to the steel. It is used mainly in the building industry for roofing and walls as an improved substitute for galvanised steel, since it is relatively light and is better at insulating and resisting corrosion. Aluzinc is also increasingly being used in home appliances where manufacturers want to provide a high level of corrosion-proofing, such as on the insides of washing machines.
"There's more demand now for better quality, and manufacturers are using corrosion-resistant products, even where you can't normally see them," says André Gierenz, head of operations. They don't want the customer to see their product all rusty behind the front panel when the repairman comes." The market is growing by 6 to 7 percent a year, partly because the price of metal-coated steel is moving closer to that of the untreated material.
One advantage of Aluzinc is the ease with which it can be painted once it has gone through a process called "skin-passing," which microscopically roughens the surface so that paint will adhere better. It can also be bent and drawn more readily than other materials. A Galvalange speciality is its Special Passivation Treatment, which provides a special coating for the surface, ensuring that the panels can be bent and formed smoothly without leaving telltale "fingerprints."
"With our two production lines, we can cover the whole range of sheet size and thickness," says Gierenz. "Both of the lines can manage widths of anything between 700 and 1,550 millimetres. One of them covers thicknesses from 0.2 to 1.3 millimetres, while the other covers thicknesses from 0.3 to 2 millimetres. And we'll be moving up to 2.3 millimetres in the near future."
Alugal, with its 90 percent aluminium and 10 percent silicium coating, is used wherever there's a need to withstand high ambient gas temperatures. The standard Alugal offers excellent resistance to chemical corrosion and will take temperatures of up to 700 °C. It is often used in motor vehicle exhausts, for burners in furnaces or in electrical home appliances like cookers or water heaters, where heat resistance is important. For even higher temperatures, Galvalange makes Alugal ALT, which is treated to withstand temperatures of up to 800 °C.
Michael Lawton
a business journalist based in Köln
photo: Galvalange