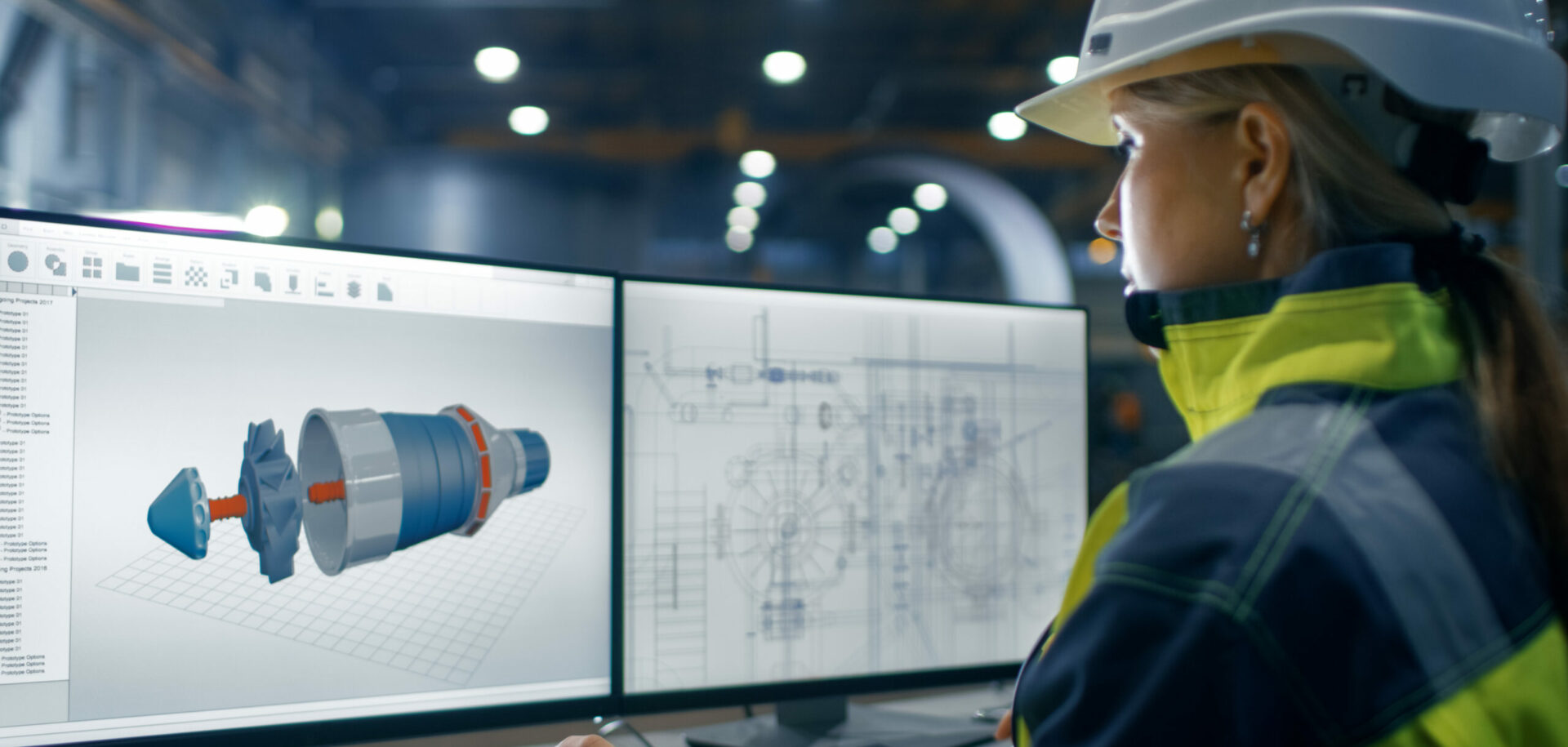 Flexible with an aircraft profile
Summary
A constant presence
"There isn't a machine here that doesn't have an SKF bearing in it," says Gunnar Öhgren, technical adviser at Modig Machine Tool in Virserum, Sweden, as he surveys the vast workshops where machines are being assembled for delivery around the world. Indeed, Modig Machine Tool has used SKF bearings exclusively for the past 50 years – since the company was founded in 1948.
Today, Modig's high-speed machine tools require, first and foremost, high-speed milling spindles from SKF. These are usually equipped with two angular contact ball bearings and one cylindrical roller bearing. A milling spindle is the rotating element typically found in a Modig Profile Line machine. While high-speed milling spindles rotate anywhere from 1,500 to 24,000 r/min, some high-precision applications require higher spindle speeds. SKF currently delivers about 20 high-speed milling spindles a year to Modig Machine Tool.
However, in early 1999, SKF delivered its first active magnetic bearing spindle to Modig, which, because of a frictionless, oil-free, magnetic cushion, is capable of rotating at 40,000 r/min. The end user is Sandvik, a Swedish steel and tool manufacturer that will use Modig's extremely fast Profile Line machine for research and development in high-speed machining.
For Neos Robotics, Modig makes the kinetic platform robots Tricept 600 and 800. Both are fitted with roller screws and actuators from SKF.
Speed and multiple functions characterise the machines from Modig Machine Tool, some of which play key roles in the aviation industry.Selling products and services to such industrial giants as Boeing is a dream for many subcontractors and suppliers. Modig Machine Tool, a small, innovative, family-run Swedish maker of high-speed machining tools got in through the back door
Back in 1989, Modig custom-made its first Profile Line machine – a computer-controlled, high-speed mill, drill, de-burring machine, saw and more, wrapped into one. The prototype machine, created for Swedish aircraft manufacturer Saab, became a kind of reference installation, successfully chopping lead times from months to days.
Boeing got wind of Saab's breakthrough and in 1991 called Modig to ask if the company could do the same for them. Forty high-speed machining tools later (and more on the way) Boeing is Modig's single biggest customer. As a result, the company's turnover has more than doubled, to 180 million Swedish kronor (US$22.5 million) today.
Other customers include Cheng Du Aircraft in China, Brazil's Embraer, Raytheon, Volvo Aero, McDonnell Douglas and non-aircraft clients such as Sandvik and Tetrapak. All have visited Modig's technical research and training facility in Virserum, a small town in the Swedish province of Småland, usually to test-run Modig's unique solutions.
"To think of all the money people spend on elaborate marketing plans," says Percy Modig, the company's president, from his office overlooking the hamlet. With 110 people on the payroll, Modig is Virserum's single biggest employer.
"The same week that Boeing called, a Swede in the U.S. contacted us to see if he could represent us there," continues Modig. "To top it off, Saab agreed to show its installation to our prospective customers, which is quite unusual for a military aircraft manufacturer."
Flexible fit
Saab initially wanted four Profile Line machines, but was content with only two. "The two machines we got in 1989 had such a high production capacity that, quite simply, we didn't need any more," says Kent Strand, engineering development project manager at Saab. Both machines are still in use today. A cost-effective, multifunctional and highly automated machine, Modig's Profile Line is a six-tonne precision tooling station that can handle aluminium parts of an aircraft, or profiles, of up to 15 metres in length. It has an automatic feed-in, feed-out conveyor system and can machine 1,700 different components. Bulletproof glass protects the operator from shavings spinning off the rotating spindle, sometimes at speeds of 40,000 revolutions per minute. A Ferrari of machine tools, Modig's Profile Line is an exclusive high-performance instrument.
For users, the main advantage of a Profile Line is that it can accomplish many tasks at once. It is also fast, which reduces lead times and storage needs. In addition, it takes up relatively little floor space compared with standard shop-floor architectures where a machined piece moves along a lengthy stage-by-stage production line.
"The aircraft industry fits us very well," says Modig. "We are a small and flexible company. I don't believe that production volumes can determine a company's success. Instead, we concentrate on tailor-made solutions based on customer requirements and needs."
Aircraft fuselage
Besides the Profile Line, which is used to machine thousands of different parts for an aircraft, Modig's range of products also includes UHF (universal holding fixture) Skin Fixtures. These can be equipped with upwards of 256 suction pods to position large pre-formed metal sheets before riveting them onto aircraft bodies.
Another product, the UHF Chord Trimmer, is used to machine aircraft profiles before they are riveted onto an aircraft's fuselage. The movements are so swift that a UHF Chord Trimmer can machine more than 20 metres per minute. According to Percy Modig, Boeing in Wichita, Kansas, uses the UHF Chord Trimmer to machine up to 1,200 profiles a day.
In recognition of the company's technical competence, the Wichita division of the Boeing commercial airline group named Modig Machine Tool their "Supplier of the Year" in 1997. Even more noteworthy, it was the first time that a non-American company has received this award.
Robotic solutions
But Modig isn't likely to rest on his laurels. In October 1998, Modig Machine Tool started building a kinetic platform robot for Neos Robotics. A Swedish company that invented a patented industrial robot, Neos Robotics' Tricept 800 is a high-precision machine tool. Capable of multiple simultaneous machining activities, the control system of Tricept 800 was developed with the help of Germany's Siemens. It is currently being used by such heavyweight manufacturing companies as Chrysler, Volvo, Mercedes, Boeing and SKF. In SKF's case, the Tricep 800 is used to assemble actuators.
"In most people's minds, a robot is a weak, flimsy machine," says Modig. "But the Neos Tricept 800 is heavy-duty, stable and stiff. It is an ideal machine tool."
As a result of the cooperation with Neos, and other orders from existing clients, Modig believes his company will grow an additional 30 percent in 1999 and employ an additional 15 designers, programmers, operators and application engineers. In addition, the company is currently expanding its production facilities in Virserum to accommodate the new orders.
Family business
Modig Machine Tool has come a long way since Percy Modig's father and four uncles founded the company in 1948. Originally the company constructed lathes for customers such as the Swedish army. Today its business is concentrated on special niche applications for high-tech manufacturing companies around the world.
Modig Machine Tool is still a family business, as it has been for 50 years, although there are some outside investors. In early 1996, Modig Machine Tool acquired Demanders, also in Virserum, a leading manufacturer of machine vices, milling tables, rotary tables and drill sharpeners. It also acquired Jungner, in Åkersberga, north of Stockholm, which manufactures manual and computer-controlled tool-grinding machines. The three companies remain as individual divisions within the Modig Machine Tool group.
Alexander Farnsworth
a feature writer based in Stockholm
photo Alexander Farnsworth