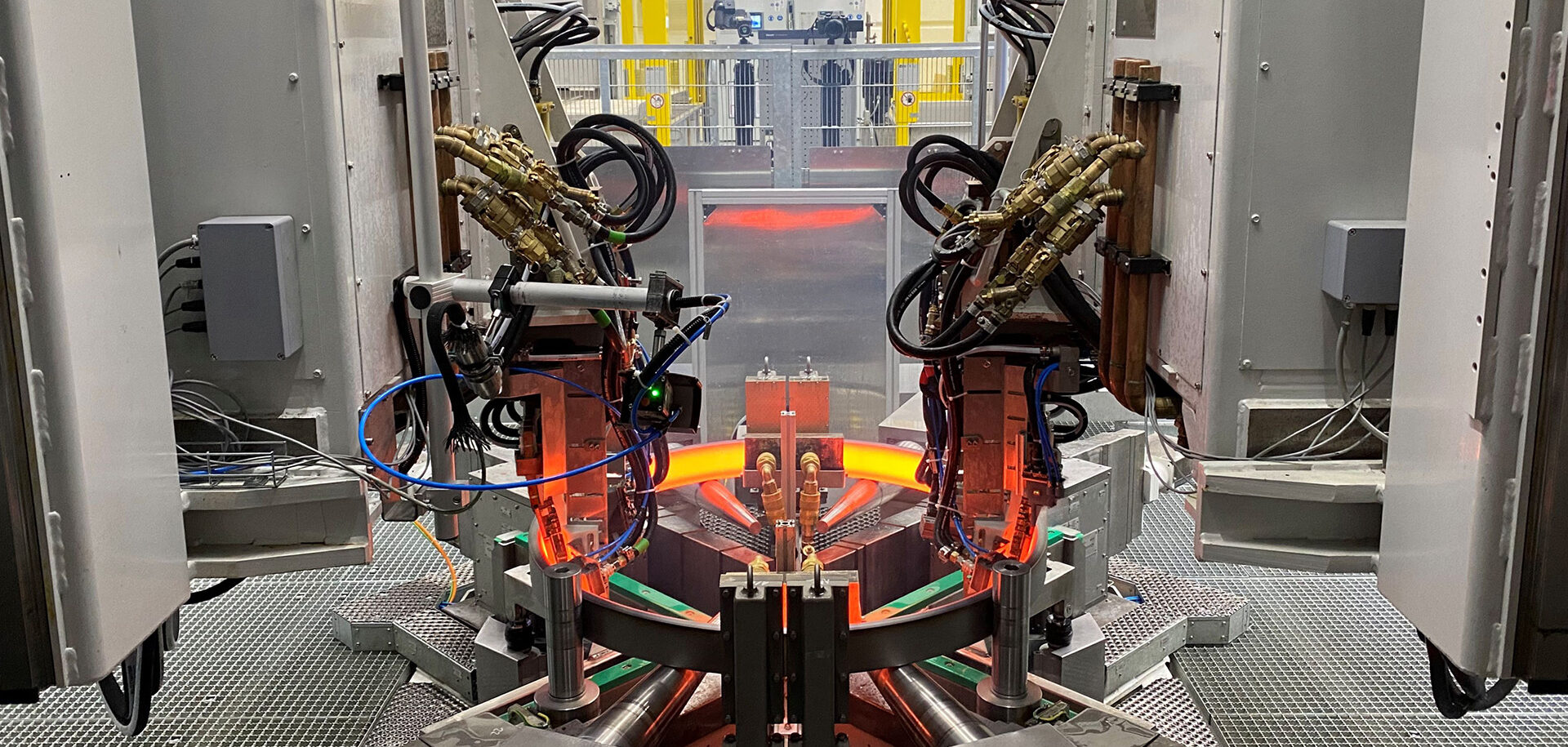 From traditional to selective hardening
A fast and energy-efficient hardening technology is getting ready for its industrial debut.
For high performance and a long service life, bearing ring materials must meet conflicting objectives. They must be hard, to resist the loads imposed by rolling elements, but they must also be tough, so that they don't crack under pressure. Manufacturers achieve this tricky balance by making rings from a relatively soft material, then treating them to create a hard, wear-resistant component, balancing the competing properties of hardness and toughness.
This process can be conducted in various ways, but almost all the methods require the application of significant heat. Hardening is traditionally conducted in a specialized furnace, but that can make the processes slow, dirty and extremely energy-intensive. Those are undesirable characteristics in a world where bearing manufacturers – and their customers – want fast, flexible and cost-effective production with the lowest possible carbon emissions.
Environmental impact important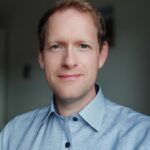 "Our customers in the renewable sector are particularly interested in the environmental impact of the products they buy, as they seek to decarbonize their own supply chains," says Michael Wendel, manager, Induction Hardening Technicum at SKF, based in Schweinfurt, Germany.
One alternative to the furnace is induction hardening. This uses a powerful alternating magnetic field to generate heat on the surface of the ring. Induction hardening is fast and energy-efficient since it enables short process times and localized heating, and it consumes no energy during idling. In addition, the process is instantly adjustable, allowing manufacturers to achieve precise control over the depth of the hard surface layer.
Induction hardening has been widely adopted in bearing production. Small rings, up to around 500 millimetres in diameter, are hardened in a one-shot process, using an encircling induction coil to heat the whole surface of the ring. For the very largest rings, with diameters of several metres, manufacturers use a scanning technique. This involves a coil and spray quenching system that traverses the surface of the part, heating and cooling a small area at a time.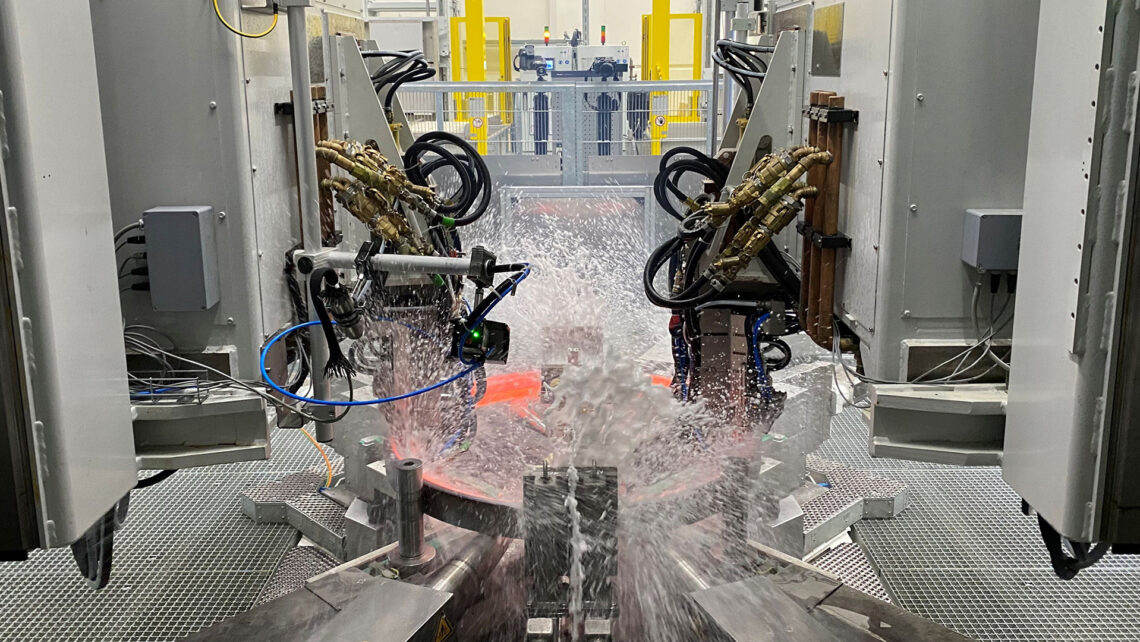 Filling the gap
Until recently, however, there has been a significant gap in the induction hardening toolbox for bearing manufacturers. Mid-sized bearings, with diameters ranging from 500 millimetres to around 1.6 metres, are too large for conventional one-shot induction-hardening technology but too small for scanning machines.
Our customers in the renewable sector are particularly interested in the environmental impact of the products they buy.

Michael Wendel, manager, Induction Hardening Technicum at SKF, based in Schweinfurt, Germany.
Since 2017, a team at SKF's Centre for Manufacturing Development in Schweinfurt has been looking for a way to fill that gap. The project, completed with financial support from the German Federal Ministry for Economic Affairs and Climate Action, is now ready to enter the next phase.
The SKF team's system, known as Induflex, is designed to allow one-shot case hardening of bearing rings ranging from 450 to 1,800 millimetres in diameter. A ring is clamped on a machine and rotated rapidly past two induction coils, each mounted on a computer-controlled actuator arm. The arm continually adjusts the position of the coil, maintaining a precise distance from the ring as it heats and expands. When the surface reaches the desired temperature, a shower system on the arms is activated to quench the material.
"Compared to conventional case hardening in a furnace, the Induflex process is cleaner, faster and much more energy-efficient," Wendel says. "Hardening a 512 kilogram ring on the Induflex systems takes just a few minutes and requires 81 kWh of energy – at least two orders of magnitude less than case carburizing [furnace treatment]."
Powered by renewable sources
And because Induflex uses only electric heating, the process can be powered by renewable sources, keeping its carbon footprint low. Medium-sized bearings are used in a wide range of industrial machines, but a major area of growth right now is the renewable energy sector. "Wind turbines use bearings of this size in their rotors and gearboxes," says Wendel.
The induction approach offers other environmental benefits compared with conventional hardening technologies. It does not require process gases or chemicals such as nitrogen, natural gas, methanol or ammonia. "That also simplifies the supply chain, which is a growing consideration following recent price volatility and availability challenges for these media," Wendel says, adding that induction hardening could also enable the use of more cost-efficient, lower-alloyed bearing steels with a lower CO2 footprint.
Induflex promises to make things simpler for manufacturers. The computer-controlled arms that control the induction coils can be reconfigured at the push of a button to work with different ring sizes and profiles. That eliminates the need for dedicated tooling and allows factories to produce small batches, switching seamlessly between products.
For the past four years, Wendel and his team have been refining the Induflex process and putting prototype materials through rigorous tests. "We've achieved very good results," he says. "The process produces surfaces with excellent properties, including a refined microstructure, compressive residual stress and high hardness. That should lead to bearing rings with a greater robustness against crack initiation and crack growth."
Ready for work
The work has now moved on to the production of complete prototype bearings. These parts are being assembled into bearings and tested extensively. "So far, the results of the bearing testing campaign look very promising," Wendel says. In-house testing is set to continue during 2023, and SKF is also working with a select group of customers to confirm the suitability of Induflex-treated bearings for their applications.
In the meantime, work is underway to fully industrialize the process. "The first Induflex machine was built for development work," Wendel explains. "It has additional controls and instrumentation that you would not require on a production machine, and it wasn't designed to integrate into a fast-moving factory environment."
When development work is completed in early 2024, fully industrialized Induflex machines will find a place on the shop floor of SKF production sites around the world. "We're preparing for a global rollout of this technology in our factories that produce bearings for the renewable energy sector," Wendel says.