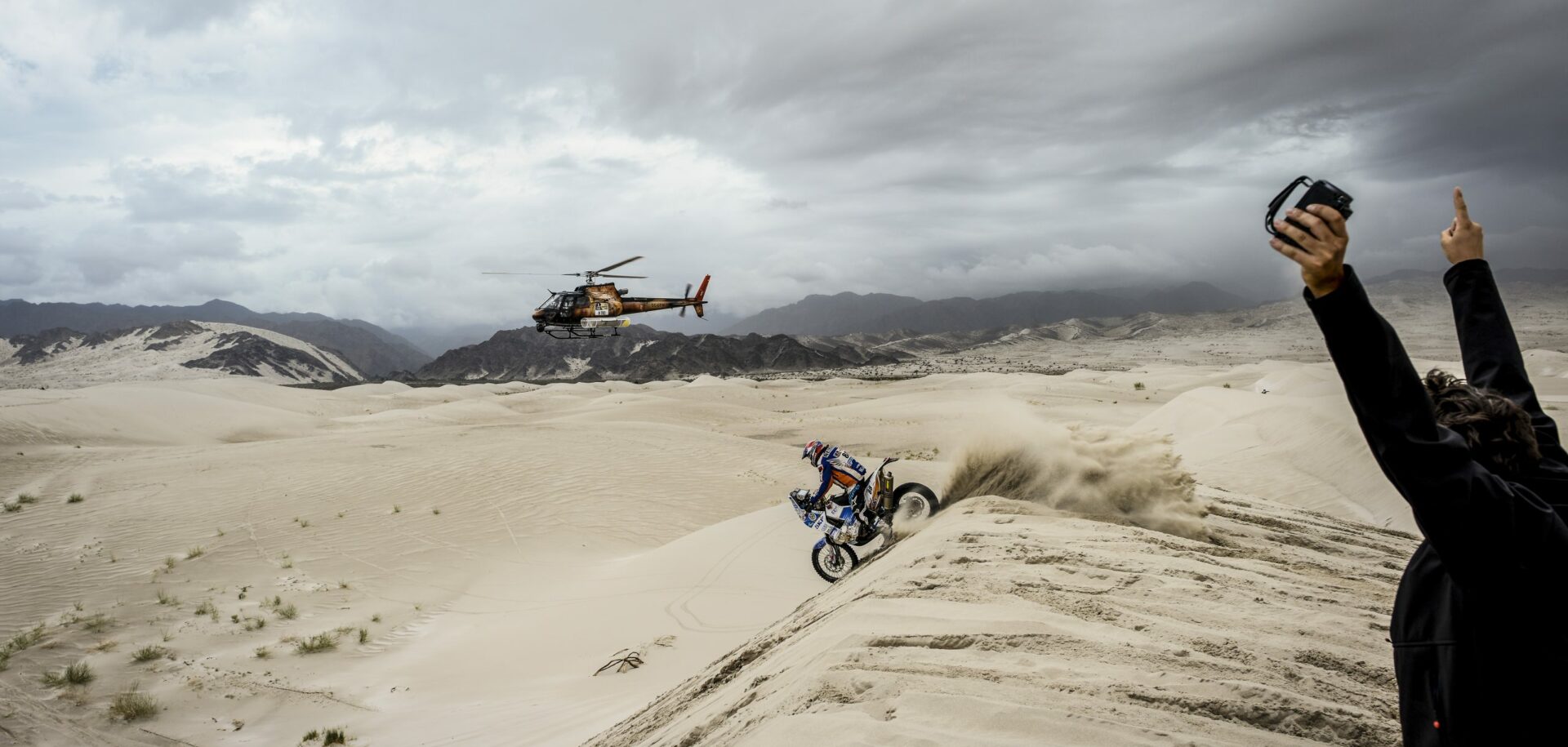 The world's toughest race
Every year, drivers and riders put their vehicles – and themselves – through an epic endurance test at the Dakar Rally.
In 1977, Frenchman Thierry Sabine was rescued from the Libyan desert after getting lost during a motorcycle rally. Transformed by his experience in the sandy landscape, he returned to France and founded the Dakar Rally the following year. The 10,000-kilometre journey attracted 170 professional and amateur participants on motorcycles and cars. A truck category was added in 1980, and quads in 2009.
For most of its history, the route of this annual endurance race stretched from Paris, France, to Dakar, Senegal, but security threats along the route led to the race's cancellation in 2008. The next year the competition was held in South America, where it has been organized every year since.
The Dakar Rally has seen highs and lows over the years, but the determination of the competitors has remained constant. Winners have included bikers Cyril Neveu, Edi Orioli and Cyril Despres, with five, four and five wins respectively. Truck driver Vladimir Chagin has the most wins (seven) in any category. In 2001, German Jutta Kleinschmidt became the first woman to win the Dakar, in the car category. The most successful participant, however, is undeniably Frenchman Stéphane Peterhansel, who has won six times on a bike and five times in a car. His most recent victory was in 2013.
The route of the 2013 race began in Lima, Peru, continued through Tucumán, Argentina, and finished in Santiago, Chile. Competitors from 53 countries raced, and those who finished drove up to 800 kilometres per day for 15 days over deserts, mountains and rivers – a unique and unforgettable feat.
SKF South Africa is a proud sponsor of Toyota Motorsport, and the Toyota Imperial South Africa team notably ranked second overall amongst cars at the 2013 Dakar Rally with a racing version of the HiLux driven by Giniel de Villiers and Dirk von Zitzewitz.
Glyn Hall, Toyota Motorsport's team principal, says, "There are three criteria for winning races: reliability, speed and a good driver and co-driver. This is why every bearing that we can use on a car is either SKF or original equipment."
A rider's perspective
"I had about two minutes to think about it, and I said yes. I hung up and thought, 'What did I just do?'"
That's how Marco Reinike de la Vega, an SKF sales engineer from northern Chile, remembers agreeing to race in the 2012 Dakar Rally. "I had no bike, no team, no logistics, and just three months to get the whole project running."
Reinike's remarkable performance in a couple of local races earned him, to his great surprise, this free wild-card entry to the Dakar Rally.
Only about two-thirds of Dakar Rally participants – many of whom are professionals – even make it to the finish line, and the 2012 race proved to be gruelling for Reinike. "I would finish a stage, then work on the bike, shower, eat and sleep," he recalls. "The next day would begin again at 4 am, so I barely slept or ate for 15 days. But I finished."
Reinike's successful completion qualified him to compete again in 2013, and he returned better prepared, with more support.
But once again, the race had its challenges. "At one point I was going 140 kilometres per hour in fifth gear when the rear brake failed as I headed straight into a curve," he says. "I went straight through the barrier. But there were no injuries, and it only took an hour or so to fix my bike." Reinike is quick to note that the SKF components on his motorcycle – such as wheel bearings, fork seals and grease – worked perfectly.
He finished the race and improved on his 2012 performance, ranking 79th out of 196 entrants in the bike category.
A few weeks afterward, Reinike was already planning for the 2014 competition. "Racing is addicting, in a good way," he says.