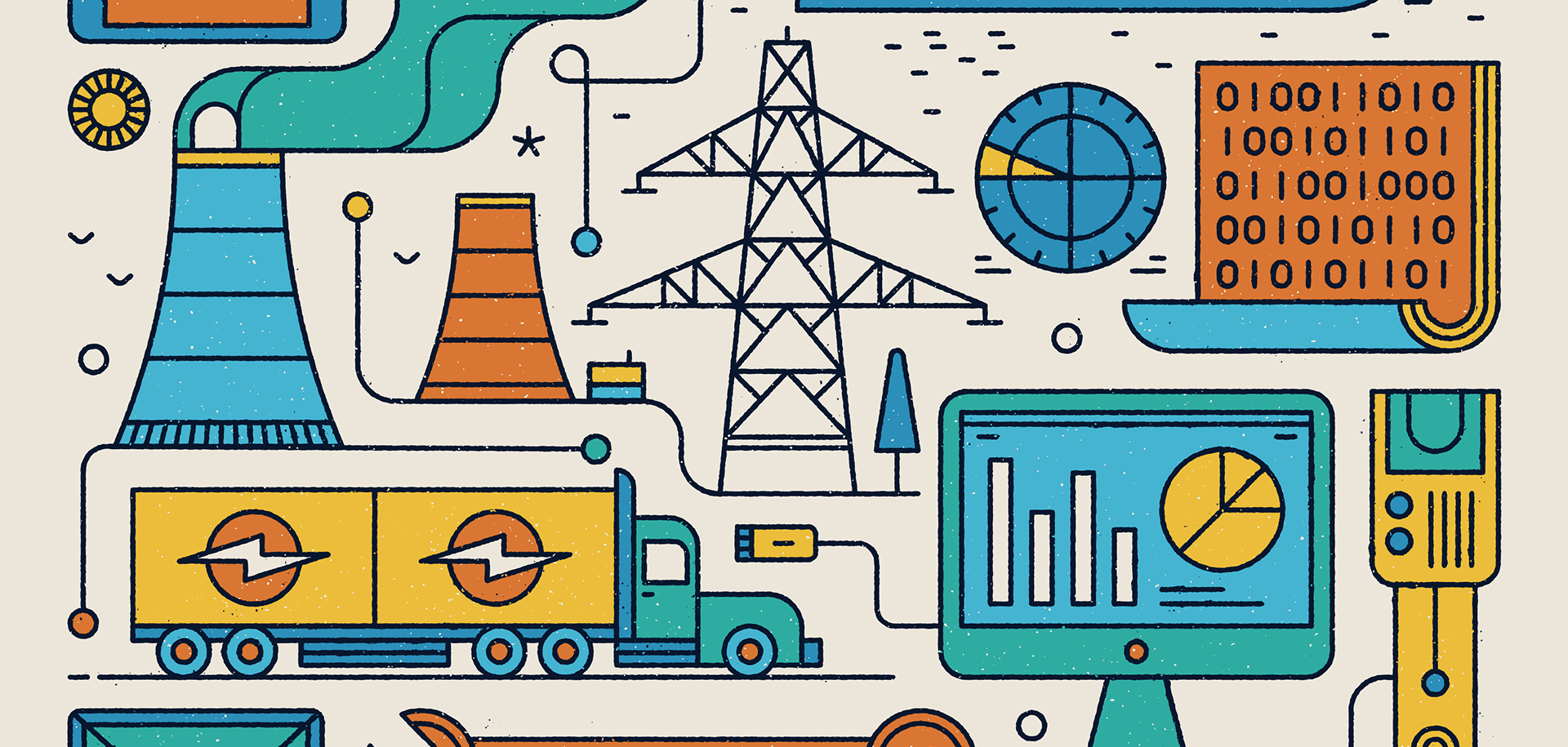 A service mind-set
Fuelled by digital technologies, companies in many sectors are shifting from a predominant product oriented approach to a more complete offer, by adding services to their value proposition. They are moving from the traditional model of selling a single complex machine or piece of equipment to also selling ongoing service and support, which improves product performance, drives demand and enhances customer loyalty.
A new business model is taking root in the industrial manufacturing world as an increasing number of companies transition from being product-based to adding services in their offers. The focus on selling the solutions that products offer rather than just the products is part of a global trend toward a functional or solutions-based economy.
Industries in many sectors are adopting this service mind-set. Industrial equipment and power-generation companies, for example, are using predictive maintenance, breakdown assistance, usage-based billing and spare parts fulfillment to enhance product quality and lifetime. General Electric, for example, uses cloud-based services, analytics and online sensors to report usage and status for its jet engines, helping to predict potential failures. The result is improved uptime and lower cost of ownership.
The growing digitization of manufacturing processes and the interconnectivity of the goods they produce, often referred to as Industry 4.0, is powering this transformation. It is fueled by the explosive growth of connected devices in the Internet of Things (IoT) and artificial intelligence (AI).
Armed with this technology, companies can use data and software in predictive analytics and proactive, AI-powered maintenance to immediately identify issues and maximize product uptime. Instead of only selling a piece of industrial hardware, manufacturers can also sell customers a contract for maintenance and repair services for that specific product. Customers have less downtime because of reduced machine failure and lower repair costs. Manufacturers are able to leverage the data generated by IoT sensors placed within products into revenue generated over the life cycle of a product.
An often-cited example in this brave new world of "servitization," as some call it, is Rolls-Royce, the industrial giant that makes jet engines, submarines, oil and gas turbines and the massive engines for container ships. The company realized it could sell engine uptime instead of just engines by using predictive analytics, IoT and machine learning. It pioneered Power-By-Hour maintenance agreements under which it charges customers based only on the actual operating hours of the engines. By positioning itself as a service organization, Rolls-Royce could deliver an outcome, rather than just a product, and potentially more value to the customer.
Similarly, elevator company thyssenkrupp disrupted the market with MAX, the elevator industry's first real-time, cloud-based predictive maintenance solution. The company put sensors on critical parts and provided technicians with augmented reality glasses, thus moving from simply selling elevators to selling "elevator uptime." The company says this data-driven maintenance technology has the power to cut downtime by as much as 50 percent.
Rotation For Life
SKF has been promoting services for decades under different designations, such as Trouble-free Operation, Integrated Maintenance Solutions, Operator Driven Reliability, Predictive Maintenance and Remote Diagnostic Services.
The latest development is an integrated solutions program that focuses on improving the overall efficiency of customers' rotating equipment. SKF Rotation For Life is a long-term performance-based contract based on a monthly fee that combines bearing technology, damage detectability and reliability services in an integrated package.
Traditionally, bearings are purchased on price, but this transactional approach ignores many interrelated elements that contribute to the performance of rotating equipment and overall total cost of ownership. Part of the savings results from increased machine availability and part from the reduction of capital outlay, optimizing the spare parts inventory and minimizing waste.
The approach is reflective of the new services mind-set: moving from purchasing on unit/product price to encouraging customers to make purchasing decisions based on total cost of ownership for optimized machine reliability.
Many other companies are following suit. Sustainable truck and bus manufacturer Scania developed Scania Flexible Maintenance, using onboard diagnostics systems to alert owners when it was time for them to take their vehicles to the workshop for servicing.
Industrial company Atlas Copco has introduced FleetLink, a telematics system to provide road construction equipment customers with a tool to optimize fleet usage, reduce maintenance costs and save time and money. Polymer solutions company Trelleborg's key message to customers is that antivibration and suspension solutions can prolong the life of customers' vehicles, increase productivity and improve safety.
Services forge deeper relationships with customers, increasing loyalty and customization. Mining and civil engineering company Epiroc established Regional Application Centers in five key cities around the world to meet customer demand for increased uptime, improved safety and lower operating costs by leveraging automation and digitalization technologies.
"The Regional Application Center is committed to building a specialized team positioned on the customer's doorstep to deploy appropriate expertise, automation products and digital tools," Regional Automation Center Manager Kumeshan Naidu said in Mining.com.
Services can offer a stable and recurring revenue stream stemming from activities such as support, maintenance and repair, which can extend well beyond the useful life of a product and generate lucrative profit margins.
Product performance data helps inform future improvements and tends to compress the new-product development cycle. Additionally, the services mind-set can create brand loyalty that extends to future purchases.
In today's marketplace, where many manufacturers face too-low profit margins on products and compete with cheaper imports, bundling sales with service puts companies at a competitive advantage.
The service-based economy is also a boon to a more sustainable future. Ioannis Bellos, a professor at the George Mason University School of Business in Fairfax, Virginia, and Mark Ferguson, a professor at the Moore School of Business at the University of South Carolina in Columbia, South Carolina, have written a research paper on the phenomenon of the service-based economy. They argue that a solution to today's disposable society is for traditional product-based companies to move toward more service-based models.
It is clear that any business model that relies on a disposable society cannot be a sustainable long-term model.
"It is clear that any business model that relies on a disposable society cannot be a sustainable long-term model," Bellos and Ferguson say in the paper. "Switching the base of the transaction from the product level to the use level can restructure the economics of consumption and encourage a more sustainable level of product use."
Adoption of the service-based model implies a new responsibility for manufacturers of service and support to be involved in the entire life cycle of the product. They may need to rethink organizational functions – especially commercial functions charged with defining, selling and servicing value propositions. There needs to be a strong partnership between sales organizations and customers to understand the outcomes the customer wants.
Customer service teams must be tightly integrated with the commercial organization so they can anticipate customer issues and proactively offer solutions – for example, automatic rerouting of a misplaced delivery.
Traditional pricing models must also adapt, from a focus on price per unit to price per hour of uptime, for example. Where traditional revenue generators might simply focus on selling more, digitally transformed revenue generators sell both products and service.
The more sophisticated the diagnostics a company puts into its products, the greater the expectation from customers that the company will provide the support to back up those products and solutions. Failing to do so could be disastrous for continued customer loyalty.
While the transition won't happen overnight, the service-based economy is here to stay. By adjusting to radical market shifts, investing in new technology and adapting business models, manufacturers can reap the benefits of being in the solutions business.
For most companies, there's no turning back. Keeping service and support at the center of the product development process will undoubtedly serve companies well as they seek to develop long-term customer relationships, enhance profits and contribute to an economy that will have a more beneficial impact on the environment.