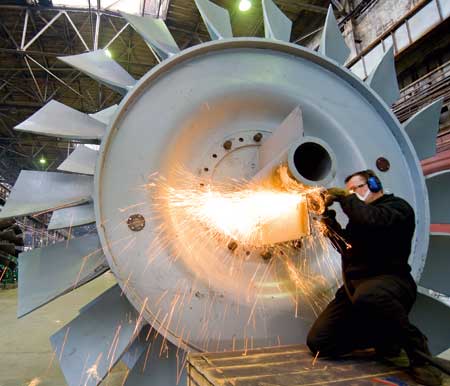 A good updraft
In Russia, a new division of Energomash is focusing on the production of draft-blowing machines for power stations in the domestic and CIS market, but it has already set its sights further afield.
Summary
Sibenergomash is one of eight plants that are part of Energomash, a privately owned Russian company. It is situated in Barnaul, Siberia, and has 1,200 employees. It constructs boilers for power stations and draft-blowing machines for the energy, metallurgy, construction mater-ials and oil and chemical sectors. In 2007, a separate division was created at the plant to focus on production of industrial fans and blowers.
www.energomash.ru
In Russia, a new division of Energomash is focusing on the production of draft-blowing machines for power stations in the domestic and CIS market, but it has already set its sights further afield.
Transported piece by piece from war-torn Leningrad in 1942, Energomash's Sibenergomash plant is now firmly rooted in Barnaul, Siberia. Over the years the factory's work has centred on the manufacture of boilers for power plants and the ventilation systems to go with them. But in 2007, as interest in ventilation systems for other industries grew, the company established a sep-arate division at the plant for production of industrial fans and blowers.
"Our customers aren't just in the energy sector," says Stepan Losev, chief designer at the new division. "We're also supplying metallurgy enterprises, the construction materials sector and the oil and chemical industries. The energy sector has accounted for about 25 percent of our orders in recent years, so it makes sense for us to treat it as a separate business."
The management in the new division is young by the standards of Russian heavy industry. The key personnel are aged 30 and under, and they bring a fresh approach to their work.
"We're planning to move into the Western market over the next few years," says 28-year-old Losev. "For now we're looking at the demands made on products in Europe and how we can comply with the technical regulations and certification. The economic crisis and the rouble's devaluation mean that our prices are much more competitive these days; now we just have to make sure our products are of the right quality."
This quest to improvethe quality and reliability of the products manufactured has led to a reassessment of the components used, says Andrei Shurov, production director at the new division. "There are several factors that determine the service life of these machines," he says. "If they're operating in an aggressive environment, in the coal-fired energy sector, for example, then the blades on the fans wear down. But if the machine is working with clean air, then the length of its service life is entirely dependent on the bearings used, so we've started to offer higher-quality Western-made bearings as an option with all of our designs. If the customer goes for those options, we provide them with longer
warranties."
Improving the quality of products is not only import-ant in gaining access to Western markets, says Losev, but it's also a key factor in Russia and the CIS (Commonwealth of Independent States). "Consumers here are becoming far more discerning," he says. "We're supplying machines to a power station in Kazakhstan, and the client realizes that it's worth investing in higher quality to get longer warranties. If one of the blades is flying off one of these fans, then an 800-megawatt power station can be brought to a grinding halt. Essentially, you're talking about half a city being left without electricity. Even if you already have the necessary spare parts, it will take at least a month to fix. If the parts have to be made from scratch, it will take a minimum of half a year. So the customers are willing to pay more to make sure that that doesn't happen."
The use of a new generation of lubricants also enables customers to make savings, Shurov says. Previ-ously, the lubricating fluids had to be cooled before being returned to the bearings, but with thickened lubricants the need for this costly process is eradicated. It's an option that is proving popular with customers.
Losev notes that innovation of this kind is still rare in Russia. Nevertheless, Energomash's decision to drastically reduce the age of its senior management is already producing results in this sphere. "During the chaotic conditions of the 1990s, qualified personnel found it almost impossible to make a decent living when working in heavy industry in Russia," says Losev, "so they sought employment elsewhere or in other sectors, and it's only now that the situation is improving. That means there's a big generation gap – people in this industry tend to be under 30 or over 50. The managers from the latter group tend to be resistant to change as they often think along outdated Soviet lines."
The decision to createan independent department manufacturing industrial fans and blowers is already leading to something of a shake-up at the Barnaul plant. Previously, the production processes were scattered throughout the various plant buildings where boilers for power stations are also manufactured. "We've started cutting down our costs by rationalizing our production facilities, making sure everything's on the same shop floor," says Losev. "It means the production cycle is far more efficient, and we can pass all the savings we make on to our customers."
Improvements in efficiency in the production pro-cess are vital, as each item is designed and constructed to order, so the use of production line techniques is limited. "There are basic designs that can be adapted," says Shurov, "but essentially every order is custom made."
With this customer-oriented approach and a readiness to apply innovative new technologies, Losev is optimistic about the prospects for Sibenergomash's new division, despite the current economic crisis. "Our plan for this year is to expand, and we expect our turn-over to go up – maybe not by a huge amount, but we think it will go up all the same."
---
SUPPLYING THE APPROPRIATE PRODUCTS
SKF provides Sibenergomash with a variety of bearings, bearing housings and lubricants, working in close cooperation with SKF's team in Moscow to select the appropriate products for each order. SKF's products and Sibenergomash's decades of experience in Russia are often a good match, says Stepan Losev, chief designer of the new division. "Often a power station will be renovating its equipment and replacing, say, Soviet-made bearings in machines that we built 30 years ago, so there is a lot of overlap. We often bring SKF into projects that we are working on, and SKF often does the same for us."
Losev explains that SKF also provides after-sales technical support and training. "The technical support from SKF is a whole subject in its own right, because it really is a massive advantage," he says. "None of the other major bearing suppliers on the market in Russia and the CIS can offer support of this kind. They might be alternatives in terms of the actual products available on the market, but those alternatives don't come with the support of SKF's specialized service centres in Russia that can also train our personnel."