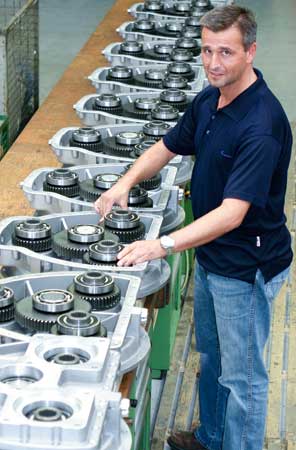 Drives for docks and dams
Though seldom in the limelight, gearboxes play a vital role in countless kinds of machinery. The gearboxes made by Stiebel Getriebebau have earned a reputation for reliability and robustness over three generations.
Summary
Stiebel Getriebebau GmbH is a privately owned German company situated in Waldbröl, 65 kilometres southeast of Cologne. Stiebel designs and manufactures gearboxes and drives (gearboxes with motors). The annual turnover was about 47 million euros in 2008. Established as a one-man enterprise in 1946, the company now has 270 employees. It has its own representative offices in China and the Netherlands representing the Benelux countries, and agencies in some 40 other countries.
www.stiebel.de
Though seldom in the limelight, gearboxes play a vital role in countless kinds of machinery. The gearboxes made by Stiebel Getriebebau have earned a reputation for reliability and robustness over three generations.
German engineering companies take words such as durability, reliability and robustness very seriously – none more so than Stiebel Getriebebau GmbH. Stiebel designs and manufactures gearboxes and drive units for conveying technology, mobile hydraulics and other applications.
"My great-uncle Wilhelm Stiebel established the firm in 1946," says Paul H Schumacher, the firm's third-generation owner and managing director. "He started by stripping gearboxes from wrecked tanks and other military equipment and converting them to more peaceful uses, from potato-sorting machines to circular saws."
Stiebel Getriebebau has come a long way since then. The core business of the company has focused on the development and production of gearboxes for extreme requirements. "Much of our output is used under the harshest operating conditions," Schumacher says. "We have a turnover of about 47 million euros, of which more than half is exported to some 40 countries around the globe. We have 270 employees. I knew all of them by name until we passed the 160 mark. We are known for the first-class quality of our output. Producing quality has been our guideline for three generations."
Stiebel designsand manufactures gearboxes and drive units for a multitude of applications, with an emphasis on mobile hydraulics and conveying technology for bulk materials. End-use areas include ship loading and unloading facilities, conveyors and other equipment in mines and quarries, cement factories and steelworks, many kinds of agricultural equipment, power plants, recycling and waste-disposal machinery – the list is almost endless.
One of Stiebel's recent successes is its drives for a new generation of automated stacking cranes, or ASCs, for a terminal operator at the Port of Antwerp in Belgium. ASCs are a special type of gantry crane for quayside storage, housekeeping and retrieval of containers. Guided by dedicated control software, 14 ASC cranes at the new Deurganck dock at Antwerp harbour perform fully automated housekeeping and management of container stacks.
Antwerp is Europe's second largest port in terms of freight volume and the fourth largest in the world. Every year, 16,000 ocean-going vessels and more than 65,000 inland craft call there. More than 140,000 people make their living directly or indirectly from the port. The port handled 189 million tonnes of trade in 2008, including 8.7 million TEUs of containers. A TEU is an international unit of measurement for container freight volume that stands for a 20-foot equivalent unit. Containers account for more than 50 percent of Antwerp's maritime traffic, and container traffic is growing rapidly. More than 101 million tonnes of container freight were handled in 2008, a growth of 7.2 percent over the same period in 2007.
"Equipment forterminal operators must meet tough specifications with regard to reliability, minimal maintenance needs and other qualities," says Wilhelm Kaiser, logistics manager at Stiebel. "Port operators know that they can rely on us for gearboxes and drives that more than meet their requirements."
No fewer than 19 specially designed Stiebel drives are installed in each ASC – 14 in the crane's bogies to move it along, four for trolley travel and one for hoisting. One ASC spans nine container rows in a "1-over-5" mode. That means that one container can be carried clear over five vertically stacked ones. The ASCs work in stacking modules, with twin ASCs operating on a single pair of rails. This concept reduces the number of rails required, with their associated foundations, which means a substantially lower investment outlay. More importantly, this conse bild uration also enables terminal operators to save up to 18 percent of space compared with other conse bild ur-ations. The control software package includes a module manager that prevents twin cranes from colliding, even though they operate on a single craneway.
Stiebel QuarryMaster®drives are also proving their robustness in the construction of Jinping 2, which will be one of China's biggest hydroelectric power plants when completed in 2014. This immense project on the Yalong River, a tributary of the Yangtze, is one of several hydroelectric power plants planned or under construction in a mountainous region of Sichuan province in southwestern China. The dam is being built at an altitude of some 1,500 metres, at a point where the Yalong flows along a 120-metre-deep gorge. The power plant has a planned generating capacity of 4,800 megawatt.
The water from the dam flows to the turbines in the powerhouse through four parallel penstocks, each about 17 kilometres long and 12.4 metres in diameter. Tunnelling out the penstocks will produce about 20 million tonnes of rock and rubble. Disposal of this material, coming out at a rate of 5,000 tonnes per hour, is being done by a 14.7-kilometre-long series of 1.2-metre-wide conveyor belts powered by 21 Stiebel high-power QuarryMaster® drives, each developing 400 kilowatt.
Stiebel developedthe rugged QuarryMaster® bevel-geared drive especially for the conveying industry. The powerful Stiebel gearbox and a high-quality IEC motor make a single unit in a compact housing. Designed for operation under the harshest conditions, the QuarryMaster® offers optimal stability even under extreme or frequent load changes. This is made possible by features such as the integrated torque absorber or oil-lubricated backstop.
"We are innovative by tradition, a principle we have followed for three generations," Schumacher says. "Quality, innovation and customer service – from the initial concept to the finished product – have remained the key to our success for more than 60 years."
Stiebel offers a fast and highly flexible engineering service. Modern processes and equipment are used for the development and manufacture of special gearboxes to customer specifications. As a specialist in the field of gear design, Stiebel's aim is to provide tailor-made solutions that exceed its customers' expectations.
---
A PARTNERSHIP FOR QUALITY
SKF provides Stiebel with a variety of bearings. The relationship between the two companies has grown into a close collaboration over the years, and at the start of the ASC project, Stiebel selected SKF as the sole bearing supplier.
"SKF is an in-depth partner in Stiebel's business," says Matthias Wickler, product manager, materials handling. "Tailor-made drives for conveying and container-handling equipment such as the ASCs at Antwerp require a high degree of design skill to make sure that they perform as they are supposed to. During their development, Stiebel shared the drawings with SKF, who are the acknow-ledged experts in calculating bearing life and other vital performance parameters. Based on their analysis, they gave us tech-nical advice that enabled us to adjust and further improve the design."