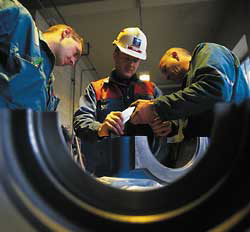 Plenty of power in stainless steel ingredient
Summary
Fans of CARB
With high-temperature furnaces and gritty raw materials, a ferrosilicon smelter is a tough environment for most machinery. Exhaust fans are no exception.
Elkem Salten has 13 fans, eight of which are oil-lubricated and operate in pairs. The remaining five are smaller and are grease-lubricated. These are positioned at the microsilica plant about 300 metres away from the furnace house. The fans are used to propel the exhaust gases from the furnace through filters and out into the atmosphere.
In May 1999, Elkem Salten replaced the standard bearings on the shaft of fan No. 3. The company made the decision to replace the bearings because lubricating oil had been leaking out of the labyrinth seal and housing, increasing the risk of fire and causing unnecessary insurance premiums. The vibration level also needed to be reduced.
The solution was to install a CARB™ C 3144 K bearing on the non-drive side of the fan's shaft, together with a 23144 CCK/C3W33 standard spherical roller bearing on the drive side. A slightly modified SD 3144 housing and new U-type seal to prevent further oil leakage complemented this setup. With CARB, vibration was reduced dramatically. The whole unit weighs about 1,000 kilograms.
During normal operation, two of these fans operating in parallel have a capacity of about 240,000 cubic metres per hour.
Ketil Kristensen, Elkem Salten's maintenance director, opted for this solution based upon a previous CARB installation on fan No. 1 made in 1998.
"The results are obvious," he says. "Fan No. 1 is clean as a whistle and operating without any vibration at all. The others are leaking oil like sieves. The argument for the SKF solution in this case is really an environmental one. We are operating under increasingly tough environmental regulations. The advantage with the new installation is that it allows us to run the fans longer and harder, and it is cleaner. It's as simple as that."
According to Kristensen, Elkem Salten is planning similar upgrades on the six remaining large fans. "Another advantage with SKF is that the company takes responsibility for the installation on site," he says. "We've had very good service from SKF."
Making ferrosilicon for steel alloys is a hot and heavy business. Norwegian smelter Elkem Salten uses both hearsay and advanced sensor systems to keep its machinery in shape.Despite its location just above the Arctic Circle, the Elkem Salten smelter in the community of Straumen, Norway, produces two materials vital to steel and chemical industries worldwide.
"In the chain of events from raw materials to finished product – a car, a refrigerator or a computer chip – we are No. 2 after the mines," says Ketil Kristensen, Elkem Salten's maintenance director. "Basically, we combine coke, coal, quartz, wood chips, iron and lots of electricity in a big oven, melt it down and tap it out. But handling molten metal and all the gases produced is tough on our equipment."
Situated on a small, flat peninsula that juts out at the end of an ice-free fjord 50 kilometres from the Arctic Ocean, Elkem Salten is one of the largest and most modern ferrosilicon (FeSi) smelters in the world. A division of Norway's Elkem group, the Salten plant has a turnover of 600 million Norwegian kroner (US$75 million) a year and employs 200 people. For the plant's heavy-duty and mechanised machinery – fans, conveyor systems, ovens, crushers, filters and ladles – it is a hot, dusty, gritty business.
Nuts and bolts
In charge of the plant's maintenance routines, maintenance director Kristensen keeps abreast of potential problems in several ways. At an informal level, he tunes into the hearsay in the lunchroom, where everybody congregates for meals. More systematically, he uses a 170-point checklist to track the functioning of machinery throughout the production process. At a more technical level, he turns to data gathered by a sophisticated control room that monitors sensors of all kinds that have been placed throughout the plant.
Kristensen and his mechanics spend most of their time disassembling, replacing and reassembling machinery. "We must be very thorough about our service routines," says Kristensen, who has a yearly budget of around NOK 4 million (US$500,000) for buying nuts, bolts, welding equipment and other necessities.
Large-scale repairs, such as changing the bearings on one of the house-sized exhaust fans, often require turning off one of the plant's three electric arc smelting furnaces. Planned in advance, such stoppages allow welders, mechanics and sub-contractors to inspect and replace parts that are worn or malfunctioning.
Norwegian quartz
Elkem Salten makes two kinds of FeSi (an alloy of silicon and iron), which it sells to steel mills and chemical manufacturers worldwide. The first, 75 percent FeSi, which has a 75 percent silicon content, is primarily used in the production of stainless steel, because it enhances the strength and quality of the steel. The finished steel can end up in cars, bicycles, ships, bridges and washing machines. The second, 90 percent FeSi, is used in plastics, rubber, paints, cosmetics, electronic equipment and computer chips.
With bountiful electricity from Elkem Salten's own hydroelectric plant on the other side of a nearby snowy peak, Elkem Salten's three electric arc smelting furnaces and ancillary equipment churn out 110,000 tonnes of FeSi and about 25,000 tonnes of microsilica a year.
Microsilica is a natural byproduct of the smelting operation. An ash-like silicon dust, microsilica is valued in the production of glass, heat-resistant materials, ceramics, fertilisers and as an additive to concrete. Elkem Salten's principal market for microsilica is Japan. Together with the ferrosilicon products, most of Elkem Salten's production is sent by container ship to Rotterdam for further dispatching around the world.
Web of conveyors
A bird's eye view of Elkem Salten shows a web of covered conveyor belts leading from the small two-crane harbour to a large coal warehouse and various silos. These in turn lead into the smelter, which houses not only the three electric arc smelting furnaces, but also the control room, a crushing and packing department, and a transformer station. From this complex emanates three separate 300-metre-long exhaust pipes leading to three massive fan-and-filter stations where microsilica is removed from the exhaust gases.
Conceptually, Elkem Salten's production methods are quite simple. Raw materials such as coke, coal and iron arrive by the shipload from as far away as Colombia, Indonesia and Russia. Quartz, which is delivered three times a week, comes from mines in nearby Bod¢ and others farther north. The wood, which is local, is burned in the furnace to add porosity to the final product.
An automated system of conveyors blends all these ingredients into three smelting ovens. The biggest one – a 47-megawatt colossus that is 11 metres in diameter and runs at 2,000 degrees Celsius – melts everything down to liquid. When the mixture begins solidifying, which happens regularly, high-calibre cannons are shot directly into the furnace to loosen everything up. When the mixture is properly melted, it gets tapped into 12-tonne ladles, which travel on tracks around the furnaces.
This white-hot metal is then put through one of two processes. In the first process, the ladles are moved over to a water bath where their content is gently poured in. This process, developed by Elkem Salten and marketed under the trade name Elkem Cransil, yields small FeSi granules. In the alternate process, the molten metal is cast into 500-kilogram ingots, cooled and crushed into pieces the size of tennis balls.
Rosy emissions
When Elkem Salten was built in 1967, it had one electric smelting furnace. A second was added three years later and a third, the largest, was added in 1972. A lot has changed since then.
According to full-time fireman Odd Robert Hansen, a 25-year Elkem Salten veteran, extensive sensors throughout the plant have contributed to a safer workplace. "Compared with 10 or 20 years ago, one man in the control room does what 12 used to do by inspecting the plant. Also, the smokestacks used to rise 15 metres above the furnace house and belch out such an umbrella of smoke that on some days the sun would turn red. Even the microsilica, which we now filter out, went into the sky. Environmentally, there have been big changes."
Indeed, emissions of carbon dioxide and sulphur dioxide have decreased almost 50 percent in the past decade, according to Norwegian Quality and Health Safety and Environment Director Ivan Kvarsvik. "In addition, we extract the heat from the water used to make granulated FeSi," says Hansen. "We then sell this heat to a nearby greenhouse to grow roses. It is also distributed to a salmon hatchery in the fjord here. And the heat is used to keep our local soccer field snow-free during the winter."
Alexander Farnsworth
a feature writer based in Stockholm
photo Alexander Farnsworth