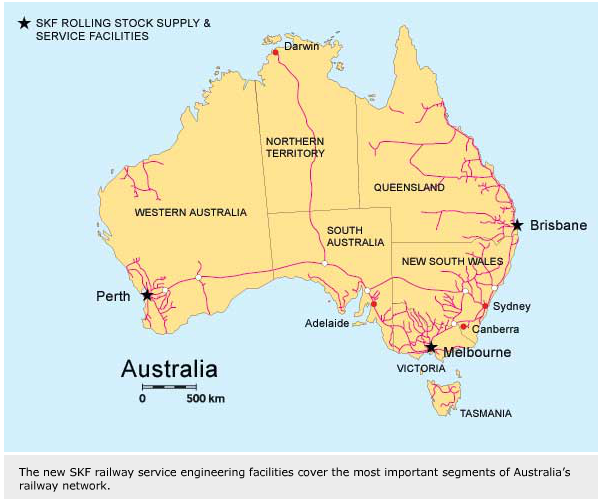 Service engineering for Australian railways
Rail companies in Australia face great technical challenges in their operations across the country. With its acquisition of Rolling Stock Supply & Service Pty Ltd, SKF plays a key role in rolling stock service engineering on this continent.
Long-distance rail operation across Australia, combined with very high axle loads and a harsh and varied environment, presents rail companies with many challenges. As much of the rail operators' business is freight and passenger, the ability to maintain railway rolling stock, locomotives and passenger cars cost-effectively is vital to the success of the business. SKF has acquired the leading railway bearing service company in Australia, Rolling Stock Supply & Service Pty Ltd (RSSS), to fulfil a key service engineering role in this market as well as in New Zealand and Asian markets.
The company is a major supplier of new and reconditioned tapered roller bearing units and axleboxes for railway rolling stock in  Australia, New Zealand and Asia. Its service engineering facility provides a mobile on-site wheel-set bearing removal service as well as technical service training and trackside assistance.
The acquisition fulfils a number of roles. It strengthens SKF's commitment to the railway industry and brings SKF closer to customers in this diverse continent. With its base in Australia, RSSS has particular expertise dedicated to the needs of the country's railway business. The union between the two companies will also bring SKF's considerable expertise in railway bearing systems closer to railway customers.
The Australian railway market, for example, is concentrated on freight car transportation over long distances, which can be more than 3,000 km of track. Bulk Transport Carriers generally employs trains of 230 car lengths and, on special occasions, up to 700 car lengths and can have an axle load of up to 40 tonnes. Typically, three locomotives and occasionally up to eight locomotives are required to haul the trains. In suburban areas such as Sydney and Melbourne there are strong passenger services offered by several mass-transit operators. When considering this environment, it is obvious that, as a whole, roller bearings are subjected to some of the harshest treatments of any railway system.
One of the most important components of freight car bogies is the wheel set. Wheels areremachined by a turning operation after 100,000 km up to 800,000 km, depending on the operating conditions. During this process the bearing units are often removed. Several wheel-turning operations are performed during the life of the wheel. On average, after 800,000 km, the wheels have reached their minimum wheel diameter and are replaced by new ones. Topography and environmental conditions vary greatly, having a tremendous impact on the wear and tear of the freight car equipment. The aim of rail operators is to carry the maximum load, gain the maximum life from both the wheels and the bearings while reducing the incidence of bearing set outs.
Bearing reconditioning is a key service within RSSS. The company provides service engineering to the industry to fulfil operator requirements. The reconditioning of tapered bearing units (TBUs) offers the railway operator fully reconditioned units in accordance with original specifications at about half the cost of a new TBU. In the Australian environment, it is expected that reconditioned TBUs are removed at similar intervals as the new product.
TBU maintenance procedures in Australia are performed according to the AAR (Association of American Railroads) Manual of Standards and Recommended Practices, Section H-Part II, and complementary individual customer specifications, which are based on the specific operating conditions in Australia.
Railway roller bearing reconditioning involves the disassembly, cleaning, inspection and repair (if necessary), lubrication and reassembly of the tapered roller bearing unit. The reconditioning process begins when the reconditioning facility receives used TBUs from the customer. The bearing unit consists of two inner ring assemblies (cone assemblies), the outer ring (cup), a spacer, backing ring and seal wear rings, excluding the end cap assembly and cap screws. The unit is dismantled, the seals are discarded and the components are placed in an agitating wash system in which the lubricant is removed from the internal rolling components by a cleaning detergent. The components are coated with a rust preventive agent and are moved to holding locations.
As soon as ambient temperature is reached after washing, external surfaces on components, such as the outer ring, seal wear rings and backing rings, are buffed and polished to remove accumulated rust and other external material build-up. This process supports the inspection process. The components are inspected for visual and dimensional requirements. Components not meeting specifications are scrapped, if it is not possible to rework the damage.
Each bearing component is 100 % inspected and measured for compliance to at least the minimum AAR Standards or to tighter customer specifications, if required. Within the reconditioning process, it is imperative that each component is inspected in detail. Failure to uncover one abnormality could result in bearing failure while in service. Inner ring assemblies and outer rings are visually inspected for wear and damage. This includes, for example, water or acidity damage (etching), stain discoloration caused by acidity in the lubricant. Additionally, corrosion, pitting, rust, brinell marks, metal smearing and peeling, electrical marks, heat discoloration, metal flaking, indentations, fatigue spalling and cracks and impact damage are included within the search. Each characteristic is detailed within the required specifications for conformance and non-conformance properties. Inner and outer ring components have the narrowest acceptable tolerance variations and are inspected at two or more workstations before achieving full component certification within the production facility.
Reconditioned TBUs have lateral movement measured to within 0.025 mm (0.001") tolerance. At this stage, the bearing unit will be staged in groups and processed to the lubrication area. New lubricant is injected into the bearing by a pressurized lubrication device that evenly distributes the grease into the internal bearing components. For each bearing unit processed, the grease weight is measured for accuracy and is recorded to make sure that each bearing unit has a fully loaded lubrication charge and is ready for field service.
Once lubricated, the bearings are fitted with new seals and are double-checked to make sure that the seal retaining lip has properly seated in the outer ring seal groove.
Then the bearing units are placed in a staging area, where staff will clean the external surfaces and fit the appropriate backing rings and seal wear rings to the finished product. New end caps, cap screws and locking plates are added if required. The completed TBUs then pass through a final inspection stage and are packed and shipped to the customer.
The most sensitive dimension of axleboxes to be maintained is the bore. In some cases, the bore is out of tolerance. RSSS has developed a specialreconditioning process for axleboxes. The bore is re-machined and a 2 mm-thin sleeve is pressed in. The bore is then finish-turned in accordance to the original tolerance.
Rolling Stock Supply & Services is committed to introducing SKF technologies and associated bearing mechanical advancements to the customer base and railway market. This includes SKF's new reconditioning techniques and products to provide improved reliability, safety and performance.
As a first step SKF has invested in three new workshop facilities to cover Australia's most important regions. They are situated at:
Perth, Western Australia, where the distribution centre is located;
Melbourne, Victoria; and
Brisbane, Queensland.
Overall, the combined resources, including construction of new workshop facilities, will enable SKF to further increase its ambitions to offer a high level of service to end-user customers as well as to rolling stock builders.