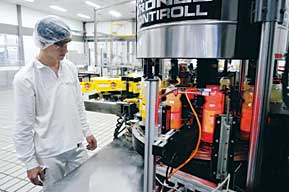 Soya solution
With the pressures of expansion and competition in Brazilian agribusiness, companies must keep costs low. For the soya crushing operations of Bunge Alimentos, this has meant a regimen of maintenance, monitoring and training to make optimal use of facilities and to move the focus from correction to prevention.
Summary
SKF distributor Trevotek's deal with Bunge Alimentos dates from December 2001, when Trevotek presented instrument, tool and bearing technology at Bunge's annual meeting of industrial managers at its Brazilian headquarters in Gaspar, in the southern state of Santa Catarina.
In January 2002, Rúbio Muller, industrial manager for crushing, called Eduardo De Peder at Trevotek and asked for proposals for an integrated solution concept. During the six months that followed, De Peder and his engineers visited Bunge's soya crushing plants throughout Brazil. They put together a basic kit of tools and parts, with modifications for each site. The deal was closed in August 2002. It is one of the largest of its kind for SKF anywhere in the world – USD 170,000 for an initial nine plants, later to be extended by two additional plants. The improvements in efficiency and savings in downtime have made Bunge's plants in Brazil among the most productive in the world; its crushing plant at Ponta Grossa, in the southern state of Paraná, has become a global benchmark.
These are boom times for Brazilian agriculture. Best known in the past for its sugar cane and coffee, the country has diversified into new crops at a rate matched only by the expansion of its farmlands. The biggest growth has been in soya. New technology, potent seeds – most of them not genetically modified – and rich soil have already made it equal to the United States in terms of productivity. As the agricultural frontier pushes deeper into Brazil's vast interior, the country's soya producers will soon overtake the US in terms of absolute tonnage, too.
Bunge Alimentos is the Brazilian food sector subsidiary of Bunge Ltd, based in White Plains, New York, in the US. Bunge's Brazilian operation, which includes a fertilisers division, had sales of 14.3 billion reais (4.9 billion US dollars) in the first nine months of 2003, an increase of 59 percent over the same period in 2002. Although currency fluctuations and international commodities prices played their part, the ure also reflects the tremendous expansion under way in large-scale Brazilian farming.
Pressure on facilities
Rúbio Muller, industrial manager of Bunge's soya crushing operations throughout Brazil, says the Brazilian soya harvest – expected to reach 60 million tonnes in 2004 – is growing at a rate of 10 to 15 percent a year. "As more and more raw material becomes available, our plants have to be available to process it, too," he says.
The key to successful crushing lies in controlling costs. "That's the starting point," Muller says. "Our business is commodities. We produce soy meal and soy oil. As with all commodities, we operate with very tight margins. Today, agribusiness is more and more competitive. Companies that don't have low costs simply disappear."
To achieve the kind of cost savings that produce a competitive advantage these days, Muller says, plants have to operate 24 hours a day, seven days a week, throughout almost the entire year. That's a change from the way things used to be. In the days when there was a gap of several months between one year's harvest and the next, soya crushing plants would be completely disassembled and rebuilt once a year – as still happens in Brazil's sugar cane and orange juice industries. "It's a high cost, high risk way to run your maintenance," Muller says. "The fact that you're obliged to use outside contractors means there's a big risk of the job being done badly."
It's a risk Bunge no longer takes. As increasing amounts of raw material have become available over the past decade, the company's plants have come steadily closer to continuous operation. Muller says his target is to limit annual downtime to as little as 15 days. "That's what we see as the minimum possible without putting our installations at risk," he says.
This has involved what amounts to a change of culture. In the past, machines would be run with little monitoring, going flat out until the annual downtime, or until they broke, whichever happened sooner. "We started to shift the focus from correction to prevention," Muller says. To start with, this meant introducing basic concepts such as monitoring vibration and temperature levels. "We had to do a lot of work to convince people this was important," Muller recalls. "Changing a machine is easy. Getting people to change the way they think takes longer."
Integrated solution
In January 2002, Muller decided to take things a step further and called Eduardo De Peder of Trevotek, the SKF joint action distributor in São Paulo. Trevotek had already helped with monitoring equipment at Bunge's plants; now Muller wanted SKF to come up with an integrated solution. Trevotek's proposal was a basic kit of maintenance and monitoring tools, with a training programme to make sure Bunge staff were familiar with the tools and would put them to good use. Trevotek has also taken over part of Bunge's stock control, reducing the amount of capital tied up in spare bearings and other parts, while making sure that materials will be available the moment they are required.
The extent of the partnership, Muller says, can be seen at Bunge's newest Brazilian plant at Uruçuí in the northeastern state of Piauí, which began operating in July 2003. The plant is completely isolated, far out on the new agricultural frontier. "The landing strip is inside the factory," Muller says. "It's like landing in a factory on Mars."
Because of its location, Uruçuí has to be completely self-sufficient. When it came to laser-alignment of its machinery in the weeks before opening, Bunge was going to hire a specialised contractor. Instead, Trevotek trained Bunge's people to do it themselves.
"All this has been done with the very clear objective of reducing costs," Muller says. "At Bunge, we don't spend a single dollar without knowing that it's going to come back in the form of more dollars saved."
To give an idea of the savings achieved with the Trevotek deal, Muller says that in the past, production lost through stoppages – because of breakdowns, maintenance and other reasons – was as much as 10 percent a year at some plants. Now, Bunge's best plants in Brazil are operating with just 0.5 percent of production lost to stoppages.