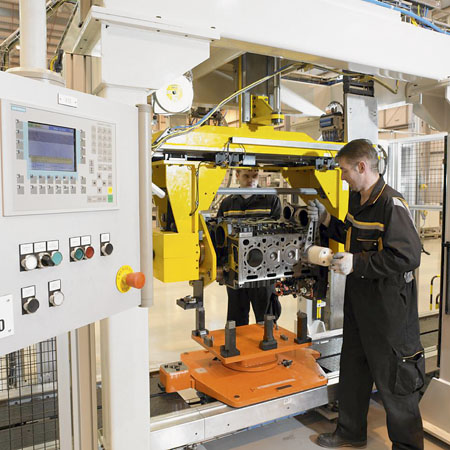 A diesel engine for a new era
JCB's hard-working yellow machines and the signature logo created from the initials of company founder Joseph Cyril Bamford have become internationally recognized over the past 60 years. Now, for the first time, these machines can be equipped with JCB's own engines.
JCB's hard-working yellow machines and the signature logo created from the initials of company founder Joseph Cyril Bamford have become internationally recognized over the past 60 years. Now, for the first time, these machines can be equipped with JCB's own engines.
U.K. machinery manufacturer JCB is going through exciting times. In 2004 JCB took a massive step forward, clocking up revenues of $1.8 billion – the result of sales in 150 countries, production of 37,000 machines and the biggest-ever expansion of its product range. The company now manufactures more than 180 different machinery models for use in construction, industrial and agricultural work as well as ground care.
But another exciting development was already in the pipeline, and the company's jubilee year in 2005 saw JCB moving into a new era with the launch of the JCB 444, the first JCB diesel engine.
Several prototype engines had been built over the years, but none came to fruition, so the birth of Project Scout in 1999 remained a well-kept secret. Competitors and customers heard that JCB was working on another engine design, but the details were closely guarded: Only a handful of carefully chosen suppliers were told, including SKF, which was contacted to provide seals for the project.
"There had been two or three engines developed in the 1970s and '80s, but only to prototype level," explains Alan Tolley, director of engine programs, who kicked off the latest feasibility study when he joined JCB in 1998. The go-ahead for design work came in early 1999, but it wasn't until 2003 that manufacturing was agreed on.
JCB was making a major commitment because it not only had to develop its own engine but it also had to invest in a whole new production line – and the world was watching. Success would give the company control over development and production of mid-range powertrains and the ability to bring innovative new machines to market more swiftly.
"The project has been unique in many ways in that JCB didn't have any history in the developing or manufacturing of engines," says Tolley.
"We had the freedom to do things we believed were right, and now that we're in production, customer satisfaction is high. This had to be a class-leading engine, but at competitive cost. We had a clean sheet of paper for design, manufacture, assembly and organization."
The engine was designed for JCB's mid-range construction equipment, which had to satisfy strict criteria – robustness, lots of torque at low speeds, reliability, low noise level and a long life (JCBs have a complete
machine lifespan of 30 to 40 years).
"The life target of this engine is more than 10,000 hours, which had to compare with the premium engines in the market," says Tolley.
A sequence of three phases of gruelling bench tests were run before the new engines were seeded with customers in early 2004 for real-life feedback.
"They were in the Backhoe Loader and our Loadall telescopic handler," Tolley says.
"We got good feedback from a small sample of people who we knew would give us an honest opinion. One machine was in a saw mill where it was moving around in dust for 16 to 18 hours a day."
The challenge for the team was to translate customers' requests into practical tweaks. The last major change made was a modification that increased output in the naturally aspirated engines.
But these were just the finishing touches to the Scout project when the JCB team first began working with Ricardo Consulting Engineers. Each stage was conducted with painstaking care, from early planning to concept, detailed design and validation, then development of the production process. Production validation involved 60 engines in three phases tested over 16,000 hours – 11,000 of these hours in JCB machines.
Engine production proper started on Nov. 1, 2004. Three versions of the JCB 444 diesel engine are now in use.
The project has produced both challenges and triumphs. "There have been lots of satisfying and pleasing moments when we came up with solutions," says Tolley.
"The nearest we got to 'Eureka!' was when we built the first concept engines. We'd spent nine months designing, and we put them on a test bench and they worked straight away and did pretty much what we
expected."
Despite a successful launch and approval within and outside JCB, the project team has yet to raise a glass to its success. A party has been mentioned, but the team is already focused on the next steps.
"This project gives us greater technological capability, and this can have advantages elsewhere in the business," says Tolley.
"Some technologies and ways of doing things could carry over into machine development, and the methodologies used to deliver high-quality machines to the market.
"We designed the engine for construction equipment, but it is proving suitable for a range of industrial applications." he says. "Dealers have been appointed in the U.K. and elsewhere, the engine has been adapted for marine applications by Mermaid Marine, and industrial power packs are on their way to customers."
After a long gestation the JCB engine is now reality and the development team has moved on to more – strictly secret – work. And as yet there is still no date for that party.
---
The JCB 444 diesel engine
Designed specifically for mid-range construction equipment.

Three Tier 2 emission variants – naturally aspirated, turbo-charged and turbo-charged intercooled.

Power ratings from 54 kW – 106 kW (72 hp – 140 hp).

The JCB 444 engine has four valves per cylinder and a 60 kW power takeoff, low fuel consumption and an exceptionally low noise rating at 89 dBA.

JCB's engine uses SKF Sealing Solutions' premium seal designs to make sure there are no oil leaks. The front crank seal is a unitized PTFE cassette seal with high protection, and the rear crank seal is a non-unitized PTFE seal. PTFE was selected as the primary sealing medium for its excellent service life in crankshaft applications.

For the valve train JCB selected a proven SKF 866 valve stem seal design as well as an SKF design for sealing the injector tubes within the rocker cover assembly.

SKF began work on the JCB engine project in 1999 and provided parts and technical support from Europe and the United States, coordinated from the U.K.