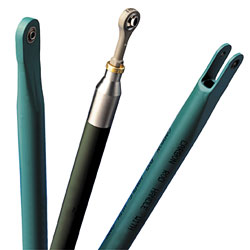 In the aeronautic industry, development is constant and safety issues are always a top priority. In flight control, mechanical and hydraulic solutions are giving way to electro-mechanical systems. In the forefront of this development we find the French company Societé Anonyme de Recherche Mécanique Appliquée, known as Sarma.There is more to an airplane than meets the eye. Below the shiny metal surface of the fuselage is an intricate network of highly tooled metal rods that rigidify the fuselage and hold the plane together.
Some of these rods act like the crossbeams of a ship to support the structure and flex when necessary. Others, like the flight control rods, act like an articulated skeleton and reach from the cockpit all the way back to the rudder. All this is built into the plane, out of sight of any passenger.
A majority of the rods used to build commercial aircraft and helicopters in Europe are made in France by the Societé Anonyme de Recherche Méchanique Appliquée. The company, known today simply as Sarma, is divided into three business areas: rods, bearings and equipment.
"The better we know our clients and their needs, the more we can improve our market share," says Michel Giacomoni, equipment sales manager at Sarma's headquarters in St.Vallier, France.
Who's who?
Located in an industrial park on the shores of the Rhone River, about an hour from Lyon, Sarma is one of the world's leading manufacturers of flight control components and assemblies. The company's products can be found on planes both big and small – and references read like a who's who in the aeronautics industry.
The Airbus consortium, for example, is Sarma's single biggest customer and accounts for around half its yearly sales of about 500 million French francs (85 million U.S. dollars). The Caravelle, the first twinjet European airliner, was equipped entirely with Sarma rods, as were the first Alouette helicopter and the Concorde supersonic jet.
But other valued clients include Boeing, Bombardier, Saab, Embraer, Dassault, Aérospatiale, British Aerospace and Eurocopter, as well as some of their subcontractors such as Snecma (engines) and Messier (landing gear). In fact, all major civil and military aircraft manufacturers have used Sarma's products at some point. In the global airframe business, which includes commercial aircraft and helicopters, Sarma is the European leader within its field and has a 10 percent global market share.
From lightweight carbon fiber structural rods, known as struts, to flight control rods, load limiters, airframe bearings and rod ends, Sarma's products not only help keep planes in the air, they also take part in the steering and control the maneuvering of the aircraft.
"At first, a pilot controlling a plane only had mechanical means at his disposal through cables and pulleys," says Giacomoni. "But then planes grew bigger and faster. Struts were developed with mechanical couplings to operate the flight control surfaces (rudder, pitch, ailerons). Also new constructions switched to hydraulic systems, so physical force was only used to operate a hydraulic circuit."
The next development, fueled by airlines' constant push to reduce the aircraft's weight to minimize fuel consumption, was fly-by-wire technology. While long used on combat planes such as the F-16, it was only in the early '80s that the technology was transferred to civilian aircraft.
With fly-by-wire technology, a pilot's mechanical impulses on a steering lever are transferred, via an electrical cable, to activate a hydraulic actuator that performs the physical task of lifting a flap. In many cases, the electrical impulses are passed through a computer, or flight management system, to monitor and prevent any untoward actions. At the moment, such technology is also being studied for applications in the automotive industry.
Sarma's main business is struts, flight control rods and airframe bearings. However, the company still makes pre-stretched galvanized carbon steel and corrosion-resistant steel cable assemblies and couplings, mainly for smaller planes.
Electro-mechanical flight control equipment is a growing field, and while it took years to get regulatory approval for fly-by-wire, such systems are now in place on all Airbus planes, like the A320 and A340.
Hydraulics move over
The main benefit of fly-by-wire is that it offers plane designers an opportunity to reduce weight, which in the economics of commercial aviation is worth as much as gold. The next development, according to the aviation trade press, is a move toward more electric aircraft. "Eventually, hydraulics may be totally excluded from flight control systems, and will be replaced by electro-mechanical actuators," Aviation Week & Space Technology magazine stated in May 2000.
According to some planning studies in the United States, such technology could reduce an airplane's gross takeoff weight by 6.5 percent and reduce maintenance hours by 4.2 percent.
While Sarma makes electro-mechanical actuators and transducers that could be used in the control of a plane's ailerons, rudders, stabilizers and landing gear, among other systems, these are currently being used only in less critical functions. The aeronautical industry is by nature very conservative in adopting new technologies.
"It is like Catch-22," says Guilhem de Cazenove, Sarma's marketing manager.
"To put any kind of new equipment on a plane, it has to have passed any number of safety criteria. And to do that, the equipment has to fly. But there is definitely a tendency towards electro-mechanical systems."
Super jumbo
Like every other aeronautical company, Sarma is currently courting Airbus for its planned launch in 2004 of its A380 super jumbo. Constructing the world's biggest passenger aircraft with 555 seats, compared to 416 for the Boeing 747-400, will require some innovative engineering.
For example, Airbus plans to use lightweight carbon fiber materials and improved hydraulic systems to shave almost 3.3 tons of weight off the plane, the Financial Times has reported. Sarma's electro-mechanical systems and other products are under consideration by Airbus for the A380, says Sarma's de Cazenove.
"You cannot make the big breakthroughs by copying existing technology," Robert Lafontan, vice president for engineering and product development at Airbus, told the Financial Times. "When you are the challenger [to Boeing] you have to be innovative."
Alexander Farnsworth
a feature writer based in Stockholm
photo Alexander Farnsworth and Sarma