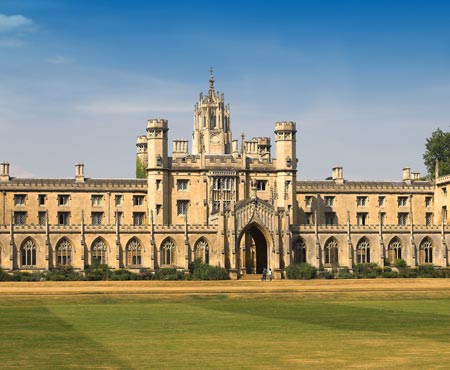 Cooperation for creative changes
Strategic contracts between SKF and academia have created two University Technology Centers to promote research into critical areas of bearing technology.
Strategic contracts between SKF and academia have created two University Technology Centers to promote research into critical areas of bearing technology.
With the recent establishment of two new University Technology Centers (UTCs) at University of Cambridge and Imperial College London, SKF has committed itself to funding long-term academic research aimed at solving some of the most vexing problems in bearing technology.
Industrial/academic cooperation is nothing new to SKF, which has ongoing cooperation with many universities around the world. In this case, however, SKF has signed five-year strategic contracts with both Cambridge's Department of Materials Science and Metallurgy and Imperial College's Department of Mechanical Engineering, to work on two very critical areas of bearing technology.
Initially, the Cambridge team will focus on steel composition and the heat treatment of steels to better understand the mechanisms and to mitigate damage in bearings. Leading the seven-member team of Ph.D. researchers and post-doctoral fellows in Cambridge is Professor Harry Bhadeshia, a recognized world expert in the physical metallurgy of steels. His previous work has resulted in a number of novel alloys, among them the special steel rail used in the Channel Tunnel. The SKF UTC was established in Cambridge in May 2009.
The second SKF UTC, opened in January 2010 at Imperial College London, will focus on the area of modeling and simulation of tribological systems. Tribology is a branch of engineering that deals with the relationship between surfaces in motion and their design, lubrication, friction and wear components. Professor Hugh Spikes is leading the UTC team at Imperial College, which comprises three Ph.D. students and two post-doctoral fellows. Spikes has published more than 200 academic papers on tribology and has received several patents in the field.
The objective of the Imperial College team is to develop a detailed understanding of lubricant chemistry, hydrodynamic and elasto-hydrodynamic lubrication, contact mechanics and wear and surface fatigue, flanked by computational modeling and theoretical studies. The goal is to reduce friction and wear in SKF bearings, thereby extending their service life and environmental performance.
Although high-tech companies such as SKF have their own internal research and development facilities and specialists, the advantage of working with academia is the access to world-class scientists and engineers with a long-term mindset and a different approach, enhancing overall creativity. The window for achieving results is often much more long term than it would be in-house.
"SKF is a world leader in bearing technology, whereas we at Cambridge have the fundamental knowledge of steel, how it performs and how it can be improved," says Bhadeshia. "Together we can develop truly disruptive technologies that can help eliminate common problems in bearings."
Explains Alan Begg, senior vice-president Group Technology at SKF: "We are not pushing Harry [Bhadeshia] for new developments in bearing steel by next week. We are looking for creative changes step-by-step. The work in Cambridge and Imperial College has given us new insights, even in the early stages. I really look forward to what they can do for us."
Another advantage of working with academia, besides the complementary skill set of top-notch researchers who can think outside the box (see sidebar), is that it brings together equipment and resources that would not ordinarily be found at an SKF research laboratory. "Cambridge, for example, has over 20 electron microscopes to study and map the atomic structure of different steels," says Begg. "That's something we cannot do so intensively in-house."
---
RESEARCH AT THE HIGHEST LEVEL
The research team in Cambridge is trying new ways of fighting fatigue of bearing steel.
he SKF Steel UTC at Cambridge University's Department of Materials Science and Metallurgy has a mandate to come up with new ideas for bearing steel.
"One of the major issues that bearings face is fatigue," says Cambridge Professor Harry Bhadeshia, director of the SKF UTC, who has conducted fundamental research in steel and its properties for the past 36 years. "A ball passes over a ring, stressing the steel, and this eventually leads to failure, so there is a lot to do to improve the properties of the steel to resist this."
Bhadeshia says that some of the areas being worked on at the Cambridge UTC include using nano-crystalline steel to minimize the content of brittle phases in steel. Another area includes trapping hydrogen atoms in the steel with strains around particles. Hydrogen, for example, is found in moisture and lubricants and can get into the steel through corrosion.
"We'll never get rid of corrosion, but if we can trap the hydrogen away from where it can do damage we could avoid a lot of problems," says Bhadeshia. "There is no one else in the world researching nano-steel for bearing applications. No one else has the facilities we do."
While this hydrogen-trapping nanotechnology is still in its infancy, Bhadeshia believes it could become a disruptive technology.
"Our goal is to conduct long-term research that can lead to new technologies that can be implemented within SKF," says Bhadeshia.
"While we still have a long way to go to test this, if it works and can cope with the problem of hydrogen we will have a cure that renders hydrogen innocuous," he says.
This is easier said than done. 1%C-1.5%Cr bearing steel is the most common steel used to make bearings. Tweaking the steel by adding a wide range of other atoms, or solutes, in different parts-per-million concentrations (in addition to the steel making and rolling processes) can have a profound impact on the crystalline structure of the steel and therefore its operational properties. Bhadeshia's team hopes to reduce the number of experiments needed, developing and using theory that is appropriate to bearing technology.
"Only 5 percent of science makes it into technology, but our goal is to produce a product, and we have no excuse not to deliver – bearing in mind the 100 percent seamless cooperation from SKF and so much good will," says Bhadeshia.