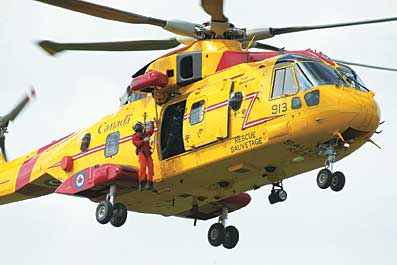 Helicopters in top flight
What started as an Italian family-run business in the early days of airplanes has become, through a series of partnerships, innovations and alliances, a top producer of helicopters worldwide.
The area around Cascina Costa, a small town about 22 miles north of Milan, Italy, has had a long association with military transportation. The Italian cavalry maintained stables here because the flat, fertile land was good for horses. The topography also proved good for airplanes.
The person responsible for the transformation of the town's vocation was Giovanni Agusta, founder of Agusta (now AgustaWestland), the company that bears his name. Agusta established a licensed airplane production, maintenance and spare-parts supply activity in Cascina Costa in 1923.
In the 1940s, Domenico Agusta, Giovanni's son, who was now in charge of the business, decided to set up a company to take advantage of the booming motorcycle sector and the high level of local engineering expertise. This became Meccanica Verghera (MV Agusta), which produced and marketed motorcycles between 1952 and 1976.
Move to helicopters
The real industrial breakthrough for the company came in 1952 when Agusta signed an agreement with the U.S. company Bell Helicopter to produce its helicopters under license. Similar accords were reached in the 1960s with the U.S. helicopter producers Sikorsky, Boeing and McDonnell Douglas.
But Agusta did not limit itself to production under license. It soon developed an independent R&D capability that led to the construction of nine prototypes, all flight-tested with success.
Agusta's place among the leaders in vertical flight was secured in 1971 with the first flight of the A109 twin-turbine helicopter, a design with innovative features and high performance that was realized entirely at Cascina Costa. Domenico died shortly before its inaugural flight.
Two years later, Agusta signed a contract of cooperation with state-owned Ente Partecipazioni e Finanziamento Industria Manifatturiera (EFIM), which acquired 51 percent of the company's shares. EFIM embarked on an aggressive program of acquisition and expansion to create the Agusta Group, an aerospace corporation involved in aircraft, helicopter and systems production. The following years saw a flurry of activity by the company.
European made
One of the first initiatives, in the late 1970s, was a partnership with U.K.-based Westland to design the EH101, a 16.5-ton military helicopter. This partnership would prove important to the future of both companies. In 1983, Agusta unveiled the 4.4-ton A129 Mangusta multi-role combat helicopter, the first combat helicopter to be designed and produced entirely in Europe.
In 1991 the company had 10,000 employees and was running deeply in the red. A reorganization plan was initiated in 1992 with the arrival of a new management team. Helicopters were identified as the company's core business and all non-core assets were sold off. Modern management techniques were introduced and production facilities streamlined. By 1994 the workforce had been reduced to 5,000, although the number of employees devoted to R&D remained constant at 1,000. In 1995 the prototypes of two new products, the twin-engine A109 Power and the single-engine A119 Koala, were flown.
All these actions resulted in a new competitiveness, and the company became part of the Italian corporation Finmeccanica. In 1998, Bell Helicopter Textron and Agusta created Bell/Agusta Aerospace Company. Some 46 years after Agusta had licensed technology from Bell, the two became partners in the development of the new medium, Agusta AB139 helicopter, as well as part of the BA609 tiltrotor (a combination helicopter/turboprop aircraft) program.
Fruitful alliance
In spite of its new management successes and revitalized product line-up, Agusta realized that it could not compete alone in the world helicopter market. Development costs were high and the competition was fierce from American and European firms. The new challenges of globalization in the marketplace called for a strategic alliance. The choice was Westland, already a partner in the EH101 program. Agreements were reached between Finmeccanica and GKN (Agusta and Westland's shareholders, respectively) in April 1999. The 50-50 joint venture became fully operational on January 1, 2001. After only a year of operation, the new company ranks first in revenues among the world's helicopter companies.
"The merger was done to strengthen our presence on the market and reduce costs, and it was a perfect fit," says Giuseppe Orsi, Agusta's managing director. "Our products and those of Westland integrated perfectly. There was no product overlap, and our histories were similar. Plus our markets were complementary."
Today AgustaWestland boasts almost 9,000 employees and in 2002 billed revenues of $3.4 billion. Earnings before interest and taxes (EBIT) have increased annually since the company was formed three years ago, proving that cost synergies have been achieved.
New strategy
Industry-wide in 2002, 772 helicopters were built worldwide for a total production value of $5.2 billion according to the International Directory of the American Helicopter Society. Competition for this market comes from five major companies: AgustaWestland and Eurocopter in Europe; Bell, Sikorsky, and Boeing in the United States. Orsi says that this number is likely to be reduced and is encouraging competitiveness and innovation to make sure that AgustaWestland will be one of the survivors. "Agusta had already identified, in the mid-1990s, a new strategy focused on two cornerstones, industrial alliances and partnerships, to produce competitiveness and technological innovation, and the product range to meet the new operational needs."
The commercial market, which follows shorter-term economic trends, is volatile. Today about 40 percent of AgustaWestland's sales are commercial. One of the most innovative products under development by Agusta is the BA609, the world's first almost-seven-ton tiltrotor. Twice as fast as a helicopter, the BA609 is expected to revolutionize corporate, rescue, medical and law-enforcement transportation when it goes into operation in 2007.
It tops off the widest range of helicopters in the industry, to make sure that the modern-day stable of Cascina Costa is well-equipped to lead any charge.