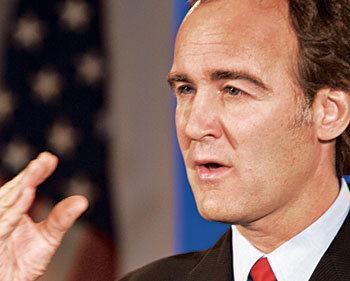 Larry Burns – Automotive visionary
When the General Motors fuel-cell and by-wire concept car Hy-wire debuted at the Paris Motor Show in September 2002, no one was prouder than Larry Burns.
When the General Motors fuel-cell and by-wire concept car Hy-wire debuted at the Paris Motor Show in September 2002, no one was prouder than Larry Burns.
Hy-wire is the latest step in General Motors' reinvention of the automobile, with the help of revolutionary technologies such as fuel cell and by-wire by SKF. Burns, GM's vice president for research & development and planning, is the man leading the revolution.
Burns is generally credited throughout the auto industry as the champion behind GM's goal to realize sustainable mobility with compelling and affordable vehicles – a goal that Burn's says GM should reach by the end of the decade.
"Customers want better fuel economy and a cleaner environment, but they do not expect to pay more for sustainable mobility," Burns says. "Hy-wire strengthens our ability to gain marketplace acceptance of production of fuel-cell vehicles without imposing environmental or energy trade-offs on customers."
Fuel-cell vehicles consume hydrogen, the most abundant element in the universe, and emit only water vapor and heat. Emissions such as carbon dioxide are removed from the picture.
Burns is quick to add that Hy-wire also helps address significant economic issues facing the automobile industry. "Our industry competes with other industries for investment dollars, so we have to be strong and healthy and profitable," he says. "To make that happen we have to increase margins and find ways to grow the business. I believe that advanced technologies like by-wire systems and fuel cells are keys to these growth opportunities. Our interest in Hy-wire certainly is an interest in zero-emission vehicles and renewable energies, but more importantly it is an interest in the business and growth opportunities."
Wide-ranging curiosity
In talking with Burns, one quickly sees that he is curious about many things and open to suggestions from almost any source. Before Hy-wire was named, Burns invited a group of youngsters aged 11 to 15 to brainstorm with his team. Fourteen-year-old Aleksie Dachyshyn suggested naming the vehicle for its key technologies.
"It has a hydrogen fuel cell and by-wire technology. It's new, it's daring, it's high tech. That's a vehicle I want to drive," Aleksie told the group.
Burns, himself the father of 11- and 14-year-old girls, was thrilled with the youthful inspiration, and he gave the green light to the name Hy-wire.
"We are really serious about putting the technology contained in Hy-wire into production by 2010," Burns says. "These kids are going to be teenagers and young car buyers by then – maybe learning to drive in vehicles inspired by Hy-wire. How appropriate that the generation that will grow up with fuel cells in their cars, homes and office buildings got to name this drivable concept, which ultimately might be the genesis of the reinvention of the automobile."
Burns also is quick to recognize the contributions of GM's supplier partners on the Hy-wire project.
"Relationships with our suppliers are important because ideas typically don't happen as an inspiration by a single individual or a single company," he says. "It's through these relationships that you have give and take, different iterations and the synergy that comes from working together."
Burns adds that by-wire by SKF is a technology that can enable the introduction of fuel cells. Hy-wire is not the first fuel-cell vehicle, but by combining by-wire operating controls with a fuel cell, GM gives consumers a more realistic view of how this new energy source can be successful in the marketplace.
If you are beginning to think technology finds its way into most of what Burns is involved in, you're right. He earned a PhD in civil engineering from the University of California at Berkeley and a master's degree in engineering from the University of Michigan. And as one of GM's leaders in finding and evaluating new ideas, Burns is no stranger to technology.
Personal challenges
But his passion for and commitment to high-tech innovations also comes from personal challenges. One night nine years ago, Burns went to bed and woke up unable to hear. Doctors said the cause was likely an autoimmune problem. When traditional treatments for sudden hearing loss were not effective, Burns pushed his doctors to try technology, specifically a new device called a cochlear implant. He received his first implant eight years ago and an updated version two years ago. The device helps Burns communicate, but he says the quality of the sound is like that of a "poorly tuned AM radio station."
Like millions of others who are hearing impaired, Burns waits for continued improvements in the technology and, in the meantime, has made lifestyle changes to help his communications at work and at home. For example, he has mastered speech reading, a broader form of lip reading. He was not bashful about telling reporters who surrounded him during the media tour of Hy-wire to look at him when they spoke, and, if necessary, he is quick to ask those around him to repeat what was said. When a group of reporters asked him about his commitment to technology, he laughed and said, "I'm a man who hears your question thanks to technology."
Burns is also committed to fundraising for hearing loss organiza-tion. He is on the board of directors of the Deafness Research Foundation in Washington D.C. and the advisory board of the University of Michigan's Center for Hearing Disorders. He headed a drive sponsored by GM and the United Auto Workers that raised more than 1 million dollars. The money was donated to a research team headed by Josef Miller, director the University of Michigan's
Center for Hearing Disorders and a change professor at Sweden's Karolinska Institute.
Throughout his hearing-loss ordeal, Burns continued his work at GM. Even in the days before the implant, Burns found the GM team supportive. He was especially impressed when then-boss Don Hackworth arranged for a stenographer to work full-time for Burns, using a laptop computer to type conversations for him.
"Diversity is all about helping every person achieve their highest level of ability," Burn says. "He [Hackworth] felt my contributions were important to the company, and he wasn't going to let them get diluted."
A lot of people are counting on Larry Burns. People throughout the world who suffer from hearing loss count on him to continue pushing for better hearing technology and medical advancements for treatment and prevention. General Motors is counting on Burns and his team to provide the leadership necessary to bring the world sustainable mobility. Both involve understanding and using advanced technologies, and Burns continues to work passionately on both fronts.
Burns realizes that Hy-wire and its fuel-cell by-wire successors may be the crown jewels of his career because, he says, "Hy-wire changes everything." He is especially proud of the more than 30 patents GM has applied for covering business models, technologies and manufacturing processes related to Hy-wire. Burns is also proud of the progress being made toward reinventing the automobile.
"Someday," he says, "Hy-wire could be displayed in a museum side-by-side with the first horseless carriages of Carl Benz or Gottlieb Daimler or next to Henry Ford's Model T."